Students bring colorful art to new 'canvas' in nearby neighborhood
06/18/2019

The University of Akron's award-winning Art Bomb Brigade and Arts LIFT programs are set to complete their first public art series in the historic Middlebury Neighborhood. Working with The Well Community Development Corporation (CDC), groups of UA and Akron Public School high school students transformed the small urban block surrounding Compass Coffee into a welcoming place to sip coffee, relax and hang out with some colorful art.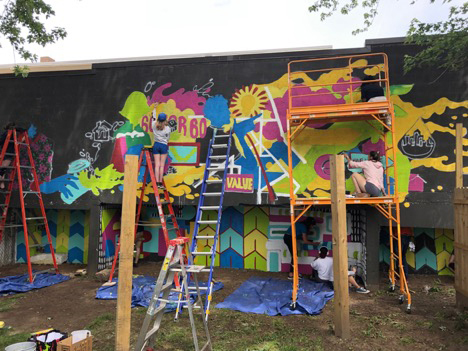 Art students work on the painted mural along an urban block surrounding Compass Coffee in the Middlebury neighborhood. — Photo by Art Bomb Brigade
Over the course of two weeks, a crew of diverse young creatives worked with resident artist, Alexandria Couch, and program staff to complete a large painted mural and 50-foot mosaic wall. Couch is studying painting, drawing and printmaking as a double fine arts major at UA's Myers School of Art.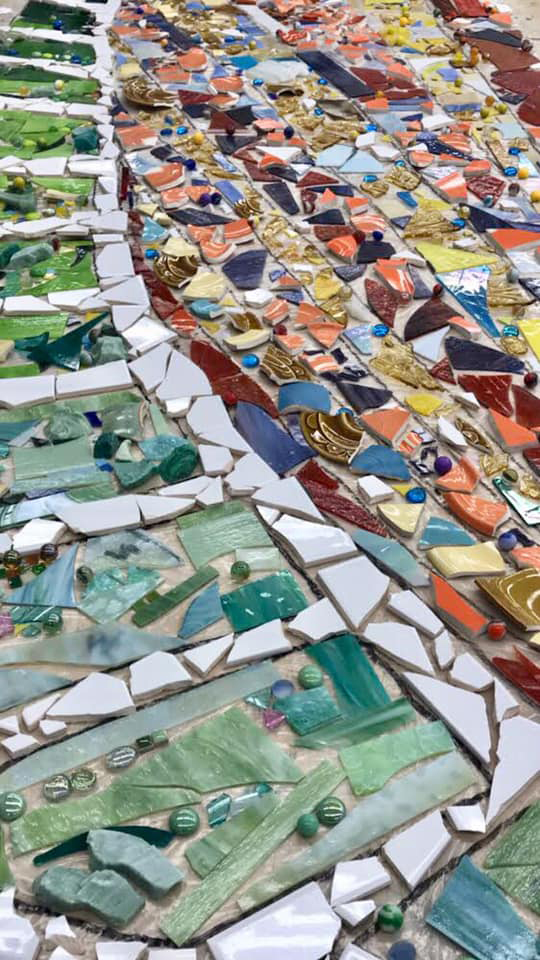 Work begins on a 50-foot mosaic that will be installed on a wall on an urban block surrounding Compass Coffee in the Middlebury neighborhood. — Photo by Art Bomb Brigade
This latest collaboration was inspired both by Couch's portrait series that explores race, identity and culture, and The Well's goals to inspire place-based community and culture building. These ideas align with the mission of Art Bomb and Arts LIFT to enliven Akron's indigenous art and cultural scene.
"We couldn't be more excited to work with the Art Bomb Brigade in bringing public art to Middlebury," said Eric Razo, director of Compass Coffee. "We want people to be excited about Middlebury and the exciting work that is happening here."
The project evolved from a vision by Marissa McClellan and UA art education faculty member Elisa Gargarella, who run the programs. Also instrumental to the success of the project was long time Arts LIFT curriculum coordinator and Firestone High School art teacher, Daniel Coffield.
Art Bomb Brigade and Arts LIFT murals have become landmarks throughout Akron and beyond. Sites include: Historic Arts and Culture District, Countryside Conservancy Public Market, The Grand Exchange, Bounce Innovation Hub, St. Vincent St. Mary parklet, the Downtown Laundromat, Barberton Library, Community Support Services of Summit County, Chill Ice Cream Company, the Akron Sustainer, Echogen, Land of Plenty, Angel Falls Café and more.
Compass Coffee, located at 647 East Market St. in Akron, will host an unveiling party at the site of the mural on Thursday, June 27, from 6 to 8 p.m. The celebration will feature an open mic, free food and short unveiling ceremony of the mural.
For more information, visit the "Art Bomb Brigade" online, or on Facebook and Instagram.
Visit "Arts LIFT" on Facebook.
You can visit the Myers School of Art online.
Vist Compass Coffee online for more information.
---
Media contacts: Lisa Craig, UA media relations specialist, 330-972-7429 or lmc91@uakron.edu, or Elisa Gargarella, Art Bomb Brigade director, 330-972-8325 or gelisa@uakron.edu, or Marissa McClellan, Art Bomb Brigade assistant director, artbombbrigade@gmail.com.