Students design bike with 3D printed parts for boy with rare condition
12/06/2017

It's not every day 6-year-old Wesley Radebaugh could ride a bicycle.

Now, thanks to our Biomedical Engineering Design Team, he can pedal nearly anywhere.

Wesley was born with a rare genetic condition called Spinocerebellar ataxia, type 29, that interferes with his motor skills. Something as simple as walking is so difficult for Wesley that he has to wear leg braces and use a walker for short distances, and sit in a wheelchair when he needs to go farther.

Faced with those limitations, Wesley still wanted to ride a bicycle. That's when a team of UA students stepped in to adapt an off-the-shelf bike into one that meets his specific needs. Wesley, of course, provided input and requested the bike be green, his favorite color.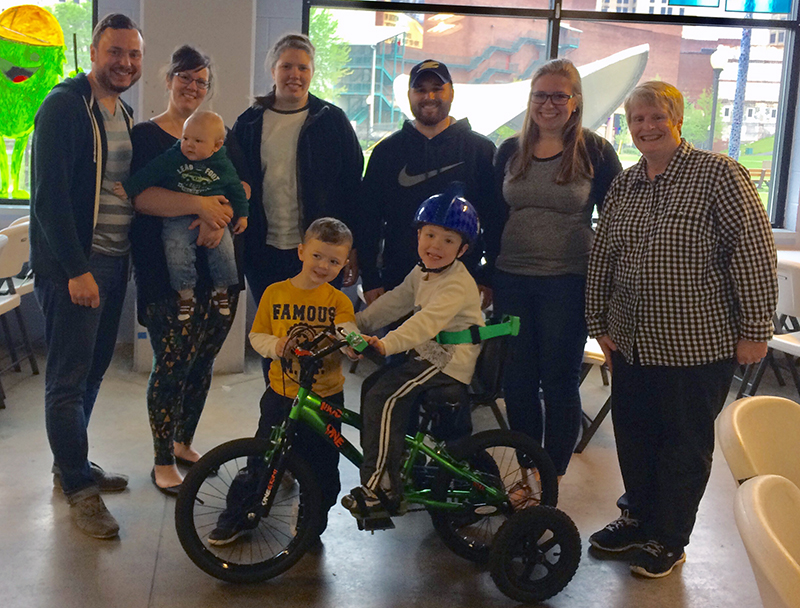 Wesley Radebaugh got a recent test ride at Lock 3, right outside the Akron Children's Museum. Cheering him on were, from left, dad and mom Jared and Jen Radebaugh, who is holding Wesley's brother, Sawyer; biomedical engineering students Lydia Palmer, Johnny D'Egidio and Megan Laws; and Jane Caprez, Wesley's physical therapist. Next to Wesley is his brother, Everett.
The design team took on the challenge after it was presented to them by the Summit County Developmental Disabilities Board.
Adaptations to the bike include 3D printed pedals and a charging and control box. The bike has an electronic braking system, stationary hand braking accessory, oversized training wheels and a seat belt.
The student team was mentored by professionals from Air Enterprises, Innovation Garage and Akron Children's Hospital to complete the project in 11 months.
"My husband, Jared, and I wanted Wesley's bike to look just like the ones his friends and classmates use, but be personalized and comfortable enough to meet his physical needs," said Jen Radebaugh, Wesley's mother. "The design team built Wesley the perfect bike, complete with safety and therapeutic features. We're so fortunate for Wesley to have this amazing opportunity to ride a bike, something lots of people might undervalue. We like to be active as a family, riding bicycles on trails, and it will be great to have Wesley pedaling alongside us now."
"When we are provided the opportunity to step up and help our community and others, we work with industry engineers, clinical and community leaders to get the job done," said design team leader John D'Egido, a senior in the Biomedical Engineering Biomechanics Track Co-Op program. "It has been a long and difficult process to get to the finished bike, but seeing Wesley enjoying himself while riding along with his family will make it all worthwhile."
Related:
► Learn more about College of Engineering student design teams.
---
Media contact: Alex Knisely, 330-972-7429 or aknisely@uakron.edu.