Surveying and Mapping Team brings home first place in national competition
04/29/2019
Our team of six Surveying and Mapping students won first place in the National Society of Professional Surveyors (NSPS) 18th Annual Student Competition on April 11 as part of the 2019 NSPS Spring Meetings in Arlington, Va.
The UA team placed first in the Baccalaureate Degree Division with its project and was awarded a $2,000 cash prize. The team also captured the Mike and Ann Besch trophy (named after the husband and wife faculty team that founded the Surveying and Mapping program at UA).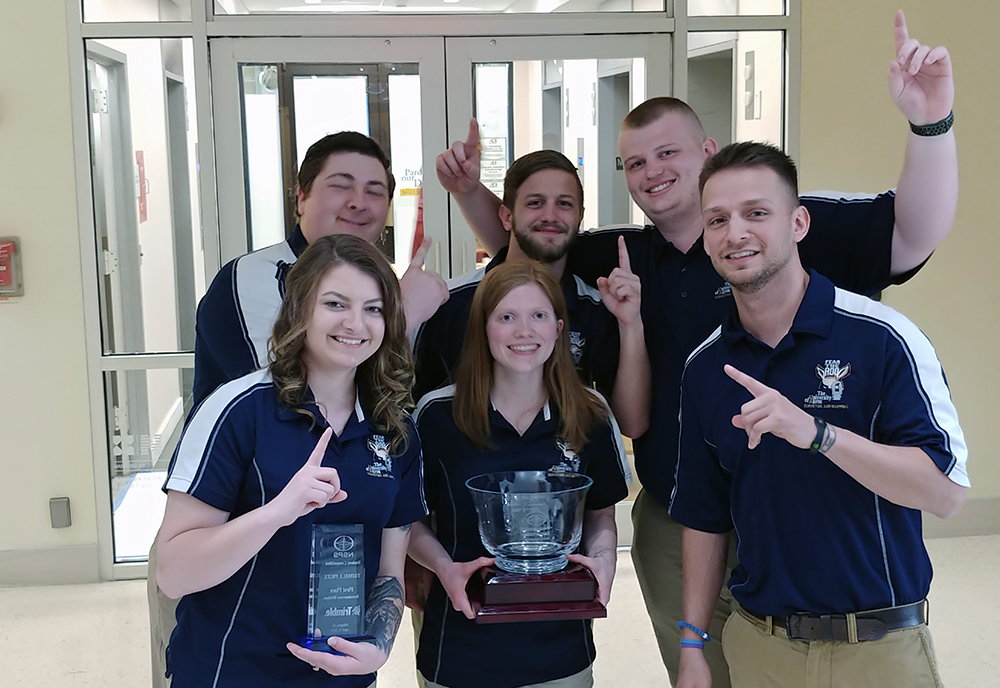 Members of UA's Surveying and Mapping team celebrate their first-place victory at the NSPS Annual Student Competition. The team is Mikaela Mroczkowski (front left), Aubrey Tobin, Ethan Straub, Josh Stevens (left back), Chase Sommers and Cody Crum. Not pictured are faculty advisors Gary Schuller and Ann Besch, senior lecturer.
This year's competition topic was "Utilizing remotely sensed data in a modern surveying practice." Under the faux business name Roo North Surveying, UA's team completed a comprehensive laser scanning project of the exterior of the Quaker Square Residence Hall, along with detailed laser scans of the lobby floor. A robotic total station was also used to validate the scan data accuracy and to study workflow efficiently comparisons.
Thirteen schools with undergraduate degree programs in surveying, mapping, or geomatics participated in this year's competition. Each team completed a project, prepared a technical report and poster, and gave a formal presentation to a panel of judges.
"This award is a direct result of the hard work and dedication of our students," said Engineering and Science Technology Professor Gary Schuller, director of the Surveying and Mapping program. "They have gone above and beyond in their surveying education and the experience will serve them well as they become tomorrow's professional surveyors. We hope that we have inspired the students to excellence as they have inspired us!"
UA's Bachelor of Science in Surveying and Mapping program is the only program in Ohio accredited by the Accreditation Board for Engineering and Technology, Inc., and one of 23 such programs in the U.S.
Last year, the program won the $25,000 grand prize for the 2018 Surveying Education Award from the National Council of Examiners for Engineering and Surveying (NCEES).
---
Media contact: Alex Knisely, 330-972-6477 or aknisely@uakron.edu.
Share