Team coaches, leaders announced for UA's esports varsity teams
07/12/2018
Nine people – including the first female collegiate esports coach – have been selected to manage and coach The University of Akron's five inaugural esports varsity teams this fall.
They will lead the 44 players, selected from among the 273 who tried out last April, who make up the five teams competing in the games "Overwatch," "League of Legends," "Hearthstone," "Counter-Strike: Global Offensive" ("CS:GO") and "Rocket League." The four managers will organize the rosters, coordinate with their league and opposing teams, administer team schedules, and maintain facilities and equipment. Meanwhile, the five coaches will direct the teams' strategies.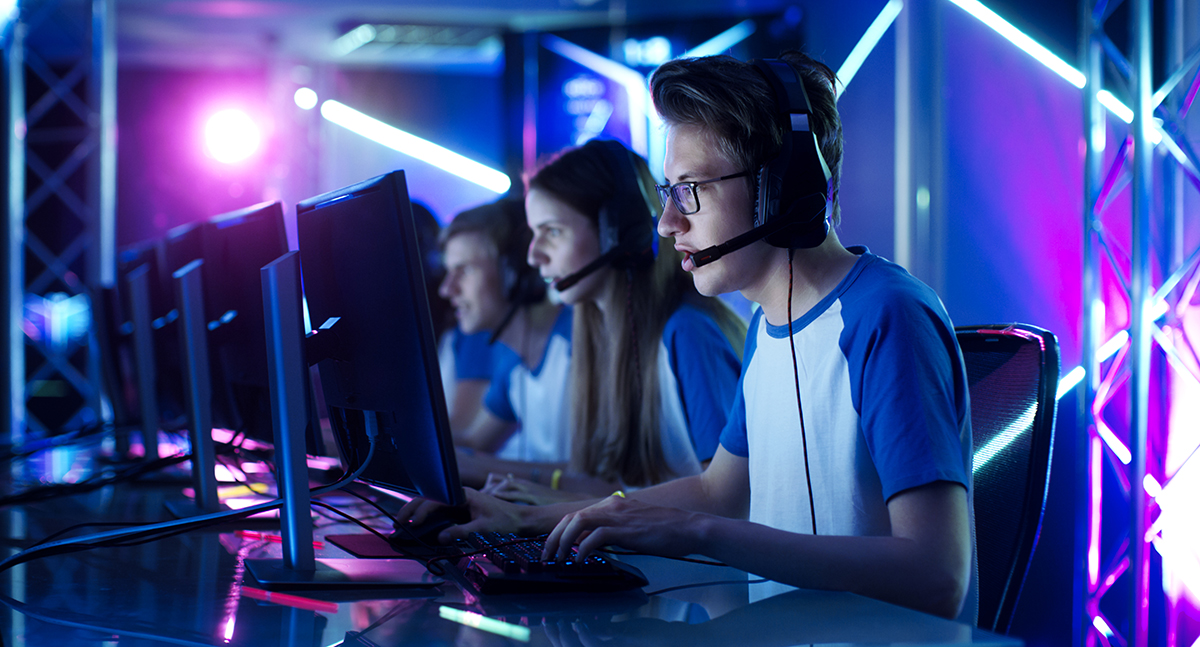 In keeping with Akron's reputation as having a strong College of Engineering, most of the team leaders study engineering or engineering technology; however, the arts, sciences and business are also represented in majors as diverse as sculpture, computer networking and supply chain/operations management. The coaches and managers are veterans of the virtual battlefield, boasting more than 30 years of combined experience in their respective games.
'Overwatch'
In an industry with growing female participation, Emily "Majikarpette" Matusz, the "Overwatch" student coach, is the first woman to serve as a coach in varsity collegiate esports. Since the release of "Overwatch," Matusz, who is majoring in sculpture, has reached the second-highest player tier, "Masters level," in almost every competitive season, making her an impressive opponent and strategist. Matusz also played competitive "Team Fortress 2 Highlander," a game similar to "Overwatch," for three seasons, giving her an edge in a relatively new release.
"Competitive gaming gives my playtime value and opens additional career paths in an evolving field," she said.
Alex "Chunder" Gingrich, MBA candidate and the team's manager, will use his strategic knowledge gained from working as an analyst for an esports team headed by Noble, an esports and media organization. He, too, anticipates that his experience will open up career opportunities.
"I am hoping to use my education from Akron, along with my experience in the program, to work in esports business development or with a university esports team as a career," Gingrich said.
'League of Legends'
Kurtis "Flex" Glasener, "League of Legends" student coach and fifth-year mechanical engineering major, said that his "team is extremely dedicated and experienced," and that he looks forward to competing at the collegiate level in the increasingly popular multiplayer arena game.
"Last year the League of Legends World Championship had over 75 million viewers across the globe," he said.
Glasener will share leadership duties with Team Manager Ryan "DaCheneySpecial" Nicolai, a competitive gamer pursuing an associate degree in UA's EMT/paramedic program.
'Counter-Strike: Global Offensive'
"CS:GO" will be coached by Matt "Sunshine" Spiedel, who echoed Glasenor's sentiment, saying that "both of [his] rosters are looking extremely solid coming into the fall."
Meanwhile, third-year mechanical engineering technology major Thomas "Tman6005" McGrath will manage the team, drawing on CS:GO experience that goes back to the release of the game in 2012. Both are excited to put their team's skill to the test next semester in game developer and digital distributor Valve's massive first-person shooter.
'Rocket League'
Computer networking major Nick "NickNac63" MacKay will coach the "vehicular soccer" hit, "Rocket League." Describing himself as a "play-to-win" competitor with 15 years of experience playing soccer, MacKay said that he "fell in love with the idea that 'competitive esports players are the competitive athletes of the future.'"
His team manager, Aiden "Knightmare" Bellucci, a junior studying supply chain/operations management, hopes to temper MacKay's fiery competitiveness with the cool-headed management skills he gained in College of Business Administration classes. Together, they combine the best of aggressive and strategic play styles.
'Hearthstone'
Bellucci will also manage UA's "Hearthstone" team, alongside Student Coach Jacob "jacobsh97" Heiss. Heiss is a biomedical engineering major who has participated in five tournaments run by Tespa, a large network of college gaming clubs, and who heads Hillel and Tabletop Gaming Club, two student organizations at UA.
The varsity team leaders represent a diverse range of experience, approaches and backgrounds, but all have one thing in common: They're here to do whatever it takes to support their teams – with the help of student sports psychologists, dieticians and other supportive team members – as they forge UA's esports legacy this August.
---
► Story by Karris McCollum
► Media contact: Lisa Craig, 330-972-7429 or lmc91@uakron.edu
---
Related
---
Share