The Harrington Scholarship for education students
12/03/2020

The University of Akron's LeBron James Family Foundation School of Education is on the rise to become a top school to produce urban educators, thanks in part to a newly established scholarship program that provides full tuition for future teachers in Akron Public Schools District.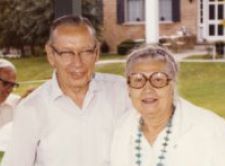 Theodore and Madge Harrington
Madge W. Harrington and her late husband, F. Theodore Harrington, who graduated from UA's College of Engineering and Polymer Science, valued education and the art of teaching, so much so that they wanted to invest in education as a way to honor future generations. More than three decades ago, the Harringtons bequeathed their estate to UA and established The M. W. Harrington Education Professorship Fund in Education and the F.T. Harrington Engineering Professorships Fund. The Harrington Scholarship in Education is a component to the Madge W. Harington Professorship in the School of Education.
The Harrington Scholarship program is administered by UA and will provide one full-tuition and fees scholarship each year. The "Harrington Scholar" must remain a student majoring in a degree program within the LeBron James Family Foundation School of Education to receive the tuition award. The scholarship is named after the late Madge W. Harrington, a 1926 and 1927 graduate of UA's School of Education.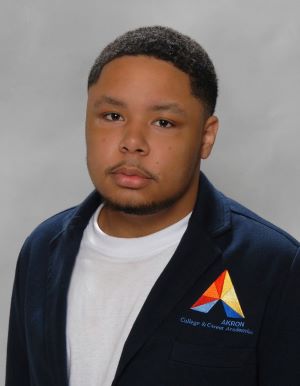 In August, Jaysean Davis, a recent graduate of Buchtel Community Learning Center, was been named the inaugural recipient of the Harrington Scholarship. Davis, 19, of Akron, participated in a number of extracurricular activities and organizations throughout his high school career, including Junior Leadership Akron Class of 32; serving as president of Phi Delta Kappa's Kudos program, a guidance group for students in grades nine through 12; serving as a student ambassador for Buchtel CLC and being a student council member; serving as a member of the Buchtel CLC Teachers Academy; the Buchtel Talon Newspaper and yearbook staff, and was a national member
of Educators Rising.
"My aspiration as a teacher is to try to make each of my students succeed in life," said Davis. "When I worked with students during field experiences in a program called Education Professions and Leadership, I started to understand that each child I was helping learned differently. I realized that some students might not reach their full potential because of the way their taught."
"I am very honored to be named the inaugural Harrington Scholar," said Davis. "I feel blessed and grateful to have an opportunity to go to college without worrying about the burden of financial aid or affording college tuition."
The partnership with the Harrington Family descendants and the Akron Public School District further supports the LeBron James Family Foundation School of Education's push toward preparing instructors for an urban setting.