They built a better bandage, and won $7,000
05/06/2016

Six finalists vied for $10,000 in total cash prizes at the tenth annual LaunchTown Northeast Ohio Student Entrepreneurship Competition, held April 19 at The Bit Factory in downtown Akron. LaunchTown is an idea competition open to graduate-student-led teams with awards going to the best ideas submitted for a new business, product or service.

For the third time in six years, first place was won by a UA team, beating out teams from Kent State University and Case Western Reserve University.

The winning team, called PolyLux, is comprised of Kaushik Mishra, a Ph.D. student in polymer science, and Prad Georges, a JD-MBA graduate working toward a master's in accountancy.

Mishra invented an adhesive technology that can facilitate easy removal of bandages and minimize pain, discomfort and injury to a patient's skin. Georges was brought in to solidify the business case and help identify how the technology can go to market.

PolyLux was awarded $7,000 in cash courtesy of The Burton D. Morgan Foundation and advisory consultation for one year from LaunchTown.

Third place and $1,000 went to a UA/CWRU team called Hedgemon, a startup focused on research and development of biomimetic impact protection technologies with initial focus on sports safety industry applications. They have a hedgehog-inspired product that can be used as a liner in football helmets for concussion prevention. It can also be used in a variety of shipping and packaging applications. UA graduate student Emily Kennedy, a biomimicry fellow, is one of the leaders of the team.

UA team Hygrodure, which produces a polymer film to better preserve flowers and perishable foods, did not place but was a finalist in the competition. Team members are graduate polymer students Gaurav Amarpuri, Sukhmanjot Kaur, Asritha Nallapaneni, and Ryan Salata.

Of this year's six finalists, three teams were from UA, and for the second year in a row a UA team won the LaunchTown competition (third time in five years). Two of UA's first-place winning teams went through the NSF I-Corps Sites Program and were additionally mentored through the Proof of Concept initiative, both of which began in 2013 and is unique among NE Ohio colleges. This process allows university-based spinouts, startups and early stage companies to evaluate market potential.

"The mentorship that students have both inside and outside the university are clearly working hand in hand," states Gopal Nadkarni, director of UA's Proof of Concept Initiative. "Collaborating closely with UARF and the I-Corp Sites program managers are resulting in UA leading the charge in pushing out technologies with validated market need through deep customer insight," he concludes.

It's creating a winning track record of entrepreneurial innovation, if LaunchTown is any indication.
Easing customer pain
PolyLux was one of eight teams chosen to go through Ohio's new I-Corps@Ohio Teams program last summer. "It teaches you above all things how to talk to potential customers, users and payers along with other people in the ecosystem like distributors and manufacturers in order to identify what their problems truly are," says Nadkarni. Highly qualified instructors who have been successful entrepreneurs teach a host of critical skills like talking with potential customers, identifying channels to market, developing revenue strategies and recognizing who to partner with. Most of the learning happens outside the classroom, rather than inside.
Mishra credits both the NSF I-Corp Sites and Ohio's I-Corps@Ohio programs for preparing him for experiences like LaunchTown.
"Our team started to speak to potential customers last July. Because our product makes removing bandages much less painful, we started in geriatric facilities, speaking to about 60 people such as nurses, doctors, nurse managers, specialized wound care doctors, patients, even owners of facilities. What we learned is that this sector has very small profit margins, and can't take in a new product easily."
Based on their findings, the team turned its attention to outpatient then inpatient wound care facilities like those found in hospitals and clinics. What it learned from talking to the people in that sector was a way the Affordable Care Act (ACA) is impacting hospitals.
"Under the ACA rule, hospitals are being measured on a patient satisfaction score (PSS) and are 'dinged' for not taking good care of patients," explains Georges, who worked at the Cleveland Clinic. "Hospitals have lost 3-4 percent of their profit margins over the last two years. Pain management is an integral part of that patient satisfaction score. So, we found that our value proposition for wound dressing that are easily removed using new technology is true and would be significant for this market," Georges says.
Following its LaunchTown win, the PolyLux team now looks toward competing for the Innovation Fund from Great Lakes Innovation and Development Enterprise (GLIDE). It awards technology-based startups up to $100,000 so they can continue to validate their technologies and business concepts.
---
Media contact: Lisa Craig, 330-972-7429 or lmc91@uakron.edu.
---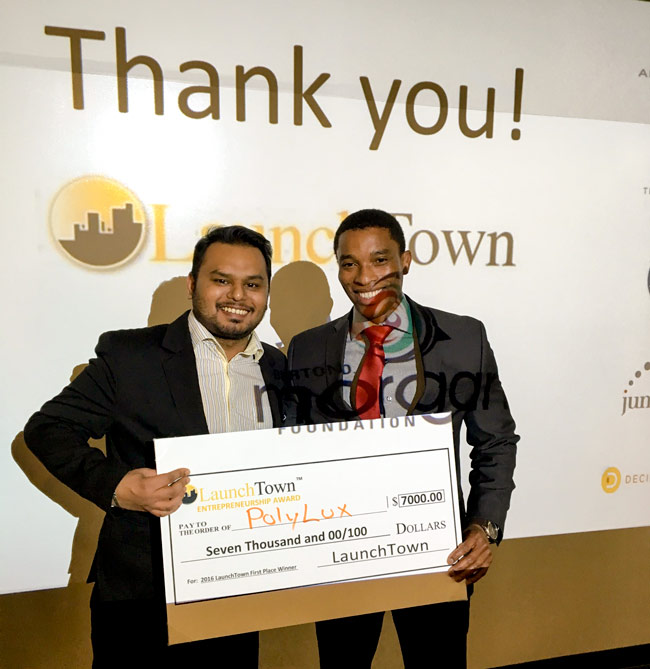 From left, Kaushik Mishra and Prad Georges of PolyLux. The two invented an adhesive bandage that allows for easy removal with minimal pain. They won the LaunchTown entrepreneurship competition and funds to advance their idea.