Timken gift to help make UA a center for cybersecurity education
05/15/2018
From phishing attempts that steal personal information to malware that disables entire computer systems, to ransomware demanding money to unlock a user's access to their own network — it's a dangerous cyber world.
Manufacturers in Northeast Ohio are as concerned as any businesses about falling prey to 'cyber adversaries.' But soon, they will have a state-of-the art resource at The University of Akron to help them combat cyber threats thanks in part to a generous gift of $200,000 from the Timken Foundation of Canton.
The establishment of a simulation lab (in research communities known as an industrial control systems "testbed") at UA will permit corporate information technology professionals to practice identifying and quarantining threats on an emulated network. They will be able to develop and update the skills needed to monitor and manage cyber threats without putting actual operating systems at risk. The testbed will further strengthen UA's robust Bachelor of Science in Cybersecurity degree, which officially launched in fall 2017, by including additional realistic learning opportunities for students.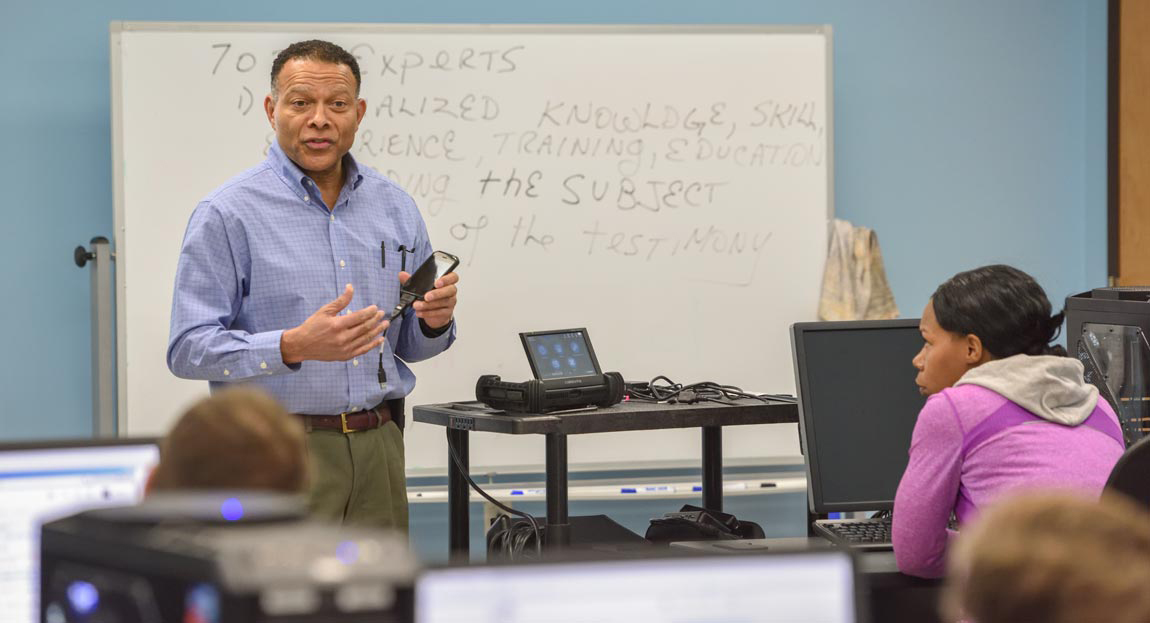 Stan Smith, visiting assistant professor, lectures in a networking course. Students in UA's new bachelor's degree in cybersecurity will learn about computer networking configuration as part of the program.
"We understand the critical importance of keeping our manufacturing infrastructure protected from cyber intrusions," said Ward J. Timken, chairman of the Timken Foundation of Canton. "The creation of an industrial control system testbed, as one of the few of its kind in the country, helps achieve this goal through threat exercises and learning in simulated manufacturing environments."
UA's testbed facility will involve 2,000 square feet of renovated space on the fourth floor of the Polsky Building, housing 30 workstations and a controller station. Construction planning is anticipated to begin later this year. It will be the only public testbed in the state that companies can utilize for network simulation and training.
Michael J. Morrell, who served as deputy director and acting director of the Central Intelligence Agency from 2010-2013, has endorsed the construction of UA's testbed. Morrell, a UA alumnus, had a highly respected career in the CIA as an analyst from 1980-2013.
Supporting students and industry partners
"We are immensely appreciative of the gift from the Timken Foundation," said Dr. John Nicholas, professor of computer information systems, who is leading the testbed project for UA. "This support will help the University continue its strong ties to the community while supporting our industry partners with their important cybersecurity needs. This much-needed facility also will be a significant benefit to UA students in the cybersecurity degree program."
Students in the degree program will learn from real-world cybersecurity scenarios as they are incorporated into existing coursework. Plus, partnerships with companies utilizing the testbed are expected to lead to co-op and internship opportunities.
UA is the only public university in Ohio offering a Bachelor of Science in Cybersecurity. It is the only cybersecurity degree in the U.S. that includes courses in cryptology (the study of computer codes), which are typically offered at the graduate level.
---
Media contact: Alex Knisely, 330-972-6477 or aknisely@uakron.edu.
---
Related
Share