UPDATE (8/6/2020): The votes are in -- congratulations to The Fellowship for being voted into the international Trivia Hall of Fame!
Ohio is home to many halls of fame. Two of its most prominent, of course, are the Rock and Roll Hall of Fame in Cleveland and the Pro Football Hall of Fame in Canton.
Since Ohio takes its hall of famers seriously, a team largely made up of University of Akron (UA) faculty, staff and alumni is extremely excited about being nominated for induction into a hall of fame – this one, for trivia players. Members of the team called "The Fellowship" are consistently top-ranked in North America in the Buzztime Trivia Network, played in pubs around the world.
And The Trivia Hall of Fame has taken notice.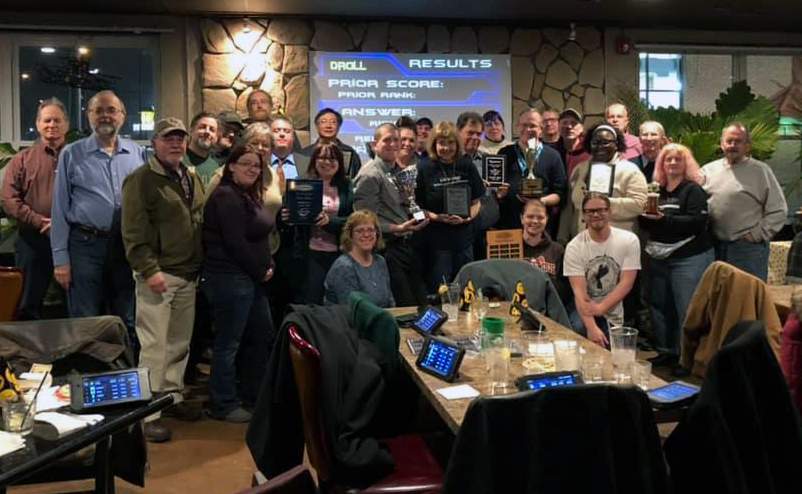 Members of "The Fellowship" are seen above at a gathering at the Red Fox Sports Pub & Grille for the team's 15th anniversary party on Jan. 15, 2019.
Inductees into The Trivia Hall of Fame include "Jeopardy!" champions Ken Jennings and Brad Rutter; Chris Haney and Scott Abbott, inventors of the Trivial Pursuit board game; and beloved game show hosts like Alex Trebek, Art Fleming, Allen Ludden, Merv Griffen and Regis Philbin.
Championship trivia teams can also be inducted, which is where The Fellowship comes in. This elite trivia team is one of six nominees hoping to get enough votes to be inducted as part of the Class of 2020.
Top Showdown Trivia team
The Fellowship meets for interactive trivia contests on Tuesday nights at the Red Fox Sports Pub & Grille in Cuyahoga Falls, Ohio, competing against teams from across the country. Since late 2003, The Fellowship has played at several locations en route to becoming the top Showdown Trivia team in the world — a title it has held since 2008.
"The main games we play weekly are Brainbuster and Showdown," says team leader Dr. Kevin Kern, associate professor of history. "They have long been considered to be the toughest games on the network, with Showdown being the most prestigious of them all."
In explaining the success of their team, Kern boasts, "We do not use computers or any kind of reference materials during play – we depend solely on the encyclopedic knowledge of the team members."
Membership grows
As for membership, the team has grown quite a bit over the years, explains Dr. Mike Levin, associate professor of history who, along with Kern and fellow history professor, Dr. Martin Wainwright, is among its original members.
"In the early days (2004-2005), we might have had only five to seven people playing any given week," says Levin. "By 2007-2008 or so, we could pretty reliably count on 12 to 15. More recently, it's been more like 20 to 25."
But throughout the years, the Zips contingent has always been a crucial part of it. Other long-time, consistent members of The Fellowship include (alphabetical):
Robert Barrett, senior lecturer, geosciences and history
Derek Daily, UA alumnus and current career services coordinator in UA's Career Services, who was recently a contestant on "Who Wants to Be a Millionaire"
Jacqie Flynn, graduate student in history
Jessica Forest, UA and School of Law alumna
Ben Yu-Kuang Hu, associate professor of physics
Robert Jeantet, professor emeritus of modern languages and a "Jeopardy!" champion who played on the team until he retired and moved to France in 2011
Lisa Lackney, UA alumna and associate lecturer of history
Gina Martino, associate professor of history
Randy Mitchell, professor of biology, and his wife Karen
Jana Russ, senior lecturer in history
Randall Slonaker, UA alumnus
"We're up against James Holzhauer, the recent "Jeopardy!" champion," says Wainwright. "We know we're underdogs. But who doesn't love an underdog?"
The Fellowship needs your votes
The team leaders concede that the Trivia Hall Of Fame isn't exactly Cooperstown, but among the competitive quizzing community, it is a big honor. Other nominees for the Class of 2020 include trivia celebrities from India and the United Kingdom.
One component of the election is a public online ballot.
"If we stand a chance of getting elected, it will take a mobilization of people in Northeast Ohio who might be interested in getting a local team into the Hall of Fame," explains Kern. "I am confident there would be a number of UA faculty, students and alumni, in particular, who would like to vote to support a team with such deep UA roots."
Go to the online ballot to cast your vote for Kevin Kern (aka ANON), et al (NTN Buzztime). Let's Go Zips!
---
Media contact: Lisa Craig, 330-972-7429 or lmc91@uakron.edu.