UA and Stark State College announce new dual admission partnership
10/12/2018
Stark State College and The University of Akron today announced a new pioneering agreement facilitating streamlined dual admission.
"Direct Connect" is an expanded partnership between the two institutions providing opportunity for students to be dually admitted to both Stark State College (SSC) and The University of Akron (UA) as they complete an associate degree while preparing for transfer to complete a bachelor's degree. The partnership also allows students the opportunity to take advantage of amenities at both institutions, allowing students to become fully immersed at each.

"For decades, The University of Akron has been a preferred transfer choice for Stark State students, and with our expanded presence in Summit County, we believe that will continue to grow," said Stark State College President Dr. Para Jones. "This new level of partnership between our institutions is exciting and will continue to create opportunities for all Stark State students to fulfill their ultimate dream of earning a bachelor's degree as an Akron Zip."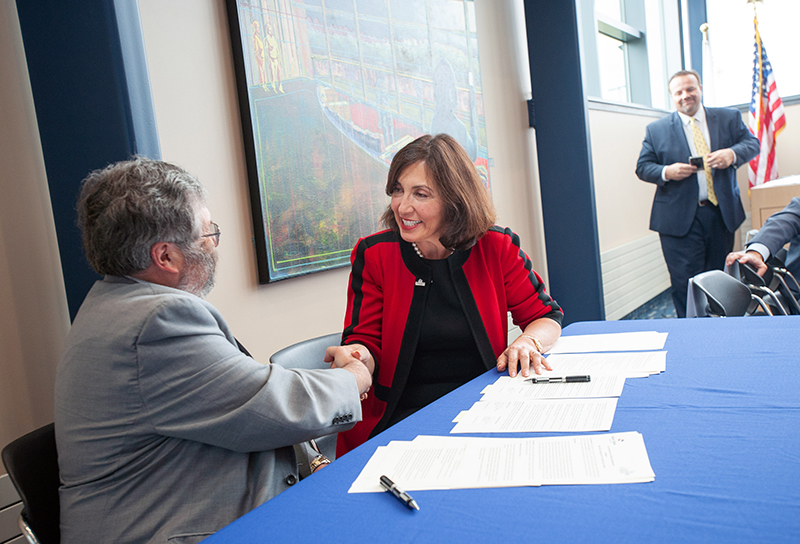 The dual admission and enrollment agreement was signed today by University of Akron Interim President Dr. John Green and Stark State College President Dr. Para Jones.
"One of the goals of The University of Akron is to make transferring to our programs as painless as possible so that students can continue their education seamlessly," said UA Interim President Dr. John Green. "We value our relationship with Stark State and see this as a model partnership that will greatly benefit students in Summit and Stark counties."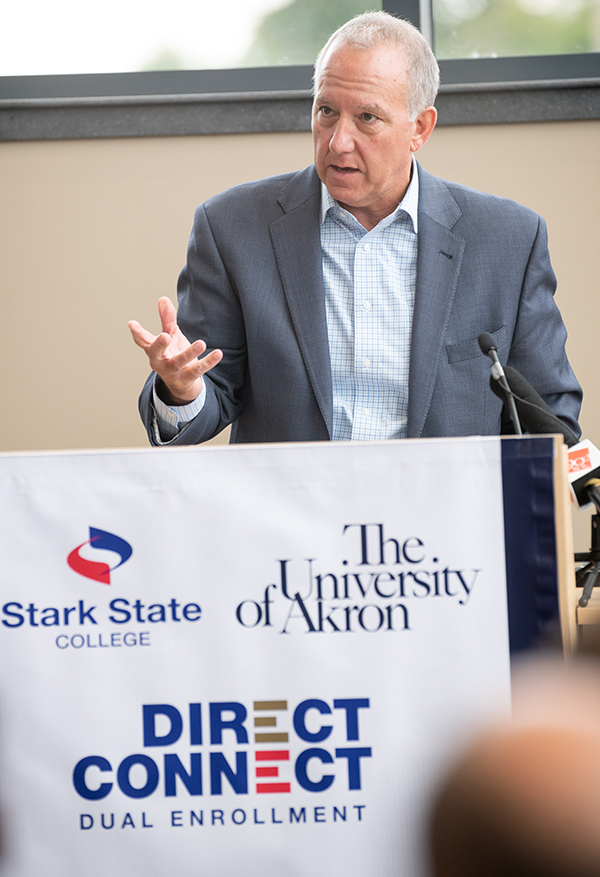 Akron Mayor Dan Horrigan was among those who spoke at today's signing ceremony.
Academic advisors from UA will work closely with SSC advisors and faculty members on each of SSC's campuses and will meet directly with students to ensure a worry-free transition from one campus to another. Students enrolled in Direct Connect will have access to several UA services and programs while beginning their academic career at SSC. Direct Connect students will be permitted the opportunity to use facilities and services offered to regularly admitted students at both SSC and UA, including libraries, career services, recreation centers, computer labs, sporting events, parking, email and internet access and more.
The new agreement also aligns with the Northeast Ohio Regional Higher Education Compact, a consortium formed to enhanced education opportunities for Ohioans and support the region's workforce.
"I would like to congratulate the University of Akron and Stark State College for working together to best serve students by providing cost-effective pathways that fill in-demand jobs, said John Carey, Chancellor of the Ohio Department of Higher Education. "I commend the collaborative energy and leadership of Interim President Green and President Jones – and that of their colleagues, as well – in signing this joint agreement."
For more information, go to starkstate.edu/directconnect or uakron.edu/directconnect.
---
Media contacts:
Robyn Steinmetz, director of marketing, Stark State College, Office: 330-494-6170, ext. 4599, or cell: 330-575-6749 rsteinmetz@starkstate.edu
Cristine Boyd, director of media relations, The University of Akron, Office: 330-972-6476, or cell: 330-687-9269, or cboyd@uakron.edu.
Share