UA freshman class increases; highest GPA on record
09/13/2017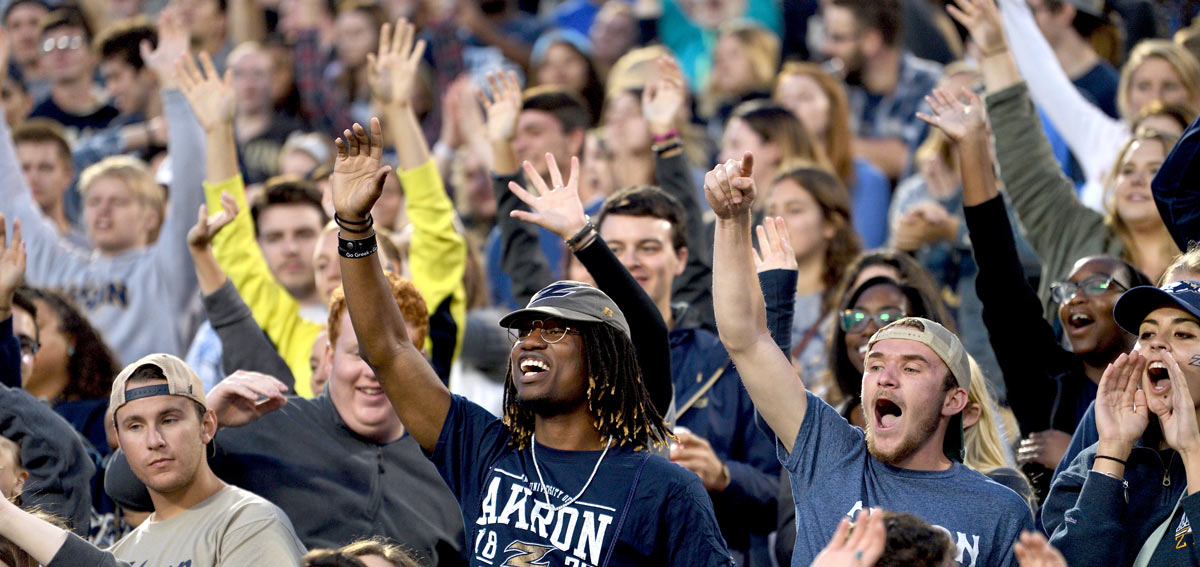 This year's freshman class at The University of Akron increased in both size and academic preparedness, according to official enrollment figures (census) to be filed with the Ohio Department of Higher Education. New freshman enrollment increased 8.1% this fall (3,722 students, up from 3,442 in 2016). The traditional freshman grade point average stands at 3.48, the highest in UA history. Enrollment in the School of Law increased 5.7%.
The University's overall enrollment decreased 4.5%, less than the 5% drop that had been projected (22,104 students compared to 23,152 last year).
'Strong progress'
"Today's enrollment figures reflect strong and continuing progress made by our University through a remarkable collective effort," said University President Matthew J. Wilson. "An 8.1% increase in freshmen enrollment, with a corresponding increase in GPA scores, is a tribute to an excellent recruiting effort led by our energetic Enrollment team, and innovative initiatives like the Akron Guarantee Scholarship program.
"Earlier this year we projected a 5% decrease in overall enrollment based on last year's large graduating class and smaller freshman cohort," noted Wilson. "By growing our freshmen classes and enhancing retention efforts, total enrollment was better than expected. We have renewed confidence in our ability to build a bright future for our University and region."
Other highlights of the census report:
Total enrollment in the Williams Honors College increased by 228 students to a record 2,235.
Entering freshmen in the Williams Honors College reported the highest average GPA in UA history at 4.04, while the average ACT for entering Honors College students declined slightly, from 28.0 to 27.9.
Undergraduate enrollment is down 3.4% at 18,802 students, compared to 19,465 last year.
The entering freshman class is more diverse than last year's, increasing to 28.6% compared to 25.1% last year.
As is the case at many colleges and universities in the country, the number of undergraduate international students at UA has dropped 10.8% from 2016.
465 students are enrolled in the School of Law, an increase of 25 students (5.7%) from last year.
---
Media contact: Dan Minnich, 330-972-6476 or dminnich@uakron.edu.