UA making history with National Museum of Psychology
04/12/2016
From the home movies of Sigmund Freud and the original simulated shock generator used by Stanley Milgram to artifacts from the famed Stanford Prison Experiment — the objects that tell the history of psychology will all be showcased at the National Museum of Psychology — right here at The University of Akron.
The new museum will be the only one of its kind in the United States, and it is being designed to showcase the University's one-of-a-kind collection on the first floor of the Drs. Nicholas and Dorothy Cummings Center for the History of Psychology, 73 South College St., on the north side of campus.
Collection is decades in the making
"The National Museum of Psychology will allow visitors to explore the past, present and future of psychology and its role in everyday life," says Dr. David Baker, the Margaret Clark Morgan Executive Director of the Cummings Center. The center already has vast holdings of books and manuscripts, photos and films, and such rare items as Milgram's original simulated shock generator. Items on loan from the Smithsonian Institution will also be exhibited at the museum.
On Wednesday, April 13, at 3 p.m., the Cummings Center is launching a one-month Kickstarter campaign to raise $250,000 for the National Museum of Psychology.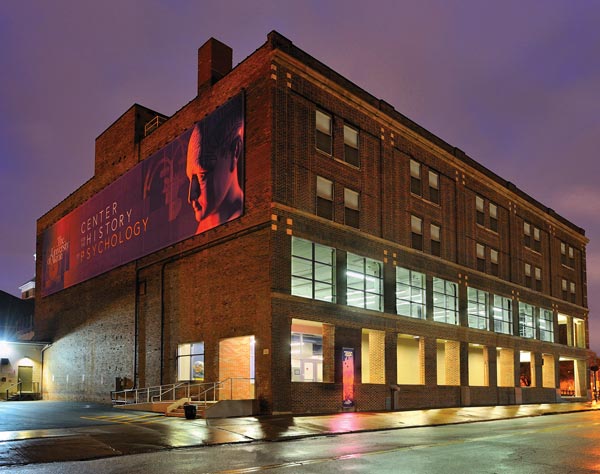 The National Museum of Psychology will be housed on the first floor of this building at 73 South College St. on The University of Akron campus.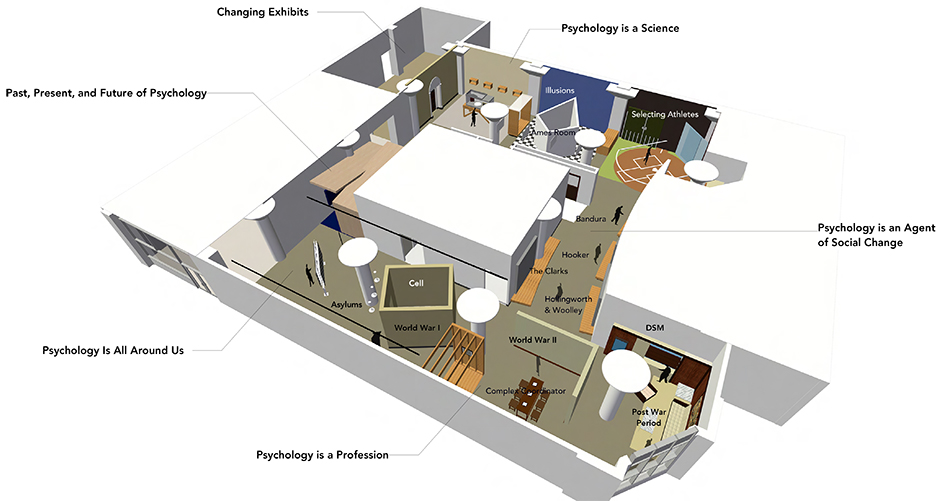 This diagram illustrates the layout of the 6,000 square foot National Psychology Museum, scheduled to open in spring 2017.
Kickstarter is an online funding platform for creative projects. This type of crowdfunding can be an effective way for museums to raise money and increase awareness of projects, says Baker. It will enable the Cummings Center to offer everyone from students and researchers to archivists and the community-at-large the opportunity to become instant investors in a piece of living history.
Funding on Kickstarter is "all or nothing." Unless a project reaches its funding goal, no one is charged for a pledge. The Cummings Center has to meet its goal by May 12.
Interactive space
The $250,000 from the Kickstarter campaign will be used to create and install interactive, multimedia exhibits in the new National Museum of Psychology. A multi-million-dollar renovation of the Cummings Center building is already in its final stages.
"We have always displayed materials, but now with a dedicated space in our building we'll be able to show off our unique collection and highlight the history of psychology as a science, profession and agent of social change," says Baker.
To participate in the campaign, visit the National Museum of Psychology on the Kickstarter website.
Share