UA Professor named Fellow of National Academy of Inventors
12/03/2019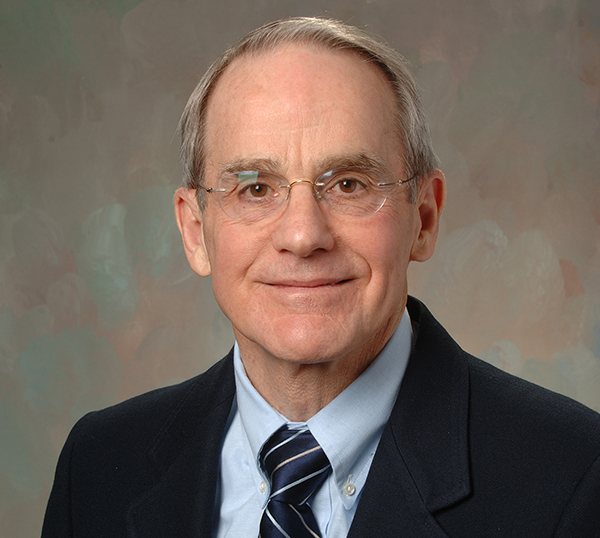 Roderic Quirk, Ph.D., a polymer science research professor and distinguished professor emeritus in The University of Akron's (UA) College of Polymer Science and Polymer Engineering, has been named a Fellow of the National Academy of Inventors (NAI), the organization announced on Dec. 3, 2019.
The NAI Fellows Program highlights academic inventors who have demonstrated a spirit of innovation in creating or facilitating outstanding inventions that have made a tangible impact on quality of life, economic development and the welfare of society. Election to NAI Fellow is the highest professional distinction accorded solely to academic inventors. To date, NAI Fellows hold more than 41,500 issued U.S. patents, which have generated over 11,000 licensed technologies and companies, and created more than 36 million jobs. In addition, over $1.6 trillion in revenue has been generated based on NAI Fellow discoveries.
"I am honored to be elected as a 2019 Fellow to the National Academy of Inventors," said Quirk. "This honor is a tribute to the outstanding opportunity that the University of Akron and the Department of Polymer Science research and education program provided to me to pursue a productive and creative research program. With the continuing financial support of industrial research sponsors and the help of the University of Akron Office of Technology Transfer and the University of Akron Research Foundation, our research efforts resulted in the issuance of 35 U.S. patents."
Quirk, who was a professor at UA for 27 years, has delivered 126 lectures at many of the major elastomer and tire producers around the globe. His more than 350 publications have been cited more than 7,100 times in the open literature. He has received significant research support from major rubber producers, such as Exxon, Mobil Chemical, B.F. Goodrich, Texaco and Goodyear, among others. He's also served as a consultant for many of those companies.
Recently, Quirk was the recipient of the 2019 Charles Goodyear Medal, the highest honor from the American Chemical Society's Rubber Division.
Quirk, originally of Detroit, received his bachelor's degree in chemistry from the Rensselaer Polytechnic Institute in Troy, N.Y.; and master's and doctorate degrees in organic chemistry at the University of Illinois, followed by two years of postdoctoral research at the University of Pittsburgh and Mellon Institute.
He was a faculty member in the chemistry department at the University of Arkansas for nine years. He joined UA as a professor of polymer science in 1983 after five years as a senior research scientist at Michigan Molecular Institute in Midland, Mich.
In 1996, Quirk was appointed Kumho Professor of Polymer Science and also distinguished professor of polymer science at UA. His service included being chair in the Department of Polymer Science, and he served as interim director of the Institute of Polymer Science and Polymer Engineering. He retired from UA in 2010.
The 2019 NAI Fellow class represents 136 research universities and governmental and non-profit research institutes worldwide and collectively hold over 3,500 issued U.S. patents. Among the 2019 Fellows are six recipients of the U.S. National Medal of Technology & Innovation or U.S. National Medal of Science and four Nobel Laureates, as well as other honors and distinctions. Their collective body of research covers a range of scientific disciplines including neurobehavioral sciences, horticulture, photonics and nanomedicine.
Laura A. Peter, Deputy Under Secretary of Commerce for Intellectual Property and Deputy Director at the U.S. Patent and Trademark Office (USPTO), will be the keynote speaker at the NAI Fellows Induction Ceremony, April 10, 2020, in Phoenix, Ariz., a commemorative event at the Ninth Annual Meeting of the National Academy of Inventors. At the ceremony, Fellows will be formally inducted by Peter and NAI President Paul R. Sanberg in recognition of their outstanding achievements.
The complete list of NAI Fellows is available on the NAI website.
---
Media contact: Alex Knisely, 330-972-6477 or aknisely@uakron.edu.