UA selects renowned researcher as W. Gerald Austen Endowed Chair
06/21/2022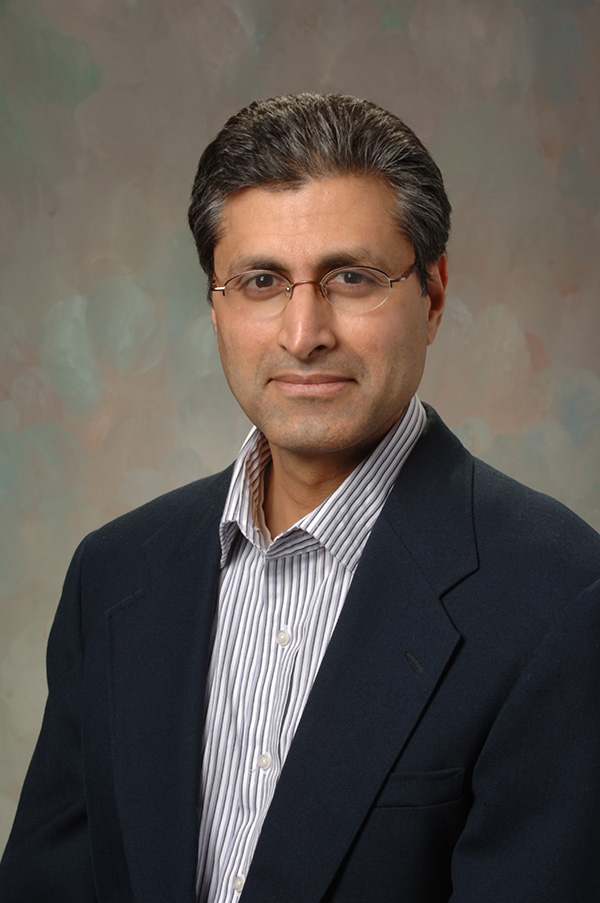 Ali Dhinojwala, Ph.D., has been named the W. Gerald Austen Endowed Chair in Polymer Science and Polymer Engineering at The University of Akron (UA).
Dhinojwala is a noted researcher in the area of biomaterials and biomimicry, with a strong funding record and an impressive resume of research activities, publications, citations, individual awards and other recognitions. He is only the second person to hold the title of Endowed Chair since its creation in 2016.
The W. Gerald Austen Endowed Chair in Polymer Science and Polymer Engineering was established in 2016 by the John S. and James L. Knight Foundation in honor of prominent cardiac and thoracic surgeon Dr. W. Gerald Austen and his contributions to the Akron community. The position reaffirms the significance of the deep global impact of the University's polymer program.
"Ali is a wonderful fit for this role," said Dr. Craig Menzemer, dean of the College of Engineering and Polymer Science. "I believe his body of work and commitment to excellence in his field recognizes the contributions of Dr. W. Gerald Austen and honors his commitment to knowledge and his dedication to Akron's future."
"I am very grateful to be selected for this position and want to convey my appreciation to the Knight Foundation for the creation of this endowed chair and this reaffirmation of support for UA's polymer program," said Dhinojwala. "The polymer program at UA continues to be revered the world over, and I will continue to champion it toward continued growth and opportunity."
Dhinojwala began his career at UA in 1997 as an assistant professor in the Department of Polymer Science before being named associate professor and eventually H.A. Morton Professor of Polymer Science. He also successfully served in important leadership roles such as the department chair and interim dean of the College of Polymer Science and Polymer Engineering. Dhinojwala played a critical role as interim dean during times of great change at the University when the polymer college was joined with the College of Engineering, College of Applied Science and Technology, and Computer Science and Computer Information Systems programs. Thereafter, Dhinojwala served as an interim director of the School of Polymer Science and Polymer Engineering, overseeing activities during the pandemic.
He is a founding member and co-principal investigator of the Biomimicry Research Innovation Center (BRIC) since 2011, an internationally recognized Center in the rapidly growing field of biomimicry. As a co-PI, he helped recruit four faculty members in the BRIC program and the BRIC center has built successful collaborations with twenty local companies and secured funding for 20 BRIC fellowships to support graduate students for all five years of their Ph.D. education.
His current research is in the areas of adhesion, friction and wetting. His group has developed unique surface techniques to study buried polymer interfaces. His recent interest is in understanding how geckos and spiders use adhesives for locomotion and prey capture. These studies have led his team to develop synthetic adhesives using aligned carbon nanotubes. His latest passion is on developing structural colors, a strategy inspired by bird colors.
He has an impressive record of research funding, including funds from Avery Dennison, the Air Force, multiple NSF programs, the Getty Foundation, ABIA, Lubrizol, the Army Research Office, Exxon Mobil, Bemis, Office of Naval Research, GOJO and General Electric, among others. He has successfully guided 25 M.S. students through graduation along with 43 Ph.D. students. Further, his work has resulted in nearly 200 journal publications and 14 patents.
Dhinojwala earned a Bachelor of Technology in Chemical Engineering from Indian Institute of Technology in Mumbai, India, and a Doctor of Philosophy in Chemical Engineering from Northwestern University. Prior to his academic career, he worked as a research scientist at University of Illinois at Urbana-Champaign and as a product technologist for GE Plastics in Indiana.
Celebrated for his research, he is the 2020 recipient of the 3M Award for Excellence in Adhesion Science from the Adhesion Society; was honored with the National Science Foundation Creativity Award (2009-2011 and 2019-2021); received the 2016 I.N.S.P.I.R.E. Award from The University of Akron and the Outstanding Researcher Award in 2010; was honored with the 2012 Whitby Award for Outstanding Teaching and Research from ACS Rubber Division; received the National Science Foundation Creativity Award in 2009-2011; received a CAREER-NSF Award, 2000-2005; and his work on Gecko Technology was selected as one of the six technologies that can change how manufacturing is done by SME in 2009.
About the John S. and James L. Knight Foundation
We are social investors who support a more effective democracy by funding free expression and journalism, arts and culture in community, research in areas of media and democracy, and in the success of American cities and towns where the Knight brothers once published newspapers
---
Media contact: Cristine Boyd, 330-972-6476 or cboyd@uakron.edu
Share