UA students are prizewinners at 2018 High Arts Festival
10/18/2018

What began on Sept. 14 and lasted 23 days, the 2018 High Arts Festival attracted thousands of professionals and members of the public who voted for their favorite works of film, literature and music. The festival capped off Saturday evening, Oct. 6, with the announcement of the names of 18 artists who shared $33,000 in prize money.

Two of those winners are UA students.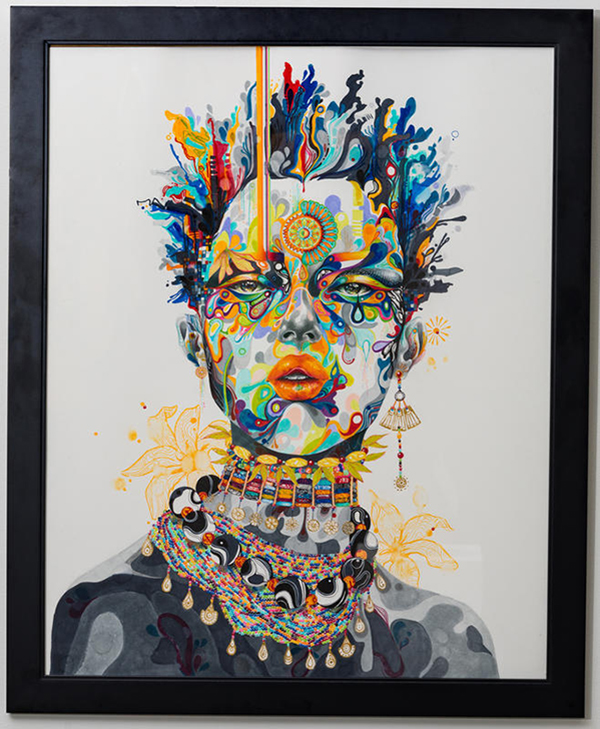 "Embody" is the work of art major Alexandria Couch.
For her poem "Mother," Pooja Dayal won the Literary Art Juried Grand Prize Winner. A Williams Honors Scholar and a junior majoring in biology, Dayal received $3,000 and an opportunity to take a two-day trip to Chicago later this month to learn from and connect with artists and communities.
For "Embody," fifth year undergraduate Alexandria Couch, with a dual major in printmaking and in painting and drawing, won $1,000 as the runner up for the category of Visual Art (2D). Her work is described as a mixed media representation of the result of transculturation — the creation or combining of differing cultural material. "Some will assimilate, others will rise and embody."
The High Arts Festival elevates the excellence of the arts community through peer-to-peer assessment, connecting new audiences to local art and individual artists, and increasing the awareness of the vibrant artistic hub that exists in downtown Akron. Using an official festival app, attendees registered to vote, explored all of the entries and voted on their favorite art, music, film and literary works throughout the festival.
The festival is sponsored by Peg's Foundation and made possible by the John S. and James L. Knight Foundation's Knight Arts Challenge. Additional support is provided by Ohio Arts Council.
---
Media contact: Lisa Craig, 330-972-7429 or lmc91@uakron.edu.