The University of Akron Press to Publish Marbles on the Floor: How to Assemble a Book of Poems
03/17/2022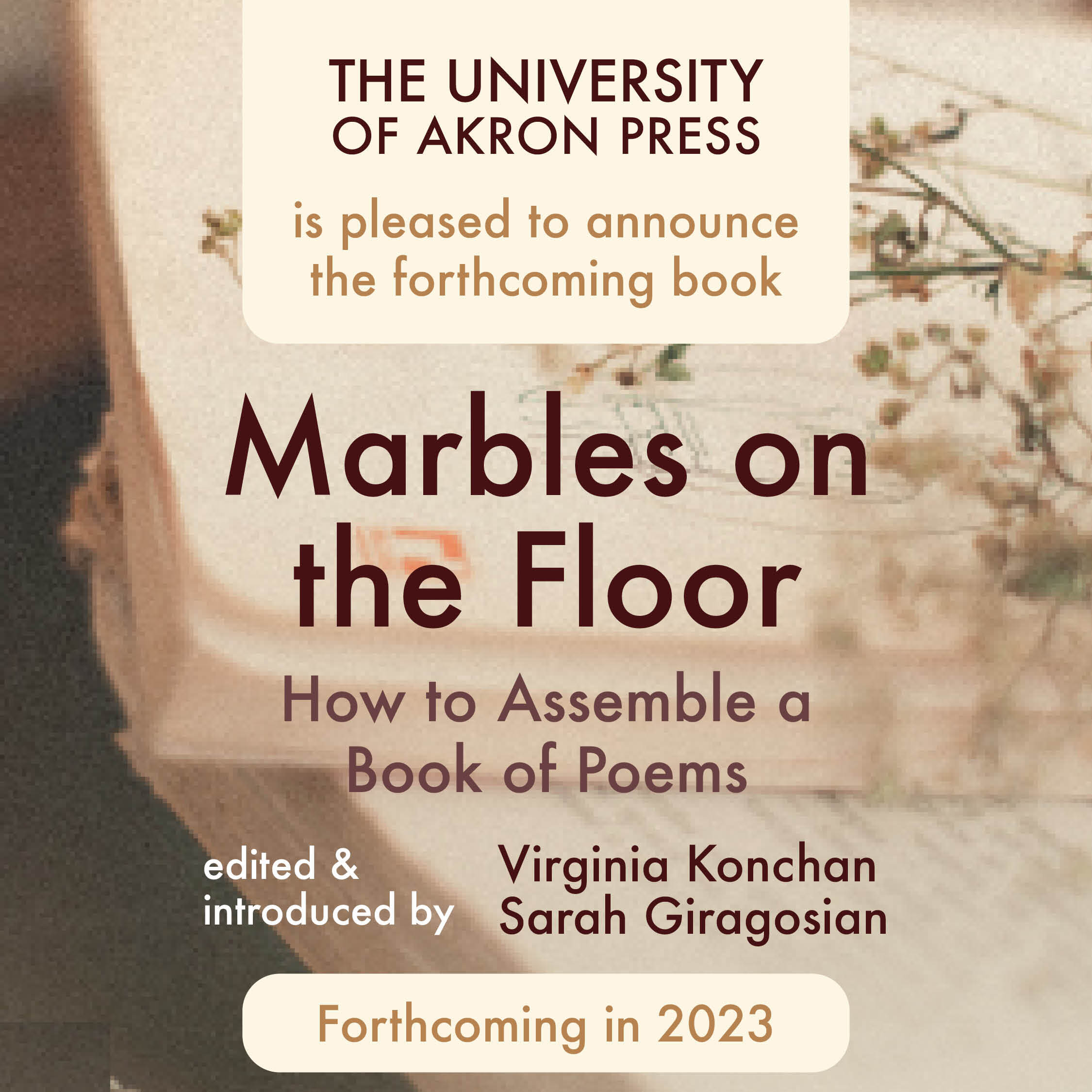 The Akron Series in Contemporary Poetics at The University of Akron Press is excited to announce that it will publish Marbles on the Floor: How to Assemble a Book of Poems, a volume of essays edited and introduced by Sarah Giragosian and Virginia Konchan.
Marbles on the Floor: How to Assemble a Book of Poems was conceived from a poetic dialogue on how to shed light on art and science behind the material constriction of a poetry collection. This anthology of interconnected essays (craft, lyric, and critical) explores the art and technique of poetry manuscript assembly as articulated by poets in all stages of their careers. A timely, invaluable, and compact resource for creative writing teachers, as well as emerging and established poets honing their craft, writers in other genres (fiction and non-) will also benefit from this widely applicable yet nuanced discussion of how to bring a book into being.
Contributors to this volume are Kazim Ali, Cyrus Cassells, Victoria Chang, Annie Finch, Harvey Hix, Stephen Kampa, Alyse Knorr, Karyna McGlynn, Philip Metres, Christopher Salerno, Diane Seuss, and Heather Treseler.
Sarah Giragosian is the author of the poetry collection Queer Fish, a winner of the American Poetry Journal Book Prize (Dream Horse Press, 2017) and The Death Spiral (Black Lawrence Press, 2020). Sarah's writing has appeared in such journals as Orion, Ecotone, The Missouri Review, Tin House, and Prairie Schooner, among others. She teaches at the University at Albany-SUNY.
Virginia Konchan is the author of the poetry collections Bel Canto (Carnegie Mellon, 2022), Hallelujah Time (Véhicule Press, 2021), Any God Will Do, and The End of Spectacle (Carnegie Mellon, 2020 and 2018), a short story collection, Anatomical Gift (Noctuary Press, 2017), and four chapbooks. Her work has appeared in The New Yorker, The New Republic, The Yale Review, Boston Review, and The Believer.
Share