University of Akron awarded OhioCorps Pilot Grant to mentor at-risk youth
01/11/2021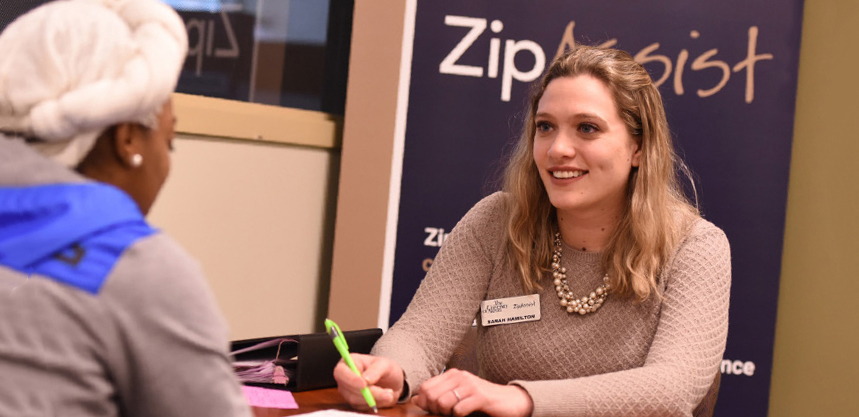 Sarah Hamilton helps a University of Akron student seeking support from ZipAssist.
The University of Akron (UA) and four partnering community colleges have received a two-year OhioCorps Pilot Grant from the Ohio Department of Higher Education (ODHE) valued at more than $345,000 to develop mentorship programs that provide pathways to higher education for at-risk secondary students in Northeast Ohio.
UA is serving as the leader and fiscal agent of a consortium with Cuyahoga Community College, Lakeland Community College, Lorain County Community College and Stark State College. The institutions will share best practices and resources, and work with public schools and health services organizations in their respective communities to implement pilot programs to mentor and guide students whose futures are threatened by poverty and the opioid crisis.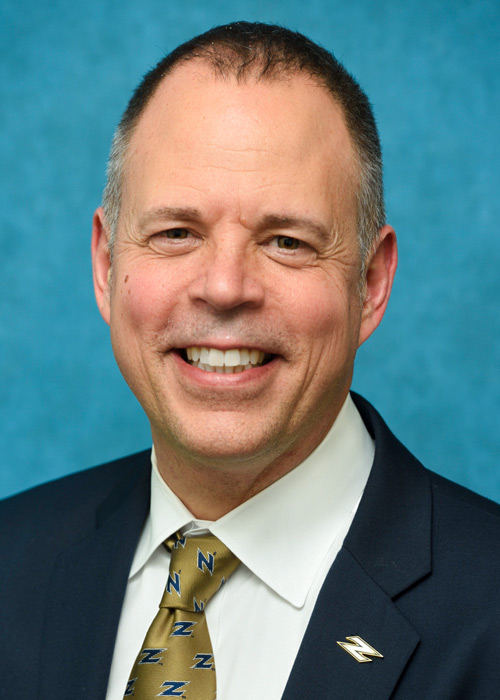 John Messina
"This grant is about helping students who otherwise wouldn't have had a chance to earn a degree," says Dr. John A. Messina, vice president for student affairs at UA and principal investigator of the project. "It's about giving them the supports and opportunities that, in many ways, were taken from them. And, by helping those students achieve, we are serving the region as a whole."
According to the ODHE, there is a need to increase bachelor's degree attainment in the counties represented by the consortium — Summit, Cuyahoga, Lake and Lorain — which are also among the many counties in the state that have been impacted by the opioid epidemic.
In Summit County alone, for example, approximately 25% of children taken into foster care in 2015 had parents who were using opiates, including heroin, at the time of removal, according to the Public Children Services Association of Ohio. And while 2018 results are still pending, the 2013 Summit County Youth Risk Behavior Survey reported that heroin use was significantly higher among students in Summit County than among students across the United States, with the highest rate seen among students from the West Akron area.
The OhioCorps Pilot Grant will enable UA and its consortium partners to select an estimated 130 at-risk students in the represented counties to receive guidance and support through regular one-on-one meetings with mentors. Mentees will learn about drug prevention and the resources available to them, participate in service-learning projects, receive tutoring as well as assistance with scholarship applications, take part in college preparedness and financial literacy workshops and more. Mentees who complete the two-year program will also be eligible to receive an OhioCorps Scholarship towards attendance at an Ohio public institution.
UA and its partnering colleges will recruit and train an estimated 60 college student mentors — primarily those studying social work, education, human services, addiction and health services, and related subjects — to participate in the program.
UA will use the rigorous Certified Peer Educator Program (CPE), developed by the National Association of Student Personnel Administrators (NASPA), to train its 12 mentors, who will be individually matched with 24 mentees from the National Inventors Hall of Fame STEM High School (one of the three Akron Public Schools with which the University partners for various initiatives as a "sister university").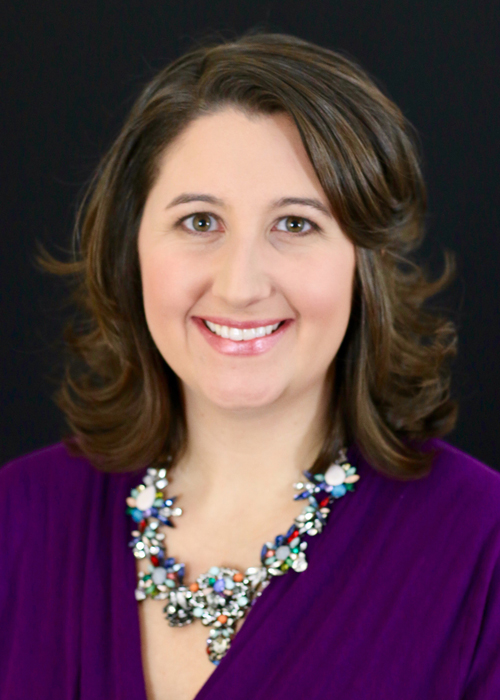 Ali Doehring
The mentors' training will equip them to provide guidance in the areas of healthy relationships, peer pressure, drug and alcohol use, and community resources. The United Way of Summit County will provide financial literacy training to mentors through its Financial Empowerment Center, located in UA's Simmons Hall.
"Through virtual mentoring sessions, service projects and regular meetings, UA students who participate as mentors will have the opportunity to make an impact in the lives of young people from our community," says Alison Doehring, director of UA's pilot program and of ZipAssist, UA's central information hub for students. "Mentoring has been shown to alleviate depression; reduce substance abuse; and improve academic outlook, grades and social acceptance."
Doehring emphasized the comprehensive and collaborative nature of the program, which will leverage the expertise, resources and services of various campus units and community partners, such as the Akron-Canton Regional Foodbank, the Battered Women's Shelter and United Way of Summit County.
---
Media contact: Cristine Boyd, 330-972-6476 or cboyd@uakron.edu