University of Akron researchers receive EPA grant to develop environmentally friendly coatings
01/12/2021

A student-research team led by Dr. Qixin Zhou, assistant professor of chemical, biomolecular, and corrosion engineering at The University of Akron's the College of Engineering and Polymer Science, received a $25,000 grant from the U.S. Environmental Protection Agency (EPA) to support Zhou's research on green coating development as part of her latest project, Waterborne NIPU Epoxy Hybrid Coating.

The grant is as part of the EPA's People, Prosperity and the Planet (P3) grants program that challenges students to research, develop and design innovative projects addressing environmental and public health challenges.

Doctoral student Zichen Ling and master's student Kuan-Chen Huang, both studying chemical engineering, are part of Zhou's research team. The group intends to develop an alternative to polyurethane coatings which are traditionally produced using hazardous and toxic chemicals. The new approach will also reduce Volatile Organic Compounds (VOCs) by using water as a solvent.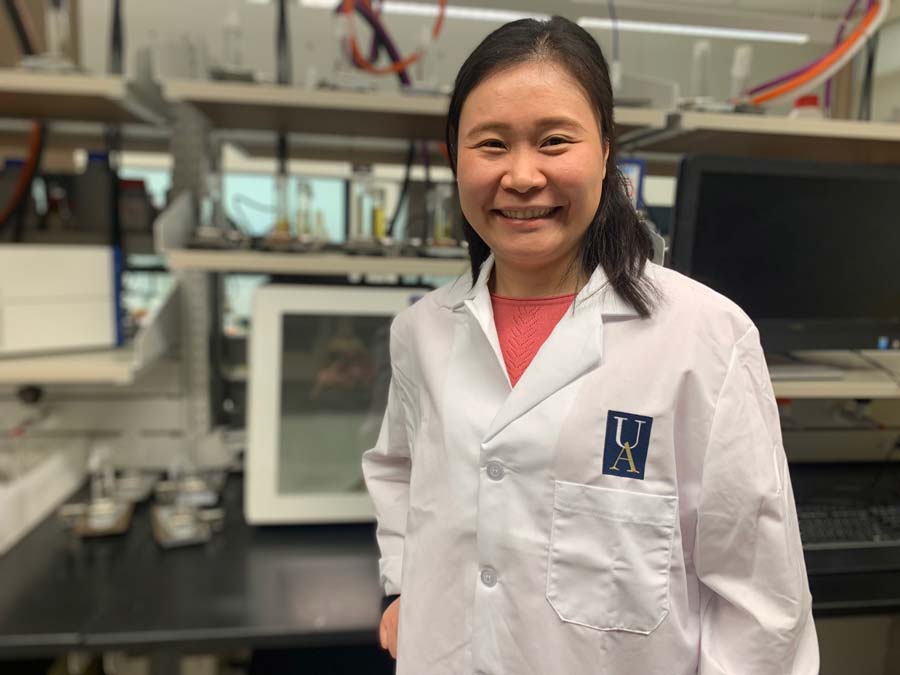 "This project will advance my research of non-isocyanate polyurethane (NIPU) coatings to the next level," says Zhou. "I hope I can apply for Phase II of the EPA P3 award, which will provide an additional $100,000, after the completion of this project."
Polyurethane coatings — which are high-performance coatings widely used for automotive, aerospace and corrosion protection applications — are produced using hazardous and toxic isocyanates as the primary building blocks.
"Development and research on waterborne NIPU is still in its infancy. The innovation of this project is intended to fill the gap," adds Zhou.
Zhou's project aims to combine the features of NIPU approach and waterborne coating to develop a waterborne NIPU epoxy hybrid coating from a bio-based resource. The new approach will not involve the use or production of isocyanates.
"The green and sustainable approach to produce polyurethane coating protects the environment, benefits the health of people in surrounding communities, and creates economic benefits," says Zhou.
Phase I of the P3 program serves as a "proof of concept," where teams are awarded a $25,000 grant to develop their idea and showcase their research in the spring at EPA's National Student Design Expo. These teams are then eligible to compete for a Phase II grant of up to $100,000 to implement their design in a real-world setting.
UA is one of four Ohio higher education institutions to receive a P3 Phase I award. Visit the U.S. EPA P3 awards webpage to learn more about other Phase I winners.
---
Related content: