University of Akron to reduce costs for students; make degree attainment more affordable
03/16/2021
As the cost of a college attendance continues to rise across the country, The University of Akron (UA) is taking significant steps to help its students.
University President Gary L. Miller today announced that UA will not seek a tuition increase for the 2021-2022 academic year and will take steps to reduce on-campus housing rates for all students by 30%, which would lower the cost of attending UA for students living on campus by more than $2,500 on average. When including the cost of tuition, fees, books and other personal expenses, the overall reduction in the cost of education for students residing on campus will be 9%.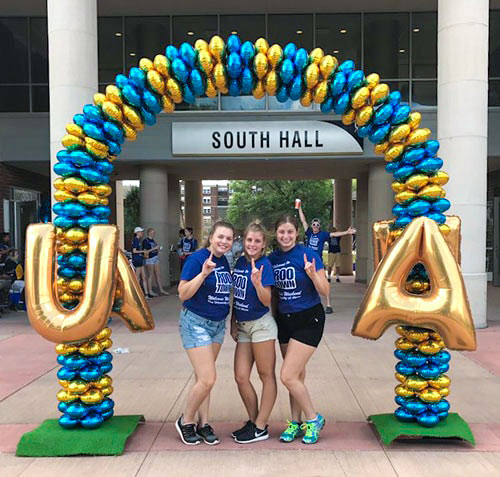 South Hall is one of many new residence halls on campus. UA has reduced on-campus housing rates 30% for the 2021-22 academic year.
"The University of Akron is a university of opportunity," said Miller. "We realize that many families continue to suffer from the economic ramifications of the pandemic. We are dedicated to doing all that we can to make higher education as accessible as possible for both current and incoming students. We also want them to enjoy living on campus and truly experiencing all that UA has to offer."
---
 See the revised room rates for academic year 2021-22
---
Guidance from the Inter-University Council of Ohio (IUC), a member consortium of Ohio's public higher education institutions, was to limit undergraduate tuition increases to a maximum of 3.8% for the fall, but UA will choose not to seek a tuition increase for any of its degree programs, either at its Akron main campus or its regional campuses in Lakewood, Medina or on the Wayne College Campus in Orrville. Incoming students will also benefit from UA's tuition freeze which guarantees that tuition remains the same for the next four years for Ohio residents, as part of the Ohio Tuition Guarantee program.
"We will continue to look for ways to reduce expenses for students and provide additional support to families to help cover the added costs brought on by the pandemic," said Executive Vice President and Provost John Wiencek.
To give families as many options as possible during the pandemic, UA has also waived its requirement this year that first-year students live on campus, although the reduction in room costs may allow more students to more comfortably explore residence hall options in the fall. The campus is home to nine residence halls which range from single and double rooms to apartment living and also offers themed communities for those in similar majors.
"We value our students and realize that college affordability is something we must examine," said Miller. "As our institution progresses, we must continue to honor our people, our place and our promises to those who call UA home. We think this is a step in the right direction."
---
NEXT:
---
Media contact: Cristine Boyd, 330-972-6476 or cboyd@uakron.edu
Share