Welcome new engineering faculty!
08/18/2022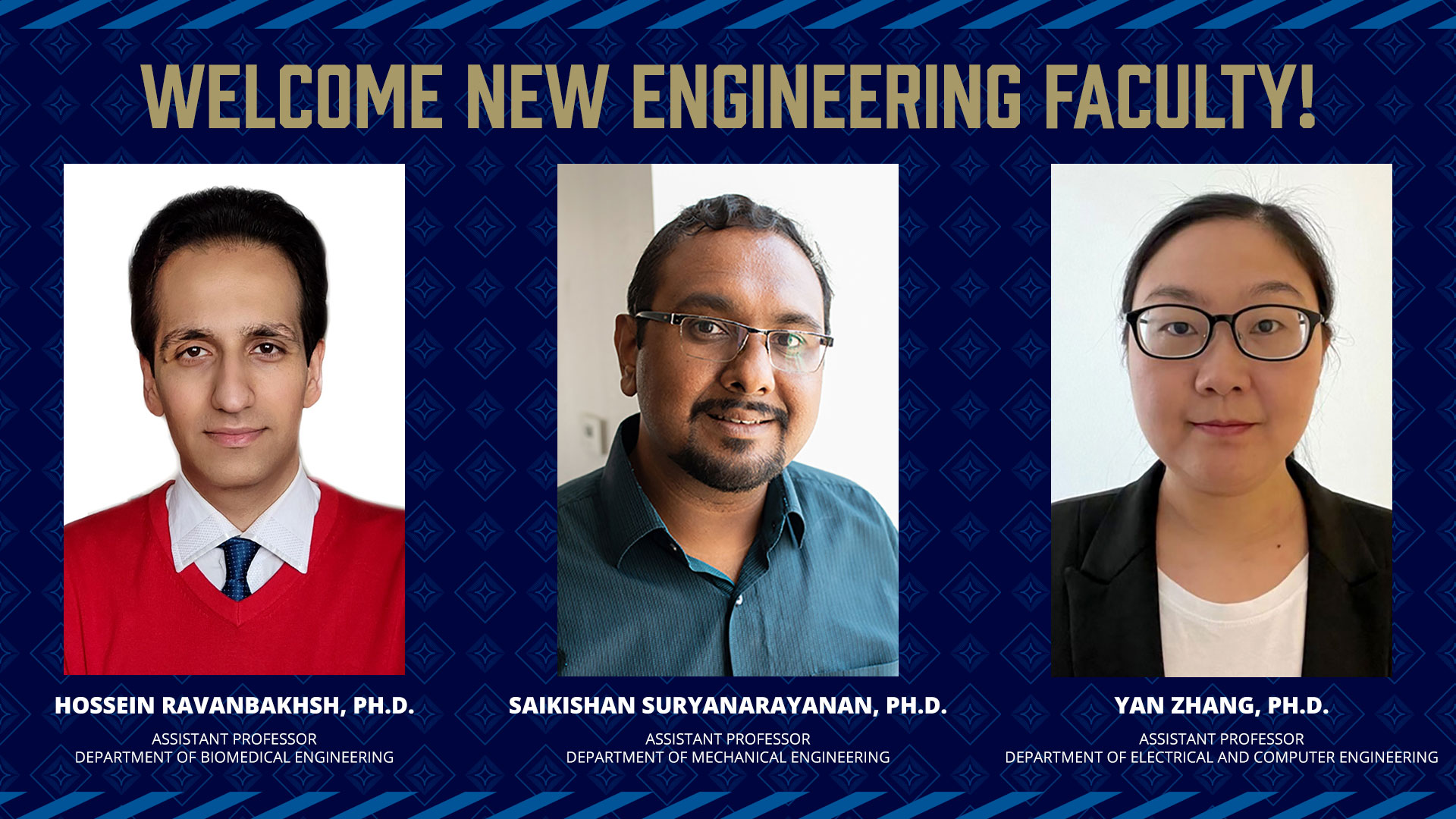 The College of Engineering and Polymer Science is pleased to welcome the following new faculty members for the 2022-2023 academic year.
---
Hossein Ravanbakhsh, Ph.D.
Assistant Professor, Department of Biomedical Engineering
Dr. Ravanbakhsh comes to The University of Akron after his postdoctoral fellowship with the National Research Council of Canada in Montreal, Quebec. Dr. Ravanbakhsh has published his research on multi-material bioprinting and cryobioprinting in prestigious advanced materials and matter journals. He is the proud recipient of the McGill Engineering Doctoral Award and the FRQNT Postdoctoral fellowship. His research areas include bioprinting, tissue engineering, biomaterials, microfluidics, and heart research.
Ph.D., Mechanical Engineering, McGill University, Montreal, Canada, 2021
M.S., Mechanical Engineering, Amirkabir University of Technology, Tehran, Iran, 2015
B.S., Mechanical Engineering, Isfahan University of Technology, Isfahan, Iran, 2012
---
Saikishan Suryanarayanan, Ph.D.
Assistant Professor, Department of Mechanical Engineering
Before joining UA, Dr. Suryanarayanan was a research associate and lecturer at the Department of Aerospace Engineering and Engineering Mechanics at The University of Texas at Austin. His doctoral research focused on the application of vortex methods and statistical mechanics to study turbulent free shear layers. Dr. Suryanarayanan aims to utilize this finding to improve the efficiency and endurance of low-speed aircraft, as well as wind turbine performance.
Ph.D., Engineering Mechanics, Jawaharlal Nehru Centre for Advanced Scientific Research, Bangalore, India, 2015
M.S., Mechanical Engineering, Texas A&M University, College Station, Texas, 2009
B.E., Mechanical Engineering, Anna University, Chennai, India, 2007
---
Yan Zhang, Ph.D.
Assistant Professor, Department of Electrical and Computer Engineering
Dr. Zhang recently received her doctorate in computer engineering from Arizona State University. Her position at UA will be her first faculty position. Her areas of expertise are in cybersecurity and privacy issues in mobile and networked systems, Internet-of-Things, AI/ML-powered wireless and mobile systems, mobile sensing, dynamic spectrum sharing, and mobile crowdsourcing.
Ph.D., Computer Engineering, Arizona State University, 2022
M.E., Communication and Information Systems, Beijing Normal University, China, 2017
B.E., Information and Computing Science, Xi'an Jiaotong University, China, 2014
Share