Welcome to the neighborhood: Ohio State Highway Patrol's Akron Post
06/12/2019

Did you know that the Akron Post of the Ohio State Highway Patrol (OSHP) is the only one in the state located on a college campus? The building on Fir Hill, owned by UA and leased to the highway patrol, represents a unique partnership that provides benefits to the campus, city and county in terms of safety and protection for the entire community.

On Tuesday, Interim President Dr. John Green and others from the UA Board of Trustees and staff joined more than 100 local, county and state officials at an open house and ribbon cutting ceremony for the Akron Post, which has been open since February of 2018 and is now fully renovated to meet the patrol's administrative and law enforcement needs.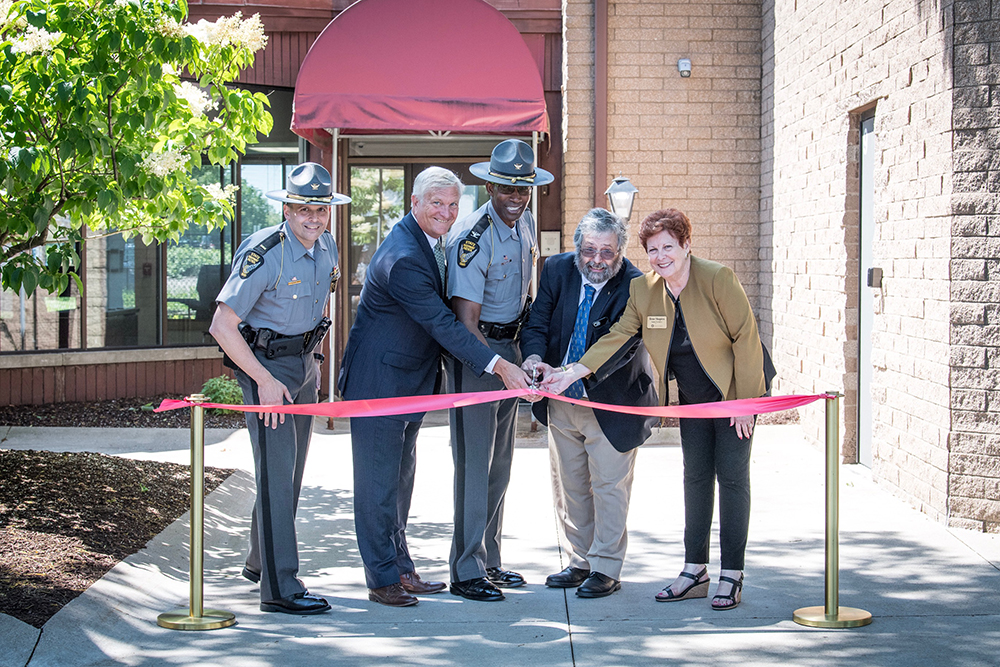 Pictured above, from left, are Lieutenant Antonio L. Matos, Akron Post Commander; Thomas J. Strickrath, director, Ohio Department of Public Safety; Colonel Richard S. Frambro, superintendent, Ohio State Highway Patrol; Dr. John Green, interim president, The University of Akron; Ilene Shaprio, Summit County Executive..
Green spoke alongside OSHP Superintendent Col. Richard Fambro, Director Thomas Stickrath of the Ohio Department of Public Safety, and Summit County Executive Ilene Shapiro.
"Any educator, with even a moment's experience, would tell you that learning flourishes in an environment where students and professors and staff feel safe," said Green in his presentation. "And I'd say that a safe, peaceful environment is a prerequisite for effective teaching and learning."
Akron Post Commander Lt. Antonio Matos thanked UA and Nathan Mortimer, chief financial officer and vice president for finance and administration, for making the arrangement happen, as the building's location provides quick access to interstate highways and high traffic corridors.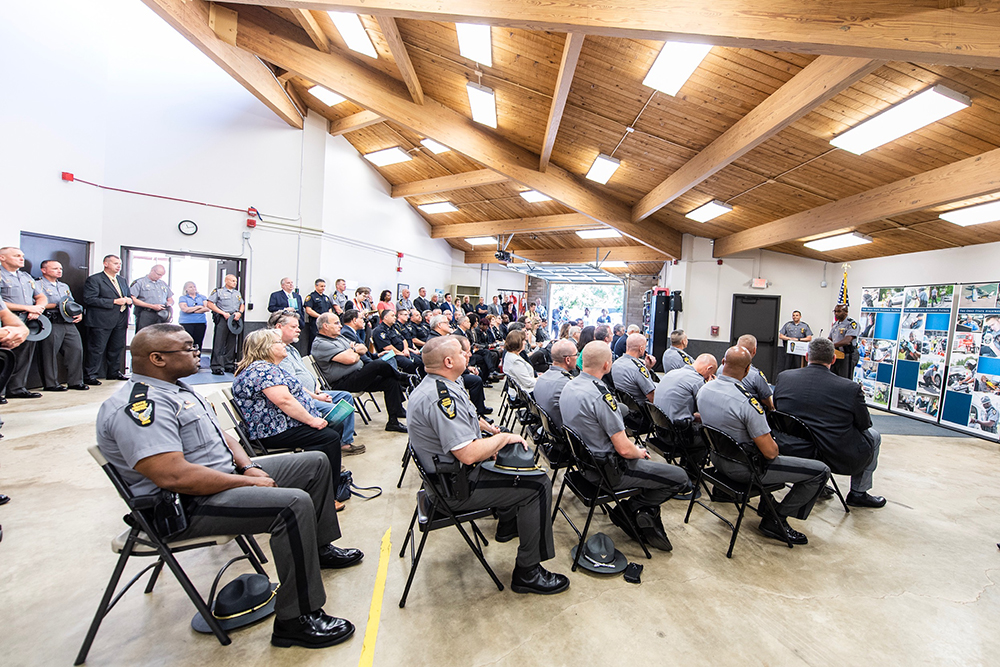 Attendees at the June 11 open house heard from several guest speakers.
Fambro added that the location provides an opportunity for members of the post to have a physical presence in the area, allowing them to interact with the community they serve.
After the presentation, attendees were given building tours by OSHP troopers, and enjoyed food courtesy of UA.
The post, which employs 24 troopers, is also home to the Akron office of the Ohio Department of Public Safety's Investigative Unit. Additionally, agents assigned to Summit County from the Cleveland office of the U.S. Secret Service occupy space in the basement.
"Their presence alone means a lot to the University," said Mortimer. "It's just an extra level of insurance to our community."
---
Media contact: Lisa Craig, 330-972-7429 or lmc91@uakron.edu.