'Whatever it Takes': Student-veteran awarded scholarship from Cleveland Cavaliers, Ohio CAT
11/08/2018

Quentin Brown wasn't at all suspicious that the recent meeting he was summoned to at 4 p.m. would be anything more than a planning session for an upcoming student-veteran career fair.

But that changed the moment the 29-year-old student noticed Cleveland Cavaliers point guard George Hill making his way into the room carrying a giant check.

"I saw Hill and thought, 'What is that tall dude wearing a Cavs warm-up outfit doing here? OK, it's George Hill … Why is George Hill here? Why does that check have my name on it?' It was great," Brown said.

Then everything clicked, as he looked over at Mary Rossett, director of UA's Military Services Center, and asked, "What did you do?"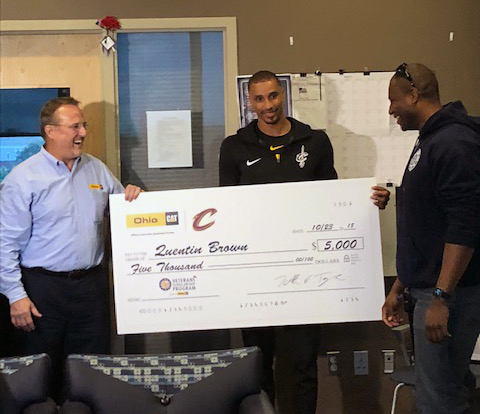 Ohio CAT president Ken Taylor, left, and George Hill from the Cleveland Cavaliers, center, present a scholarship to Quentin Brown, student-veteran and emergency management and homeland security major.
Hill, along with Ohio CAT President Ken Taylor, were at our Musson Military Veterans Lounge in InfoCision Stadium to present Brown with a Cavs/Ohio CAT Veterans Scholarship worth $5,000. Members of Brown's family and Cavaliers mascot Sir CC were followed in behind Hill and Taylor. Brown was also honored Wednesday night at Quicken Loans Arena during the Cavs game against the Oklahoma City Thunder. See the video.
As one of the construction industry's largest employers in Ohio, we respect our nation's veterans for their service to our country, and we value the dedication, work ethic, winning attitude and loyalty of those veterans who work for Ohio CAT," said Taylor. "We are pleased to be partnering with the Cleveland Cavaliers for the fourth year in a row in the Cavs/Ohio CAT Veterans Scholarship Program."
Brown's scholarship is one of only three that Ohio CAT and the Cleveland Cavaliers are awarding to military service members to pursue higher education for the 2018-19 academic year. Active and non-active military service members were eligible to apply.
The brief application asked an impactful question: How has your military service prepared you for this next step in your life?
For Brown, it's discipline and kindness.
"When I was getting ready to join the Marine Corps, I knew at that time I wasn't disciplined enough to go to college and stick it out," Brown recalled. "Being in the Marine Corps gave me the discipline to envision my goals and go for them. And it taught a lot of lessons in being kind. I think that's such an overlooked concept these days. I think kindness is showing people respect that every human being deserves, including my professors, which means doing the work that they ask and not complaining about it because it's hard or takes up a lot of time."
Brown, of Medina, is a Cleveland firefighter. He is currently in his third year of working toward a bachelor's degree in emergency management and homeland security. He joined the U.S. Marine Corps at 17, attending boot camp while his high school senior classmates were walking across the stage at graduation. As a staff sergeant for eight years, Brown was deployed four times to Iraq, Afghanistan and Guam.
At UA, Brown is a peer advisor for veteran students and was an officer for our Student Veterans of America chapter.
---
Media contact: Alex Knisely, 330-972-6477 or aknisely@uakron.edu.