Zippy turns 70: Meet the creative artist behind her look
10/26/2023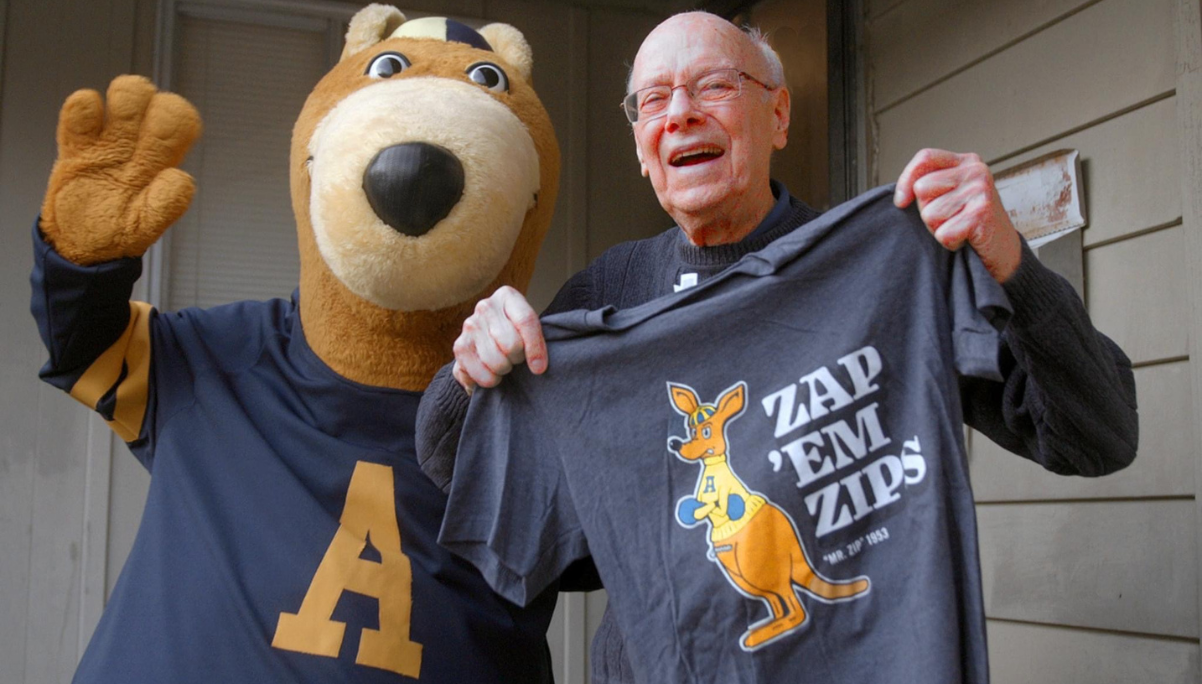 Fans all around the world are in love with Zippy, the fun-loving, University of Akron (UA) mascot. But have you ever wondered about the creative mind behind the original concept of our beloved kangaroo?
The school's nickname of Zips, short for Zippers, was introduced in 1925, inspired by a B.F. Goodrich brand of rubber galoshes with metal fasteners. In 1954, administrators at UA launched a contest for a mascot to represent the University, deciding on a kangaroo with boxing gloves and a zipper.
There were three finalists, and it was up to the student body to cast their votes. The winner was Joseph (Jim) Dick '56 and his drawing of Mr. Zip.
Mr. Zip evolved over the years and, with a zippered pouch, she (because only female kangaroos have pouches) became Zippy.
Astonishingly enough, despite being the original creator, Dick had never met Zippy. When UA became aware of this fact, they quickly arranged a meeting between Zippy and her creator, surprising Dick with a visit from Zippy at his home.
"What Zippy has become is exciting. What I imagined in my mind has changed over the years several times," stated Dick. "But it was exciting to be the originator of what people would see out in the world as Zippy. To now get to see Zippy in person and see what [she] has become is exciting.
At the time of the contest, Dick was a student at UA. He was active on campus working at The Buchtelite, where he created a cartoon strip and wrote articles about campus news. He also worked at the Tel-Buch, the UA yearbook, and eventually served as editor.
"As I was growing up, art was the focus of my life, "stated Dick.
Inheriting artistic abilities from his mom, who used to design clothes for him and his three siblings, Dick began his journey into cartooning at the young age of six.
After high school, Dick enlisted in the United States Army, serving from 1948-1950. He was stationed in Japan and utilized his cartooning skills to contribute to his troops' newspaper.
Art remains a major part of Dick's life. A show of his work, "The Art of a Lifetime" was recently held at the Summit ArtSpace. Featured in the show was the original drawing of Mr. Zip.
Now 70 years later, Dick and Zippy finally met in person and Dick understands the impact and legacy his drawing made on the University.
"Zippy represents the spirit of Akron in a way," Dick said with a smile.
Story by Bree Sabin
Quotes from Joseph Dick and the still image of Dick and Zippy meeting for the first time are courtesy of an upcoming documentary about Zippy. The interview with Dick was conducted by Alexander Guyton, who is producing and directing the documentary. The documentary was filmed by Matt Henkes and Kevin Best and edited by Tom Zavertnik.
Share