Oelschlager collection of Native American objects on display at UA
04/26/2012

For the first time, more than 125 items from Jim and Vanita Oelschlager's private collection of rare and valuable Native American-made art, tools and other cultural objects will be on display for the public to enjoy.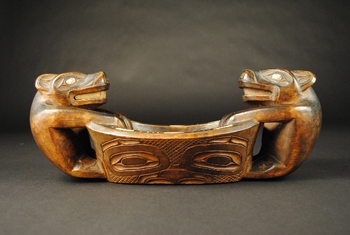 This bear bowl made of cedar is from "Connecting Objects to Their People: From the Arctic to Arizona," the exhibition of Native American-made art and tools opening May 6 at The University of Akron.
---
"Connecting Objects to Their People: From the Arctic to Arizona," the free exhibition of cultural objects from the 1800s and 1900s opens Monday, May 7, at The University of Akron's Center for the History of Psychology, 73 College St., Akron. Running through Oct. 14, the exhibition is open Mondays through Fridays from 10 a.m. to 4 p.m. and Saturdays from noon to 4 p.m.

The opening reception from 1 to 4 p.m. on Sunday, May 6, is also free.

A longtime fascination with Native American-made objects led the Akron-area couple to build a private collection of more than 800 items. Tools, blankets, baskets, ceremonial objects, Edward Curtis books and prints, Western bronzes, and popular culture materials from Native American peoples throughout the United States are included.
Valuable learning opportunities
Until now, the Oelschlagers only displayed the treasures in their home, offices and at Oak Lodge, the couple's retreat in Western Pennsylvania. In 2010 the Oelschlagers loaned 300 items from the collection to UA, providing faculty and students with valuable research materials and immeasurable learning opportunities.

The Oelschlagers hope the exhibition fosters a better understanding of Native American culture. The exhibition's diversity over geographical areas, cultures and time periods challenges the viewer to enjoy the art and craft of the various regions — and to avoid stereotypes and outdated symbolism.

Faculty and students from The University of Akron's Department of Anthropology and Classical Studies and the Mary Schiller Myers School of Art prepared the exhibit with the support of the Oelschlagers. For more information, call 330-972-7285 or visit the Center for the History of Psychology website.
---
Media contact: Cyndee Snider, 330-972-5196 or cyndee@uakron.edu.