UA SHRM Student Chapter Receives Award
08/18/2020
Late last month, the Society for Human Resource Management (SHRM) awarded a 2019-2020 Superior Merit Award designation to The University of Akron SHRM student chapter for providing superior growth and development opportunities to its student members.
The SHRM student chapter merit award program encourages the development of more effective student chapters and distinguishes outstanding activities and projects. Chapters are recognized based on chapter operations, chapter programming and professional development of members, support of the human resource profession, and SHRM engagement.
"Today's members of our student chapters are the HR leaders of tomorrow. They are the movers and shakers of the future, and we cannot understate the vital role they play in SHRM's success," said Johnny C. Taylor, Jr., SHRM-SCP, SHRM president and CEO. "The University of Akron SHRM is evidence that the future of HR is, indeed, in good hands. I applaud their accomplishments and ability to fiercely move forward during a time of such change and uncertainty in the workplace."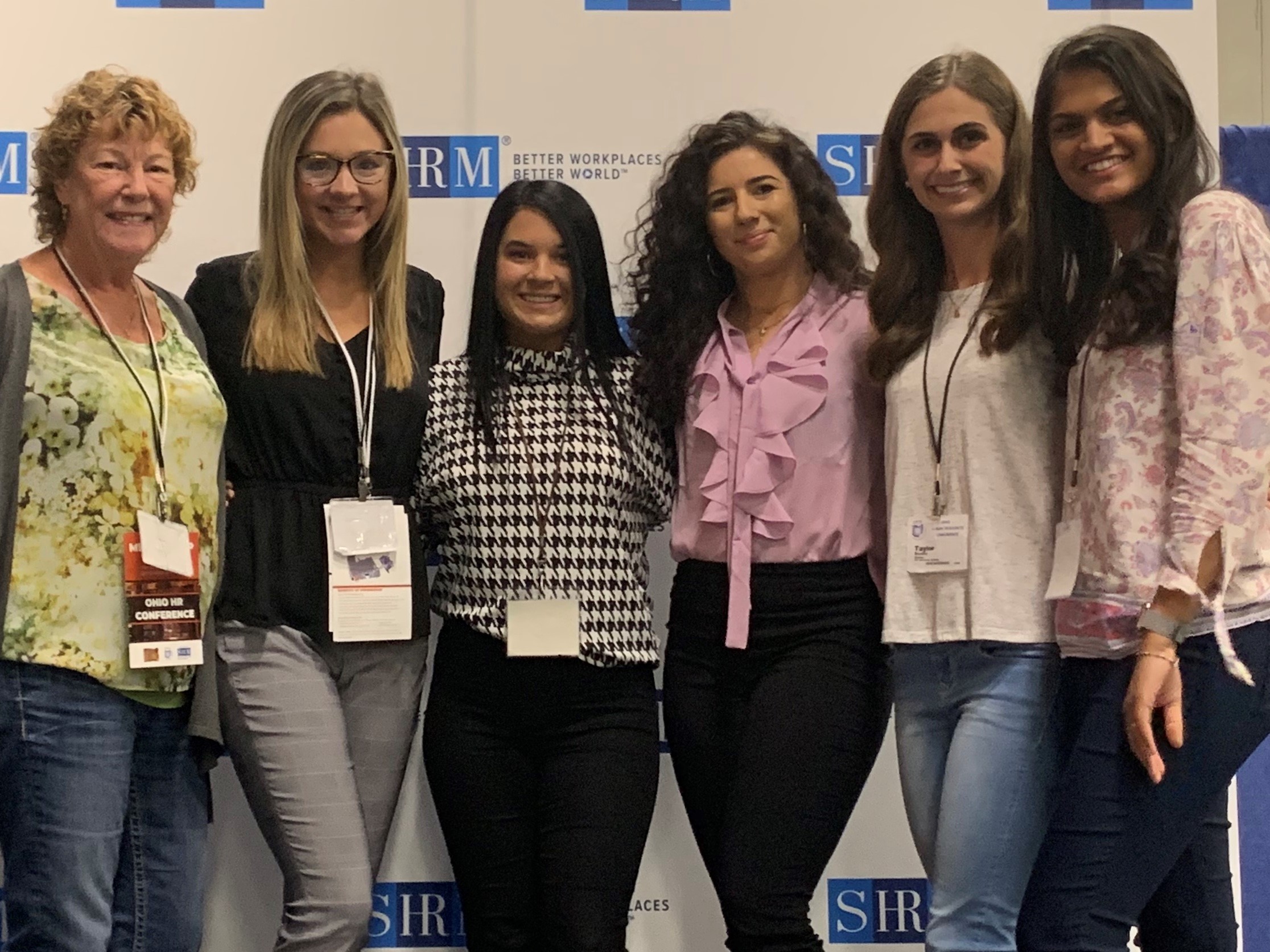 UAkron SHRM Faculty Advisor, Dr. Erin Makarius credits this award to the variety of activities that were planned and executed by this past year's student leadership team:

The student SHRM leadership team has done an amazing job over the past year planning and participating in a variety of events to help further develop their skills in human resources and build relationships with HR professionals. Some of the highlights include attending the Ohio SHRM conference, holding networking nights, planning workshops on relevant and timely HR topics, winning awards in the state-wide HR games competition, and hosting webinars as they had to shift to a virtual format. We are proud of their accomplishments and adaptability. We are also pleased to see the students recognized by receiving the Superior Merit Award, which is the highest distinction a student chapter can receive from SHRM.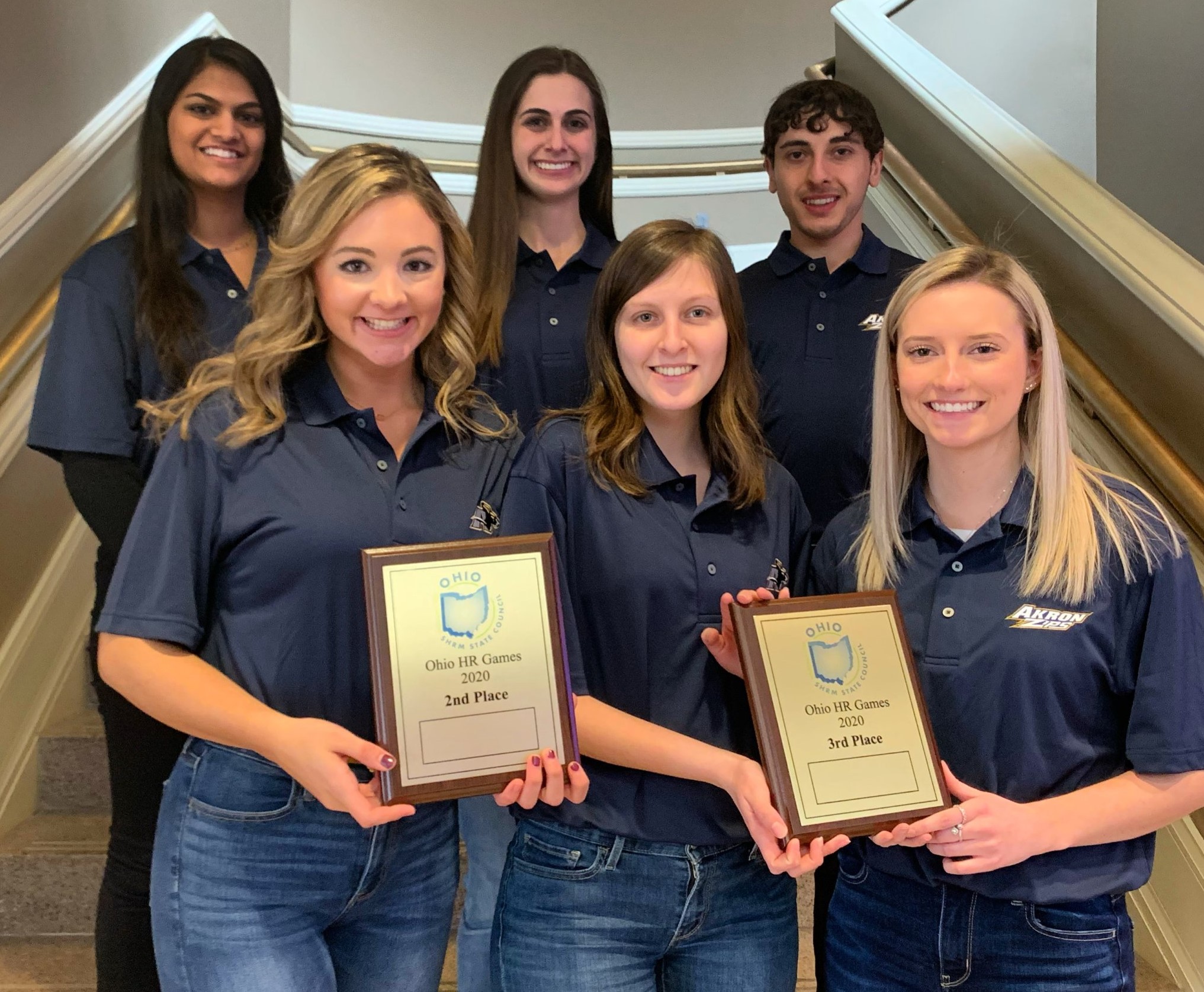 Lindsay Clawson, the 2019-2020 UAkron SHRM President, explains how this award is the perfect way to sum up this past year:
Receiving this award was a tremendous accomplishment for the UA SHRM chapter to achieve. This award is given to chapters who go above and beyond to achieve their goals, collaborate with local HR professionals, and excel in chapter operations. Our goal for this past academic year was to approach our meetings and events with a different perspective. We focused on providing more hands-on activities and workshops led by guest speakers where students were actively participating in the conversation and applying their in-class knowledge. The feedback we received from students who attended our workshops and events was extremely positive, making all the behind the scenes planning worth it. I am honored that I could contribute to making this past year so successful for UA's SHRM chapter and achieving the Superior Merit Award.
SHRM student chapters have the opportunity to earn an award based on the number of activities they complete during the merit award cycle, the most recent one of which lasted from April 1, 2019, to March 31, 2020.
To learn more about this year's upcoming events or information on joining the UAkron SHRM chapter - email uakronshrm@gmail.com.
Share