Business Students Get the 'Knack' of On-Demand Tutoring
10/06/2020
The pandemic has had a major impact on university life. With classes held in a hybrid fashion (part in-person and part online) or completely remote, many students are struggling to connect with their classmates. This makes forming study groups and asking for extra help difficult for some. To make things easier, the College of Business Administration (CBA) at The University of Akron (UA) is offering its students a new way to get tutoring assistance through an app called Knack.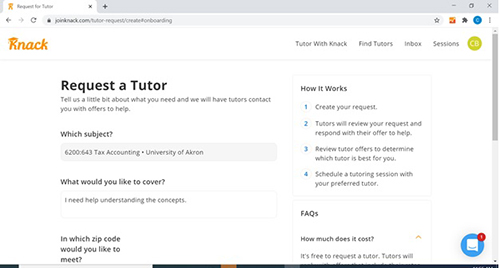 Online request form for assistance.
Knack is an on-demand digital application that allows CBA students to search for their class and browse a list of UA student tutors at the University who can help provide assistance with homework and assignments. These tutors have already taken the courses and are ranked by other students who have previously been helped by them, so students can get a snapshot of how well the tutor taught the content or answered questions. Students can sign up for the services and schedule a time to meet (in person or virtually) right on the app.
In addition to aiding students who need help with their classes, it also offers UA students who work as tutors the chance to earn money.
"We know our students are adjusting to this new model of learning, so using the app to connect with a UA tutor might be just what they need," says Susan Hanlon, interim dean of the CBA. "It is also a great option for students who are looking for an opportunity to earn extra money. Many students lost employment because of the pandemic, so this is one way we can help them replace lost earnings by creating their own job. It is a chance for students to see what it's like to be an entrepreneur in a low-risk environment."
While tutors are earning money for their work, all CBA tutoring services through Knack are currently being offered for free to those students needing assistance.
"We have some great tutoring services available on campus, but this app allows CBA students to get quick access to tutors for specific courses only when it is needed," says Hanlon. "We started using it in the spring 2020 semester when COVID-19 hit, and it was a great success. We are pleased to be able to continue offering it to our students."
Beneficial to students
Students agree that the service is making a positive impact.
"When I first heard of Knack I was excited to be able to have the opportunity to help my peers," says Aurelia Turner, a third-year Accounting student from Columbus, Ohio, who offers tutoring in Accounting Principles 1 and 2 on the Knack app. "I remember back to when I was taking some of my classes and wished there was a tutor for more specific courses. Knack makes it easier to get help by peers who have been successful in the class."
In addition to helping students, Knack is an efficient and cost-effective way for the CBA to offer tutoring to students. "On-demand tutoring is advantageous," Hanlon remarked. "Previously our budget was spent on a few tutors who were available at a location for set hours whether students needed them during that time or not. The new model allows us to service more students who need assistance on their own schedule and allows more students to serve as tutors."
"I highly encourage anyone who has any concerns for their classes, no matter how small, to connect with a tutor on Knack," adds Turner. "It is flexible and, as tutors, we are happy to be able to help our fellow students."
UA students can access Knack tutoring by visiting joinknack.com/school/university-of-akron.
---
Media contact: Cristine Boyd, 330-972-6476 or cboyd@uakron.edu
Share