UA Sales Competition Team Finishes Top 20 at the National Collegiate Sales Competition
03/25/2022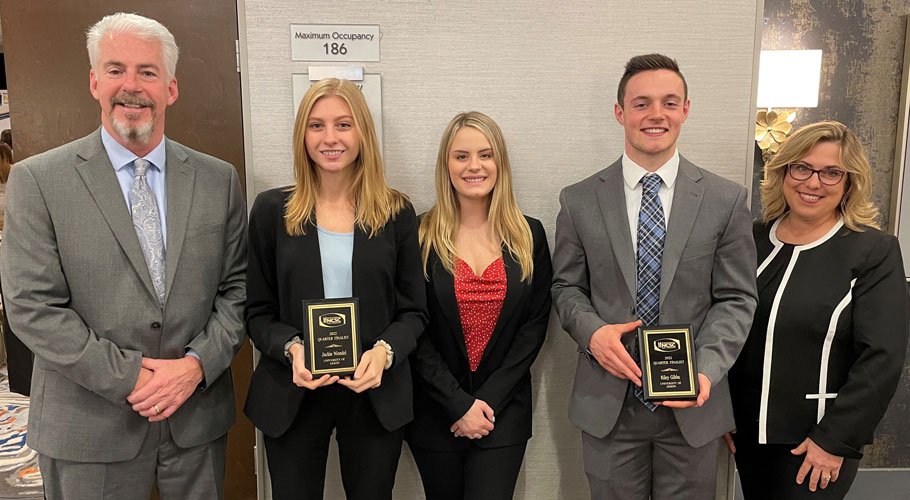 L-R: Professor Dave Payne, Jackie Wendel, Josie Baughman, Riley Gibbs, and Lisa Littlejohn.
The University of Akron (UA) Sales Competition team recently traveled to Georgia and competed amongst 134 other students representing 67 universities across the country at the National Collegiate Sales Competition (NCSC) held at Kennesaw State University (KSU). Members of the UA Sales Competition team included seniors Jackie Wendel and Riley Gibbs as well as junior, Josie Baughman. The UA student team placed 18th, while Riley Gibbs finished 29th and Jackie Wendel finished 35th individually.
The NCSC was founded in 1999 and is the longest-running university sales role-play competition in existence. Chartered with the objective of enhancing the practice and professionalism of the sales career, the NCSC's mission remains the same today.
Riley Gibbs, a business administration major and professional selling minor, said, "Competing in the NCSC was such a phenomenal experience to meet and connect with such great people from all over the country. The training required was intense but so important for my growth in my career and myself personally. The entire journey was amazing, and I'm so happy to have been involved with such a great team."
The team was coached by: Professor Dave Payne (Associate Professor of Practice/Sales and Director of the Fisher Institute for Professional Selling), Scott Miller (Business Development Leader at EY), Lisa Littlejohn (Coordinator, Centers & Institutes) and Sutherland McKelvey, who was an alternate and served as a student-coach. McKelvey, a senior majoring in Mechanical Engineering and graduating with the Professional Selling Certificate for Engineering Students, placed in the Top 20 at the 2021 virtual NCSC.
Jackie Wendel, a supply chain and operations major, summed up her experience and said, "Completing at the NCSC was an amazing experience. The faculty coaches provided exceptional one-on-one training and my teammates were a joy to work with. I'm proud to have represented Akron with them."
The team was selected based off their final Fall 2021 exam, which is a sales role-play in Professor Payne's Advanced Professional Selling class. From there, weeks of training and hours of role-plays go into preparation for the NCSC and in the end, prove to be the formula for success.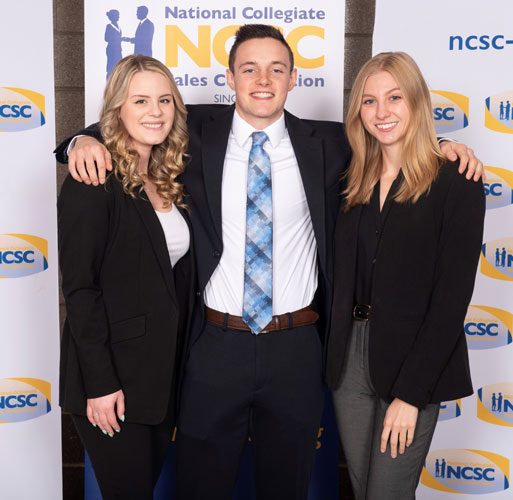 L-R: Josie Baughman, Riley Gibbs, and Jackie Wendel.
Josie Baughman, a double-major in marketing and sales management, said, "Going to KSU with my team was an amazing opportunity! Although I didn't compete, I got to connect with so many professionals from many different companies at the career fair, as well as meet some great students from across the U.S. and Canada. I couldn't say thank you enough to Dave Payne, Lisa Littlejohn and Scott Miller!"
As Professor Payne frequently tells his classes of students, "The next generation of sales champions are students who are likable, coachable, and hungry."
The University of Akron's Sales Competition team has competed for nearly 20 years and historically, has done quite well at the NCSC. Most recently, Hannah Keller finished fifth of 140 students nationally in 2020. Seven years earlier, UA's Brittany Burke (Nagy) finished runner-up in addition to an overall third-place finish as a team in 2013. The best finish, however, came in 2003 when the University of Akron Sales Competition team was named the overall champion with a first-place finish.
To learn more about the National Collegiate Sales Competition.
---
Share