Dream of career in science coming true
02/25/2013

For as long as she can remember, Gladys Montenegro-Galindo has loved math and science. From her first classes in elementary school through her work today as a Ph.D. student in the Goodyear Polymer Center, she is most at home in the lab.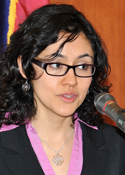 Gladys Montenegro-Galindo
---
"I dreamed of becoming a scientist at an early age," says Montenegro-Galindo, who talked about the opportunities she has had at UA at the Jan. 30 Board of Trustees meeting, where she made a presentation about her Akron Experience.
As a student in her native Bogotá, Colombia, Montenegro-Galindo says her interests in science were always encouraged — first by her mother, a now-retired biology teacher, and later by her high school science teachers, many of whom were women.
Opportunities bring career goal into focus
"I chose chemical engineering as my major because it is a nice mixture of the subjects I liked," says Montenegro-Galindo, who earned a B.S. in Chemical Engineering at the National University of Colombia in 2006, graduating second in her class. It was as an undergraduate working on research projects that her interest in polymer science developed.
Several professors encouraged her to go on to graduate school, including Dr. Jairo Perilla, who recommended The University of Akron, where he had earned a Ph.D. in Chemical Engineering in 2004.
The encouragement was welcome, but Montenegro-Galindo did not have the financial resources to pursue an advanced degree. Still, she did apply to UA, was accepted and received a graduate assistantship, which propelled her that much closer to her goal.
"I was really happy to be accepted — I could become the scientist I had dreamed of becoming," recalls Montenegro-Galindo.
She quickly immersed herself in her studies and research on using polymers in drug delivery devices.
Student trustees Ryan Thompson, far left, and Alan Bowdler are pictured here with Gladys Montenegro-Galindo, Colin Wright, also a graduate student in polymer science, and Dr. Coleen Pugh, professor of polymer science and interim chair of the Department of Polymer Science.
---
"It was all very exciting at first, but then culture shock set in," admits Montenegro-Galindo. "I missed my family and friends, but I was fortunate to meet some other graduate students from Colombia, who helped a lot with my adjustment. Over time, I have made more friends."
Sharing her talents
In her years at UA, Montenegro-Galindo has mentored students in the Research Experience for Undergraduates and volunteered as a teacher of chemistry and mathematics to Akron high school juniors been through Upward Bound. Her professional affiliations include the American Chemical Society and she served as president of UA's student chapter of the International Society of Pharmaceutical Engineering.
In summer 2011, she served as a graduate intern at the Eastman Kodak Research Laboratories in Rochester, N.Y.
What Montenegro-Galindo has enjoyed most has been her work with her adviser — Dr. Coleen Pugh, professor of polymer science and interim chair of the Department of Polymer Science.
"Dr. Pugh has been a great mentor," says Montenegro-Galindo. "I did not have a strong background in organic chemistry, but she encouraged me. It has been very rewarding to work with her on biomaterials research."
From Pugh's point of view, not much encouragement was needed.
Gifted researcher coming into her own
"Gladys is a very independent, self-sufficient and creative researcher, even at this early stage in her professional career," notes Pugh. "When she started, I told her about how I wanted to take some existing chemistry that we had developed on macrocyclic poly(ethylene oxide), and move it into a new area for us: biomaterials. Gladys did exactly what we wish all Ph.D. students would do, and that is to take an idea, make it her own, and create a research project and results that are worthy of a Ph.D.
"I'm sure Gladys will be very successful in her future career, and we will be proud to have her representing us as an alumna of The University of Akron," adds Pugh.
When Montenegro-Galindo graduates in May, she hopes to stay in the United States.
"I want to work in research and development in industry, where I will have the opportunity to develop polymers that will result in useful new products."