Veterans Celebration: A week to honor service and sacrifice
10/30/2013

The University of Akron's annual observance of Veterans Day begins early this year — with a full week of activities for the campus and community that will honor servicemembers, past and present.
Terry Gould
---
The schedule includes talks by Terry Gould, UA alumnus, U.S. Navy veteran and author of "How Can You Mend This Purple Heart?," a mobile military history museum on Coleman Common, and a photo tribute to UA veterans in the Student Union. A variety of films and exhibits are planned as well.
First on the schedule is Military Appreciation Day at the Zips vs. Kent State Flashes football game on Saturday, Nov. 2, at 3:30 p.m. at InfoCision Stadium-Summa Field. Tickets will be free to all veterans and active duty members — the rate will be $17 for family and friends.
From Nov. 4 to Nov. 11, the photo tribute to UA veterans — students, faculty, staff, alumni, or family and friends — will be on display in the second floor lounge of the Student Union, near Starbucks.
Military history to come alive
The forces will land on Coleman Common Nov. 5-6. Members of Marlboro Volunteers Inc., a Northeast Ohio-based, nonprofit educational organization, will arrive, in uniform, with a variety of military vehicles and displays. In addition to its 70-foot long military museum, visitors will see equipment representing different eras, including a WWII mess tent, light tank and half truck; a M.A.S.H. tent, and a M114 vehicle from the Vietnam era.
The week's activities will culminate in UA's annual Veterans Day observance, which will begin with a 24-hour vigil at noon on Sunday, Nov. 10, as U.S. Army ROTC cadets guard a symbolic eternal flame at the Buchtel Hall flagpole.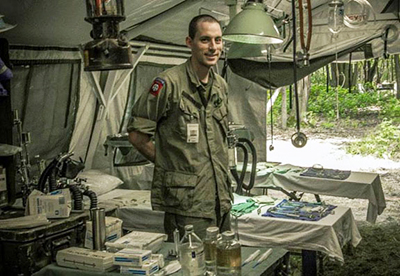 Members of Marlboro Volunteers Inc., a nonprofit educational organization, will bring a variety of equipment, such as this M.A.S.H. tent, to campus for a two-day display on Coleman Common as part of UA's Veterans Celebration.
---
A continental breakfast honoring veterans begins at 8 a.m. on Monday, Nov. 11, in the Student Union Ballroom. At 9 a.m., Terry Gould will speak. At 10 a.m., at a ceremony at the Buchtel Hall flagpole, Jim Tressel, vice president of student success, will speak before cadets conduct a 21-gun salute.
Gould will speak again at 7:30 p.m. at the Stage Door in E.J. Thomas Performing Arts Hall, delivering a presentation titled "How Can You Mend This Purple Heart: A Veteran's Journey of Healing & Redemption."
Learning to heal
The UA alumnus, who earned a B.S. in Technical Education, followed by an MBA from Baldwin-Wallace University in Berea, served in the U.S. Navy from 1968 to 1971. His book, "How Can You Mend This Purple Heart," is a fictionalized account of his own experiences in a military hospital, where he spent 15 months recuperating with severely wounded Marines.
Today, Gould is retired after a 30-year career in marketing, advertising and public relations. He lives near Nashville, Tenn.
To see the full schedule of speakers, films and programs, visit UA's Veterans Celebration online. For more information, contact Mary Rossett at 330-972-7382, or Lorri March at 330-972-5517.
Many departments and organizations on campus have participated in planning and sponsoring events for the week, including the Veterans Steering Committee, Military Services Center, UA Adult Focus, Student Life, UA Army ROTC, University Libraries and Zips Programing Network.