Biomimicry graduates already working to ensure sustainable future
05/09/2017

The University of Akron graduated the first two students in the world with Ph.D.-level training in biomimicry during spring commencement ceremonies.

Biomimicry is a rapidly growing field that involves finding answers to engineering problems by studying nature. UA's Integrated Bioscience program is the only one in the world offering Ph.D. training in biomimicry. Completing the five-year curriculum, which includes part-time work with a corporate, industry, or education sponsor arranged by fellowship program partner Great Lakes Biomimicry, were: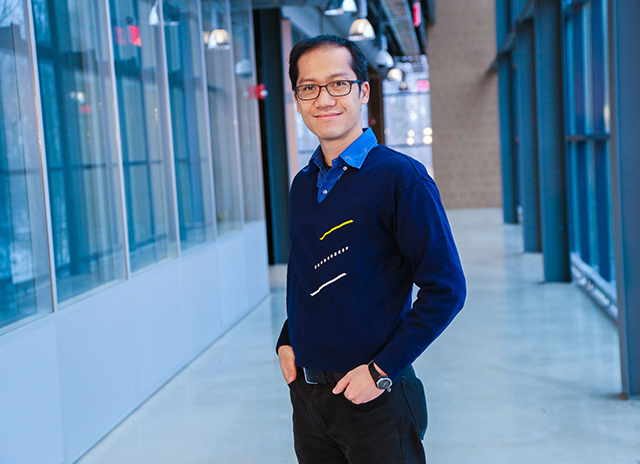 Bor-Kai (Bill) Hsiung, who was sponsored by The Sherwin-Williams Company, has led game-changing research inspired by blue tarantulas that could revolutionize how colors are manufactured. His work has been reported internationally in 12 languages by The Atlantic, Science News, National Geographic, Discovery Channel and the BBC.
Emily Kennedy, sponsored by GOJO, is a co-inventor on four patent applications. She has invented a hedgehog-inspired product that can be used as a liner in football helmets for concussion prevention, as well as a variety of shipping and packaging applications. This invention has led to Kennedy's co-founding of Hedgemon, LLC, which aims to help solve football's concussion crisis.
We asked them about this new field they are pioneering, their time at UA and what is next. Here are their answers.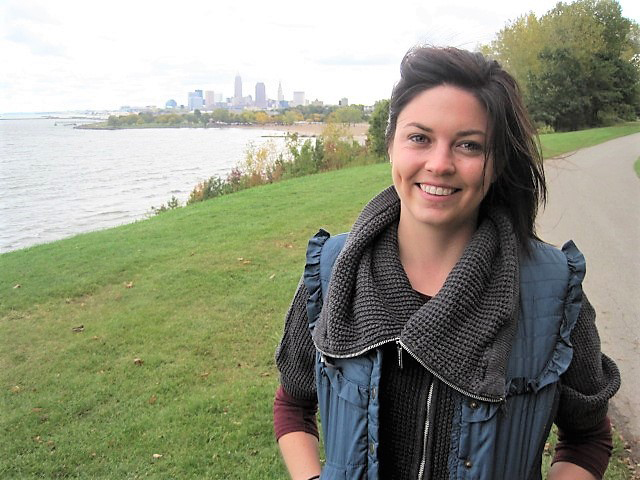 Q: Why biomimicry?
Hsiung: I found my interests in Life Sciences in junior high. It was partly influenced by one of the famous techno-thriller novels written by Michael Crichton, "Jurassic Park." Therefore, after graduating from National Chiao Tung University (Taiwan) with a major in Applied Chemistry, I got my first Master's degree in Biochemistry & Molecular Biology from National Tsing Hua University (Taiwan). Then I went to the University of California, Riverside. While there, I ran across a TEDTalk — "Janine Benyus: The Promise of Biomimicry," and I knew immediately that my real passion and what I would like to do for the rest of my life would be biomimicry. I kept an eye on any opportunity that I could get to learn more, and when UA began accepting applications for the biomimicry fellowship, I applied. I believe biomimicry is a means for sustainable technology innovation; it can help with unsustainable human behavior/activity/technology and prevent the self-destruction of humanity."
Kennedy: My interest in biomimicry began in Spring 2010 during a semester of undergraduate study abroad at the University of Wollongong in NSW, Australia. I enrolled in a biomimicry class taught by Professor Constance Soja that was about the potential of Australia's unique rainforest and reef species to inspire new technologies. Our first reading assignment was Janine Benyus's "Biomimicry: Innovation Inspired by Nature." Since childhood camping trips to the White Mountains, I'd always been awestruck by Nature's designs. A 100-foot waterfall, a curiously shaped leaf, a chirping cricket — I found them all beautiful and mysterious. Janine's book made me realize that not only is nature awesome, it is also a rich source of inspiration for a sustainable future. For me, biomimicry merges my interests in environmental sustainability and innovation, and reframes environmental issues as economic opportunities.
---
Q: Proudest accomplishment?
Hsiung: Successfully designed and manufactured a "proof-of-concept" prototype that has commercialization potential resulting from a basic biological research that I started. Abraham Lincoln provided me with great advice: "The best way to predict the future is to create it." In this program at UA, I believe I have achieved something that is really innovative, and that few others believed was possible. I'm inspired by what aerospace engineer Burt Rutan said, "When there's ever a breakthrough, a true breakthrough, you can go back and find a time period when the consensus was, 'Well, that's nonsense!' So what that means is that a true creative researcher has to have confidence in nonsense."
Kennedy: Being an inventor on four GOJO patent applications, including one commercialization track technology. I'm proud to have been working for a company deeply committed to environmental sustainability.
---
Q: Advice to future graduate students?
Hsiung: Prepare yourself and fill your toolbox with as many tools as possible, but don't be limited by what you have when identifying/solving problems. Be prepared, but don't be afraid to step out of your comfort zone, and be creative.
Kennedy: Attend a seminar sponsored by UA's Biomimicry Research and Innovation Center, sign up for one of Great Lakes Biomimicry's Professional Education Workshops, and apply to the Biomimicry Fellowship program!
---
Q: What's next?
Hsiung: I will continue my biomimicry research and development, wherever it takes me on planet Earth.
Kennedy: A hard-earned vacation to Portugal in June, then staying in Northeast Ohio to pursue a career in biomimicry innovation consulting.
---
Q: How would you describe your Akron experience?
Hsiung: If I was asked to summarize the ability that I gained from this unique Ph.D. program in the shortest possible terms, I would say the ability to do independent research and project management, and the ability to do transdisciplinary communication. I gained lots of real world biomimicry experience by participating in cross-disciplinary activities in different capacities, where I learned how to communicate with people from different fields and to become the bridge between them. Overall, I found the experience to be full of positive vibes, peer support and mentorships. Living in Northeast Ohio, I enjoyed the Metro Parks, fall foliage and periodical cicadas, but definitely not polar vortices.
Kennedy: The first-of-its-kind Ph.D. training in biomimicry has given me the ability to shape my own research program and an invaluable industrial assistantship. The peer learning is incredible — UA biomimicry fellows are a passionate, intellectually diverse group from around the globe (Taiwan, Belgium, Germany, Iran, Portugal, Ireland). I'm grateful for the confidence instilled by my doctoral advisor, Dr. Peter Niewiarowski. I have a professional network built through participation in Great Lakes Biomimicry's quarterly Corporate Innovation Council meetings. Living in Northeast Ohio for the past five years, I've enjoyed biking on the Towpath Trail and Cleveland's restaurant scene — my favorite is Spice Kitchen & Bar.
---
Learn more about UA's Integrated Bioscience Program.
---
Media contact: Lisa Craig, 330-972-7429 or lmc91@uakron.edu.