Marketing for New Board Game Begins Right Here at UA
07/09/2020
"Goes Both Ways," the fast-paced, tip of the tongue word game created by the Novak family, has been played for years with friends, family and in online game rooms. "Goes Both Ways" will be available this fall, brought to you by none other than The Novak Gaming Co.
The founder just happens to be Tyler Novak, a two-time UA alumnus.
"The Novak Gaming Co. was started out of our family's love for board games, says Novak, who earned an M.A. in Security Studies in 2018, and a B.A. in Political Science in 2014, with minors in business administration and homeland security. Novak also is an information technology risk analyst for STERIS in Mentor. "'Goes Both Ways' is an extension of the Novak family, and all who enjoy playing board games with friends and family."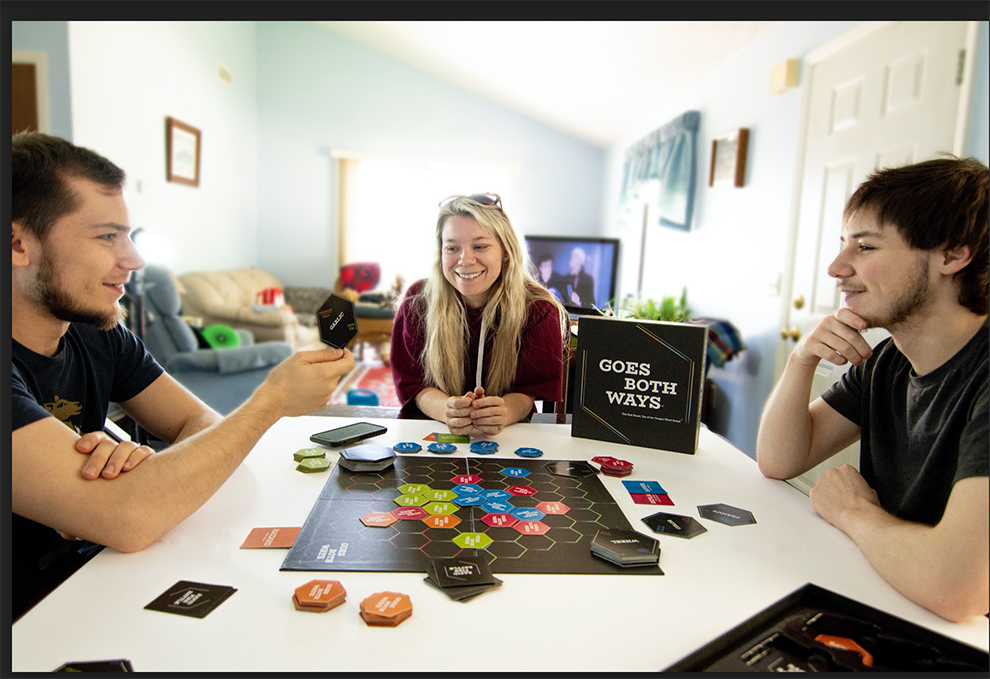 Tyler Novak, left, plays the new game "Goes Both Ways" with his sister, Rachel Novak, and brother, Conner Novak.
Every fledgling company can benefit from a strategic marketing campaign, and Novak knew just where to turn for help in promoting their product — his alma mater.
And that's where Joe Mulea comes in. He took on developing a marketing program for The Novak Gaming Company as an independent study project during the spring semester, prior to earning his MBA with a marketing emphasis in May.
As he would for any marketing program, Mulea met first with the principal clients — Novak and Tyler Phillips, who serves as vice president of the company, before delving into research. He did a SWOT Analysis (strengths, weaknesses, opportunities and threats) of, in this case, the board game industry, with assistance and support from Jeffrey Franks, business librarian.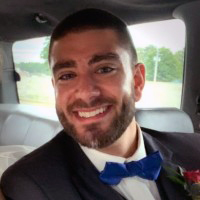 Joe Mulea
Based on Mulea's findings, he made several recommendations to the company, including how to make the "Goes Both Ways" board game more graphically appealing.
"This opportunity is just one more example of the entrepreneurial and community focus of UA," says Dr. Deborah Owens, interim chair of the Department of Marketing. She mentored Mulea over the course of the semester as he developed the marketing program. "Many of our students gain experience doing client projects in the business community."
However, when UA cancelled all in-person classes and activities in mid-March due to the COVID-19 pandemic, Mulea had to revise his own game plan for the project.
"We couldn't shoot a new Kickstarter Campaign video, or conduct in-person focus groups to fine-tune the elements of the game," explains Mulea, who balanced his studies with a full-time job and is now about to join Progressive Insurance as a marketing process analyst. "All of our survey efforts had to be online."
That's where students in the Undergraduate Market Research classes taught by Jim McKelvey, an assistant professor of practice, were able to help. They took the survey Mulea had composed about the board game.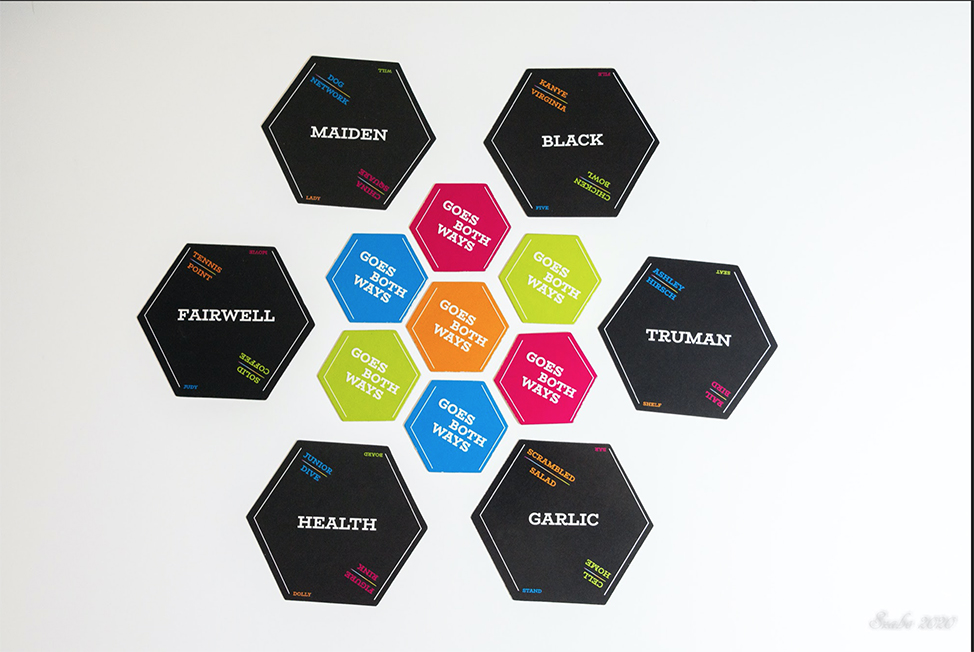 Board pieces for "Goes Both Ways."
"The good message is the COVID-19 event did not stop any of us from productively and experientially engaging our students — graduate and undergraduate — with the business community as regards marketing research," notes McKelvey. "Of course, Joe deserves most of the credit for the work performed as part of his MBA degree."
Even with a revised game plan, Mulea says he was able to learn a great deal from the project.
"With Dr. Owens' guidance, I uncovered new ways to properly resource projects utilizing the University and my work connections, establish better actionable timelines across multiple stakeholders, and perhaps most importantly, to balance taking command in times that the client's ambition clouds the end goal of the project.
How to play "Goes Both Ways"
The object of "Goes Both Ways" is for teams or players to compete to solve as many word puzzles as they can in a minute by finding the missing word. What goes in between Kanye and Virginia? What about Home and Away? One must be fast and strategic to win.
Correct answers award that team or player tokens with point values ranging from zero to 100. Players continue this round of play until the game board is filled.
Then, players compete against each other in a head-to-head Rapid Fire Battle (RFB). This time, players are presented a "Middle Word" and need to come up with word combinations in front of and after that middle word. Players have 30 seconds to come up with successful word combinations.
For example, the middle word is money. Player 1 answers play money-money pit. Player 2 responds with, fake money-money purse. Player 1 is stumped and runs out of time awarding an RFB card to Player 2.
A player who creates two successful combos forces their opponent to do the same. Repeat a word or run out of time, and the opponent wins. The winner is awarded an RFB card that can award bonus points, leave them with losing points with a hazard card, the ability to replace any opponent's token on the game board with their own colored token, or simply just remove an opponent's token off the game board.
The winner is the team or player with the most points at the end of the game.
Visit "Goes Both Ways" online.
"Going forward, they have actionable insights to help improve their concept, a timeline of industry events to break into the industry, and a 'new lease on life' for the concept," adds Mulea. "They said they have never felt better about the future of their company, and I'm very pleased this project has garnered this reaction from them."
Novak, who describes his mother, Nancy, as "the ultimate artist and game creator," says both are grateful for this boost to the startup business.
"The tremendous work Joe, Dr. Owens and Professor McKelvey provided to The Novak Gaming Company was more than we could have hoped for," says Novak. "Joe was really challenging us to become better entrepreneurs and refine the game to make it more successful. He provided useful research to guide us in building a successful marketing campaign for the launch of our Kickstarter campaign and the eventual launch of our board game.
"We would not have the product we have today, if it was not for Dr. Owens taking a chance on our startup business," adds Novak. "We are so grateful to be a part of The University of Akron, provide a learning experience to young graduates, like Joe and myself, and bring light to a great story to show what the University can provide to local businesses, fellow alumni and prospective students looking to get real-world experience in the classroom."
Share