UA's prolific inventor inspires younger generations
05/25/2017

When Dr. Joseph Kennedy enters a classroom, he's usually there to deliver a lecture to our graduate students — the next generation of polymer scientists and engineers.

But on a recent day in May, the distinguished professor of polymer science and chemistry traveled to Dodge Intermediate School in nearby Twinsburg to talk science, and civics, with a group of sixth grade students.

They were eager to hear what Kennedy had to say. After all, his career spans 60 years, in industry and academia, and his inventions have resulted in 124 patents — and counting.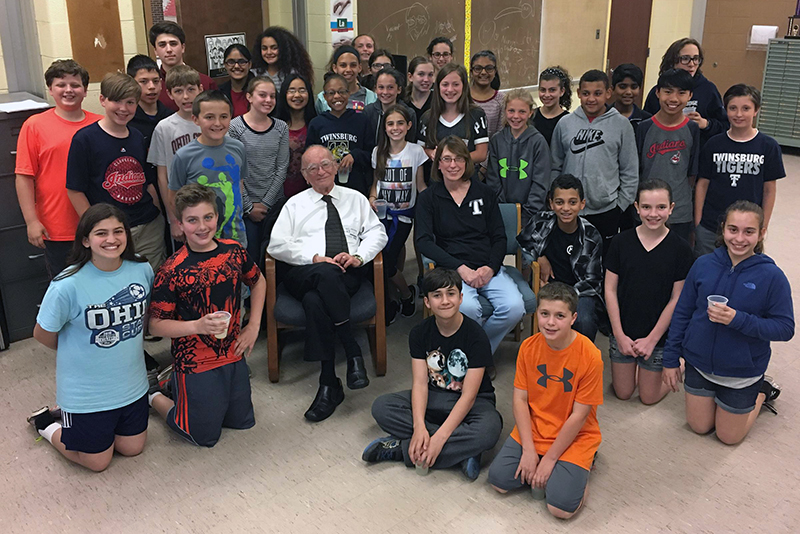 Dr. Joseph Kennedy, center, distinguished professor of polymer science and chemistry, is surrounded by the sixth graders he spoke to in a combination science and civics lesson at Dodge Intermediate School.
Kennedy had been invited to speak by science and social studies teacher Patty Spring after she read a March 19 feature story about Kennedy in the Akron Beacon Journal. It focused on his scientific accomplishments as well as his desire to live in the United States after the oppression of Nazi and Communist rule in his native Hungary.
Spring says she wanted her students to learn about inventions and patents from an expert, and to learn from his personal story as well.
Before the talk, students wrote essays about why they wanted to meet Kennedy. Spring shared a sampling:
"I am the proud owner of a microscope and a periodic table. I can't wait to meet Dr. Kennedy." — Jack Miller
"I am a problem solver and I know that science is about solving problems." — Abby Weissberg
"My grandfather's life was saved by the heart stent Dr. Kennedy invented." — John Troyan
"Dr. Kennedy helped the students, and me, to understand much more about patents," notes Spring. "He explained that patents were 'a deal between inventors and the government to create something useful for humanity.' That is a very different way to think about patents!"
He also spoke of leaving Hungary, and why. A U.S. citizen for 60 years, Kennedy told the young students that he "kisses the ground" when he gets back home after traveling overseas — a sign of gratitude for his adopted country.
"I believe he helped our sixth graders better appreciate freedom in the United States," adds Spring.
At 89, Kennedy still works six days a week, focusing his research on biomedical devices. He teaches a course on inventions and patents for graduate students, and is the author of "How to Invent and Protect Your Invention." His schedule makes it hard to accept many of the speaking invitations he receives. For the group of sixth graders at Dodge Intermediate, he was happy to make an exception.