Professor with 100 patents writes book to guide inventors
11/15/2012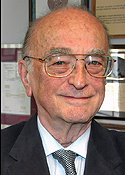 Dr. Joseph Kennedy
---
Many inventors find the patenting process puzzling and problematic. Dr. Joseph P. Kennedy, distinguished professor of polymer science and chemistry at The University of Akron and a prolific inventor with more than 100 issued U.S. patents, wants to make the solutions to those problems patently obvious in his latest textbook, "How to Invent and Protect Your Invention: A Guide to Patents for Scientists and Engineers," available in UA bookstores.

The book, co-authored by Wayne H. Watkins, associate vice president for research at UA, with contributions from Elyse N. Ball, project manager for the University of Akron Research Foundation (UARF), is the subject of the special-topics graduate-level course Kennedy will teach in the spring, "How to Invent and Protect Your Invention." According to the back cover, the book provides a "clear, jargon-free and comprehensive overview of the patenting process tailored specifically to the needs of scientists and engineers, including:
requirements for a patentable invention;
how to invent;
new laws created by the 2011 America Invents Act;
the process of applying for and obtaining a patent in the U.S. and in foreign countries; and
commercializing inventions and the importance of innovation."
Based on more than 25 years of lecture notes and the personal experiences of its authors, the book intends to foster the entrepreneurial spirit that UA inspires in its students and faculty. Kennedy, whose research has generated billions of dollars in revenue and benefited millions of lives through its industrial, household and medical applications, personifies the University's dedication to the development of research that drives the economy and benefits humankind.

"My research philosophy became to combine basic research with useful research," says Kennedy. "What we need to do is to discover what is needed by mankind, what is needed by the marketplace, and let the market pull our discoveries into the marketplace."

Yet, many inventors are unable to make such important societal contributions because they do not know how to protect and commercialize their inventions. Kennedy, Watkins and Ball seek to ensure that the painstaking research of chemists, physicists, biologists, polymer scientists, engineers and students is protected and directed toward real-world problems and societal needs.

Story by Nick Nussen
---
Media contact: Denise Henry, 330-972-6477 or henryd@uakron.edu.