Carving artists create Ice Fest buzz
01/24/2013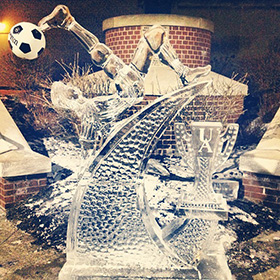 The University of Akron's student and alumni ice carvers created a buzz on campus yesterday as they used chainsaws to transform 300-pound ice blocks into intricate frozen sculptures. The event paid tribute to the Zips men's soccer team with a 2,000-pound ice throne carved in the likeness of Zippy and a sculpture of soccer player "frozen" in a bicycle kick.
Hospitality management senior George Niemoeller was honored with a first-place award for his ice carving of a winged man. Alumnus Aaron Costic, 2006 Olympic Arts Festival gold medal champion, won the 20-minute, two-tool speed-carving competition with his octopus sculpture.
Student vegetable carvers inside the Student Union drew a steady stream of onlookers, mesmerized as they watched the culinary artists turn melons into magnolias and much more. The University's vegetable carvers, under the direction of their mentor chef Richard Alford, associate professor emeritus of hospitality management, were named overall champions of the National Collegiate Fruit and Vegetable Carving Competition in Holland, Mich. last October.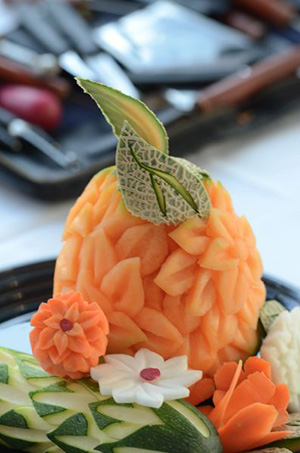 Other champions, the Zips men's soccer team, received recognition at the event with an ice trophy presented by Fox 8 News personality Kenny Crumpton. Crumpton broadcast "Kickin' It With Kenny" live from the ice festival where he chatted with head coach Jared Embick and players Bryan Gallego and Reinaldo Brenes.
Despite bone-chilling temperatures, the student carvers put on an impressive show for the public for the sixth year in a row, says Alford.
"The carvers showed off their artistic skills and prevailed through the frigid weather," Alford says. "They're ready for the national competition."
UA's student ice carvers leave for Frankenmuth, Mich. tomorrow to compete in the National Collegiate Ice Carving Championships, Jan. 25-27.
See also:
Media contact: Denise Henry, 330-972-6477 or henryd@uakron.edu