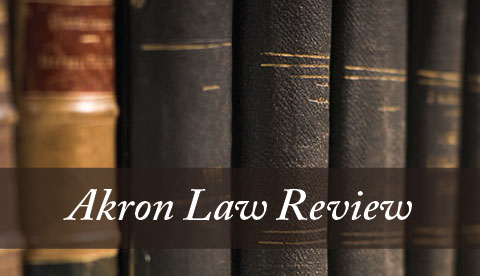 Upcoming event
The 2023 Akron Law Review Symposium
Friday, April 14, 2023, 8:30 a.m. - 12:30 p.m.Akron Law Review hosts Game Changers: Rewriting the Playbook - A Sports and Entertainment Law Symposium.
Join us for an insightful and in-depth conversation on the leading issues in sports and entertainment law. The Symposium will include discussions on contract negotiations, diversity in sports leadership, the interplay of ethics and sports agency, NIL (name, image, and likeness), and more. Luke Fedlam (Partner and Sports Attorney at Porter Wright Morris & Arthur LLP), Steven Roth (Principal and Founder of the Roth Firm), and Brandon Posivak (student at Pepperdine Caruso School of Law) will give presentations on modern, industry-specific topics.
This event will be held in-person at the University of Akron School of Law (see attached flyer). Virtual attendance will be available for those unable to attend in person. Breakfast and lunch will be provided for in-person attendees. Register online here.
---
Past Events
Akron Law Review 2022 Symposium
On March 4, 2022, the Akron Law Review hosted its annual symposium titled "Navigating a New Legal Frontier in Cybersecurity." The Symposium received a strong showing with students, professors, and industry professionals all in attendance. Those attending the event in-person enjoyed both breakfast and lunch, networked with a variety of legal professionals, and engaged in thoughtful conversations on cybersecurity.
The 2022 Symposium focused on leading issues at the crossroads of cybersecurity and the law, and included discussions on cryptocurrency, reasonable cybersecurity programs, and ethical considerations in cyber-related practices in the law. Speakers ranged from professors and students to distinguished experts and scholars within the internet-privacy and cybersecurity industries.
If you missed the 2022 Symposium, be sure to attend the Akron Law Review's 2023 Sports and Entertainment Law Symposium titled Game Changers: Rewriting the Playbook.
Akron Law Review 2021 Symposium
This year's annual symposium hosted by The Akron Law Review was titled COVID & The Practice of Law: Impacts of Legal Technology. While the law is known for being slow to adapt, the pandemic has forced legal practitioners to move online via virtual hearings, trials, and client consultations. As we look toward the future of the profession, the question that arises, and what this symposium sought to answer, is "How will technology continue to impact the practice of law?" Authors and experts in the field came together to discuss three topics: artificially intelligent legal practice, tele-lawyering, and open-source legal documents. Each topic will be published in the symposium issue of the Akron Law Review.
Akron Law Review
Now in its 53rd year, the Akron Law Review is a scholarly legal publication of The University of Akron School of Law that produces an annual volume of four issues for use by scholars, practitioners, and judges.
The Akron Law Review has been highly ranked in the Washington and Lee Law Review Rankings for a number of years.
The Akron Law Review has ranked in the top 55 of general, student-edited law reviews for "Impact Factor" since 2005. ("Impact Factor" is essentially determined by the median of the annual number of citations, divided by number of items published, for each year in the survey period).
Since 2006, the Akron Law Review has also ranked in the top 65 in the Washington and Lee "Combined Score" ranking for general, student-edited journals. The "Combined Score" is a composite of a law review's Impact Factor and total cites count.
Cited publication
The strength of the Akron Law Review has also been noticed by those in the legal academy and courts. In a 2007 article, Professor Alfred Brophy recognized the Akron Law Review, among other journals, including the Boston College Law Review and the Indiana Law Review, as a "significant improver" in number of times its articles are cited by other law journals. See Alfred L. Brophy, The Emerging Importance of Law Review Rankings for Law School Rankings, 78 U. Colo. L. Rev. 35, 42 (2007).
More recently, Jared Klaus, an associate in Porter Wright's litigation department and a member of the firm's appellate practice group, noted that the Akron Law Review has been cited by the Ohio Supreme Court Justices more times in the past decade than any other journal. See Jared Klaus, Law Reviews: An Undervalued Resource, 26 Ohio Lawyer, May/June 2012, at 28. This is truly an accomplishment for the Akron Law Review because not only does it highlight the success we have had thus far, but it showcases the potential impact your article can have in shaping the law if you elect to publish with the Akron Law Review.
Submissions welcome
We accept articles on all issues. Prior symposiums have focused on professional responsibility, summary judgment, complex litigation, elder law, judicial elections, and education law.
Members of the Akron Law Review contribute to the publication by editing the articles selected for publication and by writing their own notes and comments. By editing selected articles, staff members improve their own editing, writing, and citation skills while being exposed to different areas of law. The Editor-in-Chief and the Editorial Board oversee the selection, editing, and publication process.
As they write their own notes or comments, they further expand their legal research, writing, and editing abilities while exploring the intricacies of a particular area of law. Throughout the writing process, they are guided by the second-year members of the Law Review, the Executive Editor and law faculty. More information about the structure and processes used by the Law Review is available in the Constitution and Bylaws.

Membership
The Law Review is composed of second-, third-, and fourth-year full-time and part-time students. Members are selected either based on their grades after the first-year of law school or through a write-on competition conducted every summer. Invitations are sent to eligible students, and a training session is held shortly after.
---
Related: