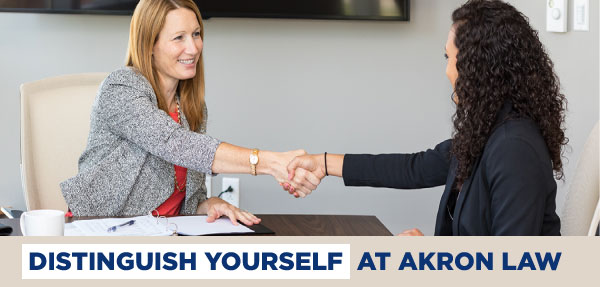 What we consider
The Akron Law Admissions Committee seeks students who will perform successfully in law school, enhance the environment of the School of Law and ultimately use their legal education to benefit society. Thus, the committee strives to assemble a student body that is academically well-prepared, highly motivated, diverse, and brings distinctive achievements.
Note that while there is no minimum Law School Admission Test (LSAT) or Graduate Record Examination (GRE) score or undergraduate grade point average (UGPA) required to be considered for admission, the median LSAT and UGPA for our most recent entering classes have been in the 153 and 3.4 range. Please note: All applicants who have taken the LSAT are considered LSAT applicants even if they later take the GRE.
To determine if your LSAT or GRE score and UGPA are competitive with our applicant pool, please check our previous years' entering class profiles.
Although an applicant's LSAT or GRE score and UGPA are important indicators of academic preparation and motivation, the admissions committee considers many other factors as well. These factors include, but are not limited to, the following:
The personal statement
Recommendation letters
The nature and difficulty of the course of undergraduate study
The overall academic rigor of the undergraduate institution
The undergraduate academic record, including ascending or descending trends in grades and graduate work or degrees
Extracurricular activities while in undergraduate or graduate school
The LSAT or GRE writing sample
Work experience
Community activities and community service
Personal obstacles that may have hindered realization of the applicant's full potential
Racial and ethnic diversity
Age
Economic disadvantage
Geographic diversity
Other distinctive traits or characteristics that will yield a diverse student body
The American Bar Association asks us to report the highest LSAT score of every entering student as part of our class profile. However, we see and will consider all LSAT scores earned within the past five years. Taking the LSAT multiple times may help and the lower scores will not necessarily harm an applicant. In the case of multiple LSAT scores, the Admissions Committee will use score trends, gaps in time between scores, circumstances surrounding poor scores (if explained by the applicant in a supplemental statement), differences in the scores themselves, and other relevant factors to interpret these scores.
Please note that if you take both the LSAT and the GRE, you are considered an LSAT applicant.
The University of Akron School of Law is an equal opportunity educational institution. In assessing an applicant's academic promise, the admissions committee considers the extent to which the applicant has overcome disadvantages associated with obstacles in life, including membership in a historically disadvantaged racial or ethnic group. Committee members seek to recruit and enroll minority students.
---
RELATED