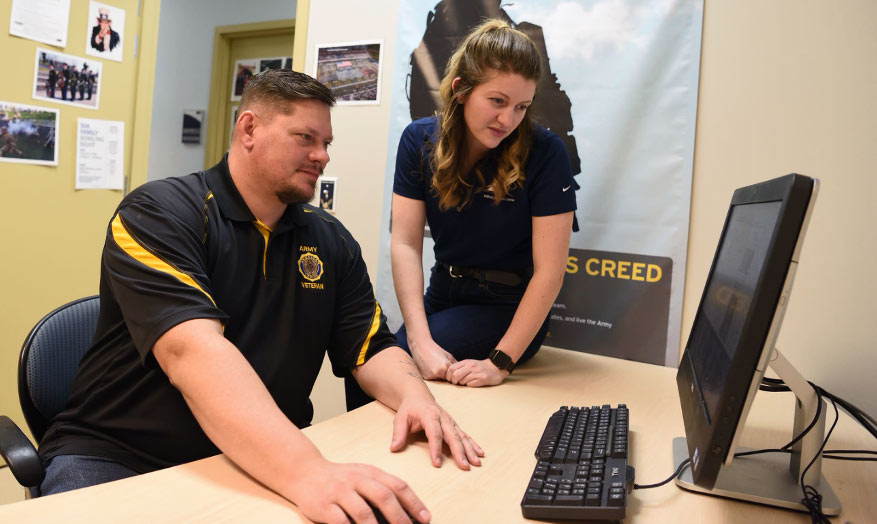 Veterans can get assistance at UA's Military Services Center from counselors like student veterans Timothy Jones and McKenzie Gerzanics. Gerzanics is a first-year Akron Law student, Navy veteran and active Army National Guard officer candidate who works part-time at the Center.
Veterans at Akron Law
Our faculty and staff understand how the discipline, teamwork and leadership abilities acquired in the military help prepare students for success in law school and a rewarding legal career.
The University of Akron School of Law is a welcoming place for veterans. Our current student body includes approximately 15 students who are active military or have prior military experience. In addition, one of our tenured faculty members was a staff sergeant in the Army before he attended law school.
Military careers are of great interest to our students. Our Career Services Office coordinates on-campus interviews and information sessions for various JAG Corps programs in both the fall and spring semesters, and our efforts have been very successful. Since 2015, we have placed eight graduates in positions within the Army and Air Force JAG offices. Several of our students obtained semester and summer externships with various branches, both locally and outside of Ohio.
Are you more interested in applying your military skills in a civilian law career? Some of our coursework particularly relevant to veterans includes:
International Law,
Technology in Law,
International Arbitration and Negotiations, and
Cyberlaw.
But truly, any field of law is open to you.
A SERVICE-ORIENTED CAMPUS
Beyond the School of Law, the University of Akron has an engaged Military Services Center and an Army ROTC program for undergraduate and graduate students. Akron's ROTC recently celebrated 100 years and has approximately 118 cadets, with 15 cadets graduating in the Class of 2020. Military Times' Best for Vets list consistently ranks Akron as one of the best schools in the country for military students.
We strongly encourage any active military or veteran considering law school to contact the Military Services Center. It is a great hands-on resource. The center acts as a liaison between you and the U.S. Department of Veterans Affairs. The staff will help you apply for the correct GI Bill benefits and get approval even before you are admitted to the law school. The center may even be able to help if you have exhausted your GI benefits and do not qualify for Pell grants.
For more information, visit the center's site or contact the staff directly at veterans@uakron.edu or 330-972-7838.