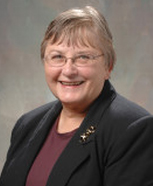 Welcome! As you browse our nursing school site, I encourage you to look critically at our programs, our people and our philosophy. I hope you find that our school provides a unique and special environment for student nurses. Across our academic programs, the School of Nursing is committed to our mission of transforming lives.
We understand that nursing is a special vocation. Nursing combines an in-depth knowledge of science with an understanding of the humanities to create the art of nursing, and the opportunity to change lives.
Thanks for taking the time to learn more about the School of Nursing at The University of Akron.
Marlene Huff, Ph.D., RN
Director/Chief Nurse Administrator
School of Nursing
---
About diversity
The School of Nursing prepares nurses to be culturally competent in accord with the core values of the profession. We value diversity in all forms, including national origin, race, color, religion, sex, age, sexual orientation, gender identity, disability, or veteran status; and seeks to recruit, retain and graduate a diverse student population. The School of Nursing advances excellence in student learning, collaborative clinical service delivery, community service, and the scholarship of practice, integration, application, and discovery.