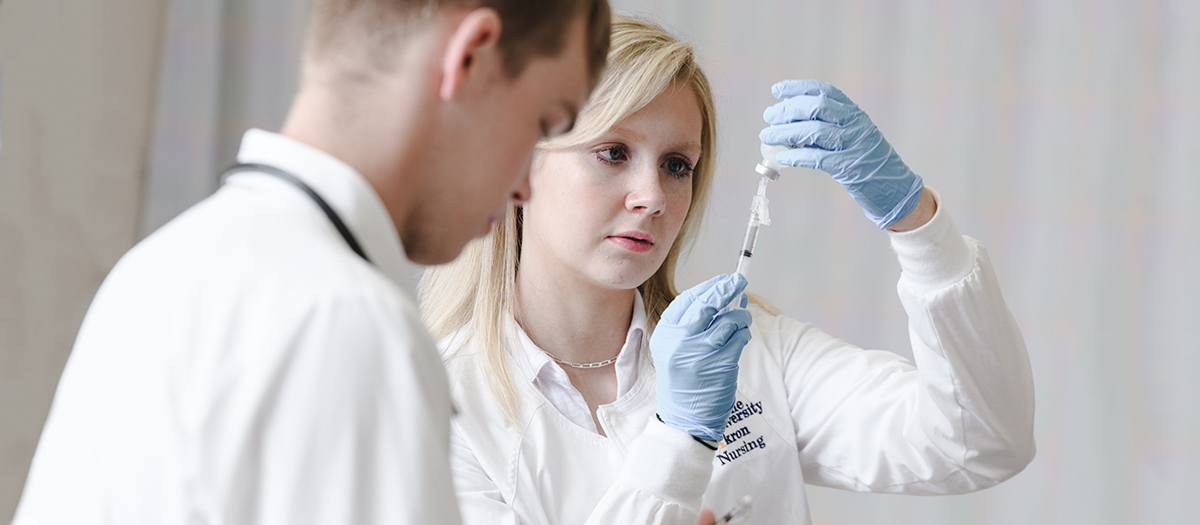 Bachelor of Science in Nursing (Accelerated BSN)
The Accelerated BSN Program is a Second Degree option, designed for those who have completed a baccalaureate in another area of study (from a regionally accredited college or university) but now wish to obtain a degree in nursing.
Program details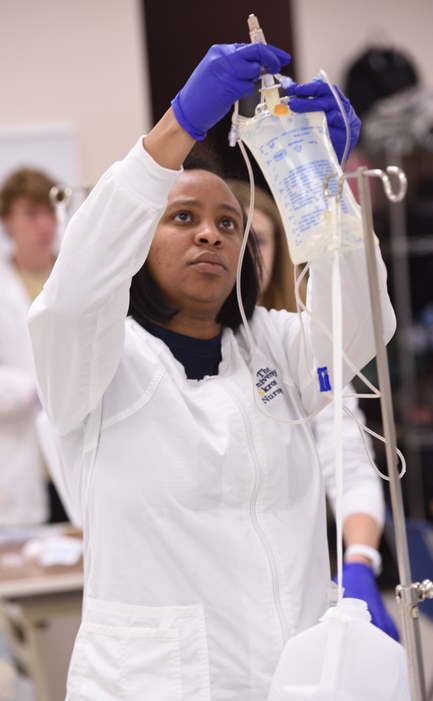 The Accelerated BSN program is four semesters, beginning in May and completing in August of the following year.
Example timeline:
Apply by December 1, 2021
Begin program May 2022
Complete program August 2023
You will progress through the curriculum by taking the courses in the order they appear in the program plan.
Upon successful completion of the program you will earn a baccalaureate degree in nursing and have the education needed to sit for the Registered Nurse (RN) licensure examination.
See the recommended course sequence
5 credit hours Chemistry (any combination of inorganic, organic, biochemistry) with lab

-or

- 3150 :113 General, Organic & Biochemistry (4) + 3150:114 General, Organic & Biochemistry lab (1)

8 credit hours Anatomy and Physiology with lab
3 credit hours Microbiology with lab
3-4 credit hours Developmental Psychology
3-4 credit hours Science of Nutrition
3 credit hours Introduction to Ethics
3-4 credit hours Basic Statistics or Stats for Everyday Life
Application deadline
Apply by Dec. 1 to begin the following May. See how to apply below.
If you plan to apply after Dec. 1, please contact us.
Admission requirements
Academic requirements: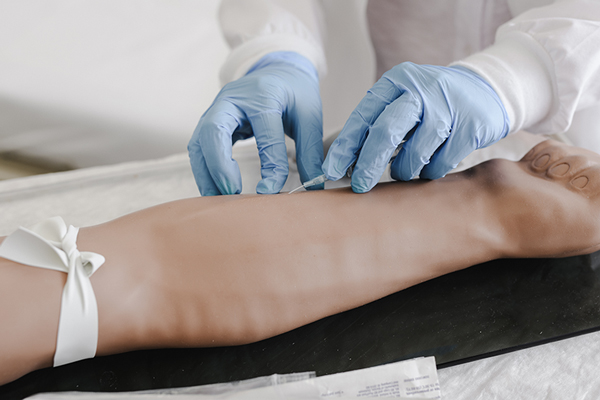 Baccalaureate degree from a regionally accredited four year college or university with a cumulative GPA of 2.75
Admission to The University of Akron
Ability to maintain full-time status
Pre-req science courses must have a lab component and a cumulative GPA of 2.75
Pre-req science courses should preferably be completed within the past five years of your application
Completion of all the pre-req courses having earned a C or better in each, with an average GPA of 2.75, prior to beginning your first nursing course
Application requirements:
Complete the Accelerated BSN program application form
A resume
A 500-word personal statement addressing how you can contribute to the field of nursing
Two letters of recommendation
Copies of your transcripts
Please note: Completion of all admission criteria does not guarantee admission into the accelerated program.
All GPA references are on a 4.0 scale.
Admissions procedure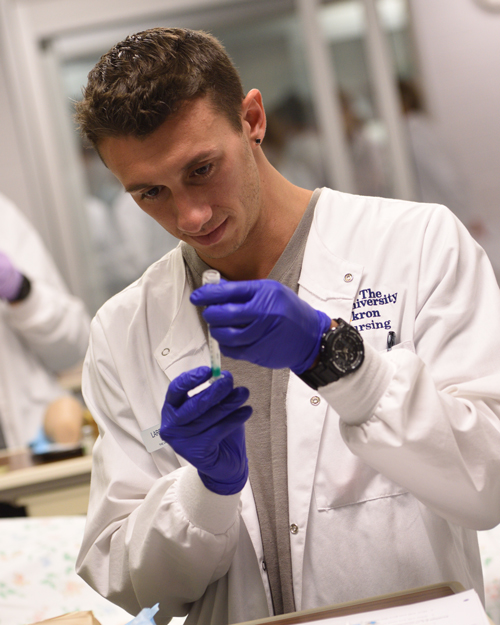 1. To apply, submit all your application materials to:
Student Success Center
College of Health and Human Sciences
Mary Gladwin Hall 313
Akron, OH 44325-3700
Phone: 330-972-6061
Fax: 330-972-5493
2. After you apply, you will receive a written evaluation of the prerequisites you have completed along with those that you need to complete.
Prerequisites may be completed at any regionally accredited university or community college.
All prerequisites must be completed by the end of the spring semester, prior to the summer of your entry into the program.
3. From this point forward, you must maintain close contact with your advisor in order to ensure proper progression towards entry into the program.
If you are not currently a University of Akron student, you will receive written instructions on how to formally apply to the University of Akron and the School of Nursing.
If you are currently a University of Akron student, you will receive instructions on how to formally apply for the accelerated program.
Contact us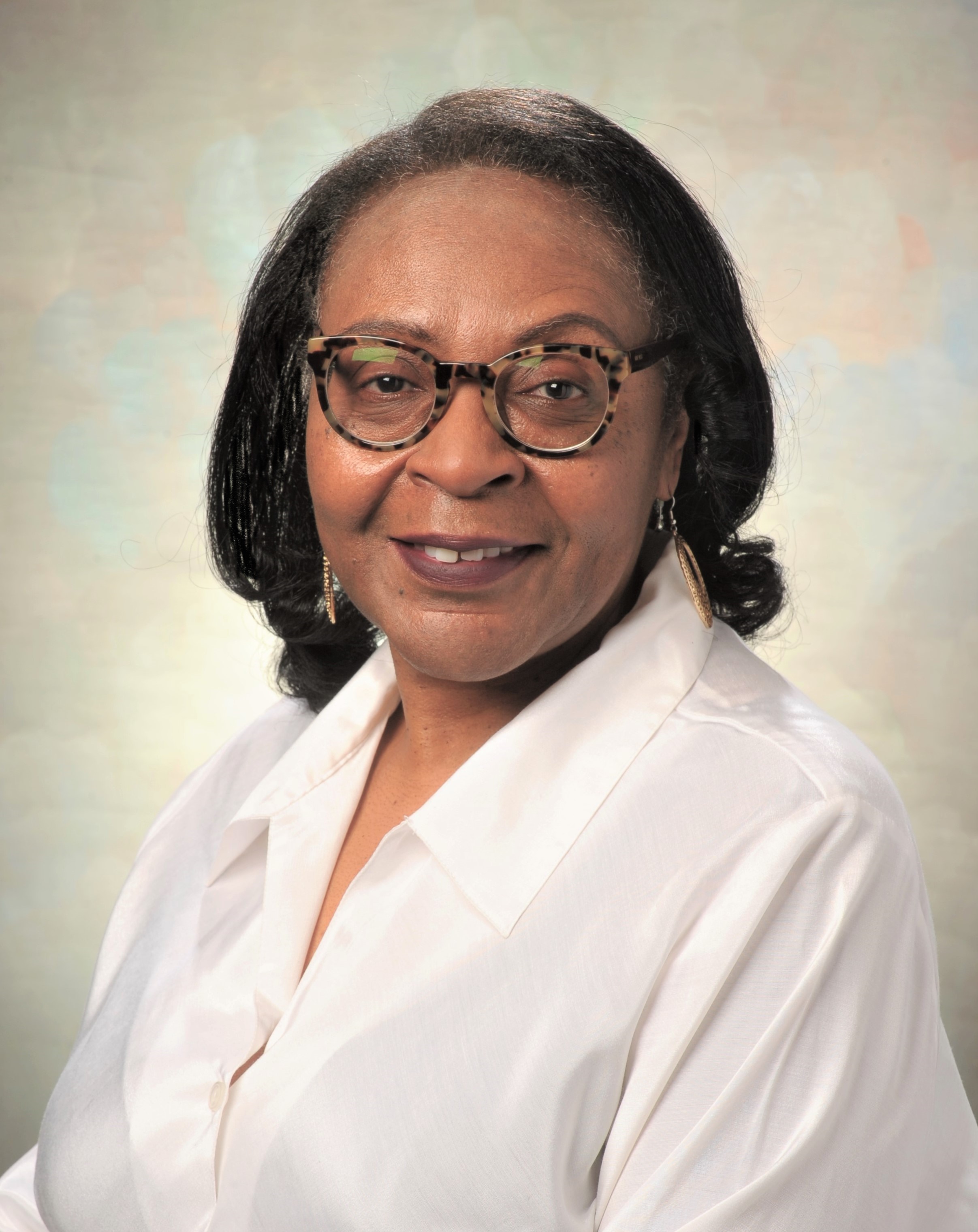 Regena Ellis
Student Enrollment Counselor
School of Nursing
Phone: 330-972-7554
Email: ellisr@uakron.edu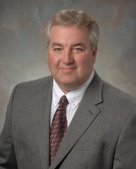 Don Canary
Academic Adviser II
College of Health & Human Sciences
Phone: 330-972-5103
Email: canary@uakron.edu