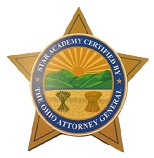 THE UNIVERSITY OF AKRON / SUMMIT COUNTY SHERIFF'S OFFICE
POLICE ACADEMY
We are an Ohio Peace Officer Training Commission-certified academy, part of UA's College of Health and Human Sciences. We are the first open enrollment police academy in the State of Ohio to be awarded the STAR award.
Our Spring 2024 Police Academy is full.
Now Accepting Applications for our Summer Academy Starting April 22, 2024
We will be running a full-time day academy and a part-time evening academy starting late July or Early August, 2024. Details to follow.
Application materials
Email Kathy Shaffer to make an appointment to drop off your application.
---
► Financial Aid is available and we accept military benefits.
THOROUGH AND COMPREHENSIVE TRAINING
The University of Akron/Summit County Sheriff's Office OPOTA Certified Training Academy is a unique collaboration in law enforcement training. The instructors will consist of both experienced law enforcement officers and well-respected University of Akron faculty members.
This academy will provide thorough and comprehensive training to develop policing skills, enhance leadership abilities, and promote a solid ethical foundation to all cadets. The program provides over 711 hours of basic training and prepares each cadet to pass the Ohio State Peace Officer's Certification Exam.
Cadets must pass all of the following psychomotor skills to be eligible to sit for the state exam:
Driving
Handgun
Shotgun
First Aid/CPR/AED/NARCAN
NHTSA speed measuring device training
Subject control
Impact weapons
Patrol techniques
Building searches
Stops & approaches
NHTSA standardized field sobriety testing
Hazmat & WMD awareness
Incident command system
National incident management system
Subject-control techniques
Classroom training
Physical training
Scenario-based training
Also, throughout the entire training, core values of professionalism, obligation, leadership, integrity, courage, and excellence are stressed and reinforced. When the cadets complete the academy, they will enter the world of policing with the knowledge and skills necessary to effectively perform their duties as law enforcement officials.
---
SCHOLARSHIP FUNDS
The Alexander J. Rohr Memorial Scholarship Fund
The Alexander J. Rohr Memorial Scholarship Fund was established in 2006 by the family and friends in loving memory of Alex Rohr who was a student at The University of Akron and had interest in a career in law enforcement. Endowment income is available for students enrolled in the Police Academy, who have demonstrated financial need. Recipients will be selected by members of Alex Rohr's family based on recommendations by the Office of Student Financial Aid. There will be a $1000 scholarship awarded. The funds may be used for tuition, fees or to purchase books for the classes. Click here to read more about Alex.
The scholarship application must be turned into Kathy Shaffer , Polsky 327.
Note for students interested in applying for a scholarship: The Department of Development at The University of Akron does not accept applications for, or distribute, scholarships.
---
---
Video: About the Academy
Commander William Holland outlines the benefits of training for a law enforcement career with The University of Akron / Summit County Sheriff's Office Police Academy.
---
For more information, contact:
Commander Bill Holland
Polsky 308
Phone: 330-643-2114
wholland@sheriff.summitoh.net
---
Kathy Shaffer
Polsky 327
Office: 330-972-8240
Fax: 330-972-5476
kfshaff@uakron.edu
---