Diana Patel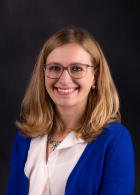 Title: Senior Lecturer
Dept/Program: Political Science
Office: Olin Hall 201
Phone: 330-972-6291
Email: dmk24@uakron.edu

---
Biography
Dr. Diana Patel is a senior lecturer of political science. She earned a B.A. and M.A. in political science at the University of Akron, and a Ph.D. in prevention science from Kent State University.
Dr. Patel teaches the Global Public Health Threats course, where students are introduced to leading public health and security challenges that impact global populations. Her research in public health includes refugee health, maternal and child health, hand hygiene, health and technology, and public health workforce development.
Dr. Patel currently serves as the Director of Research and Analytics at Summit Education Initiative, an Akron-based collective impact non-profit that pursues and promotes educational attainment from cradle to career in Summit County.
---