Interns in the spotlight

Tanner Musson, Cuyahoga County Common Pleas Court
Over the summer I interned at the Cuyahoga County Common Pleas Court where I was placed in the Urinalysis Lab of the Adult Probation Department and it has opened my eyes a lot to our criminal justice system. Some of my roles as intern were assisting with drug testing kits, creating requisitions for the specimens, and working the front desk to check in the clients. Over the summer we got to experience many things such as cases at court, going to the Ohio Supreme Court, going to the Cuyahoga County Medical Examiner's Office, seeing the Cuyahoga County Jail, seeing the Court's Psych Clinic and much more! They allowed me to stay on during the school year and work for them and I also have the opportunity to keep working with them next summer as well. Everyone at the Cuyahoga County Common Pleas Court has been a pleasure to work with. There was not one day that I dreaded going into work. Even now when classes are in full swing and the workload is piling up, I still look forward to going into work. To anyone looking for an internship I highly recommend the Cuyahoga County Common Pleas Court, you will not regret it!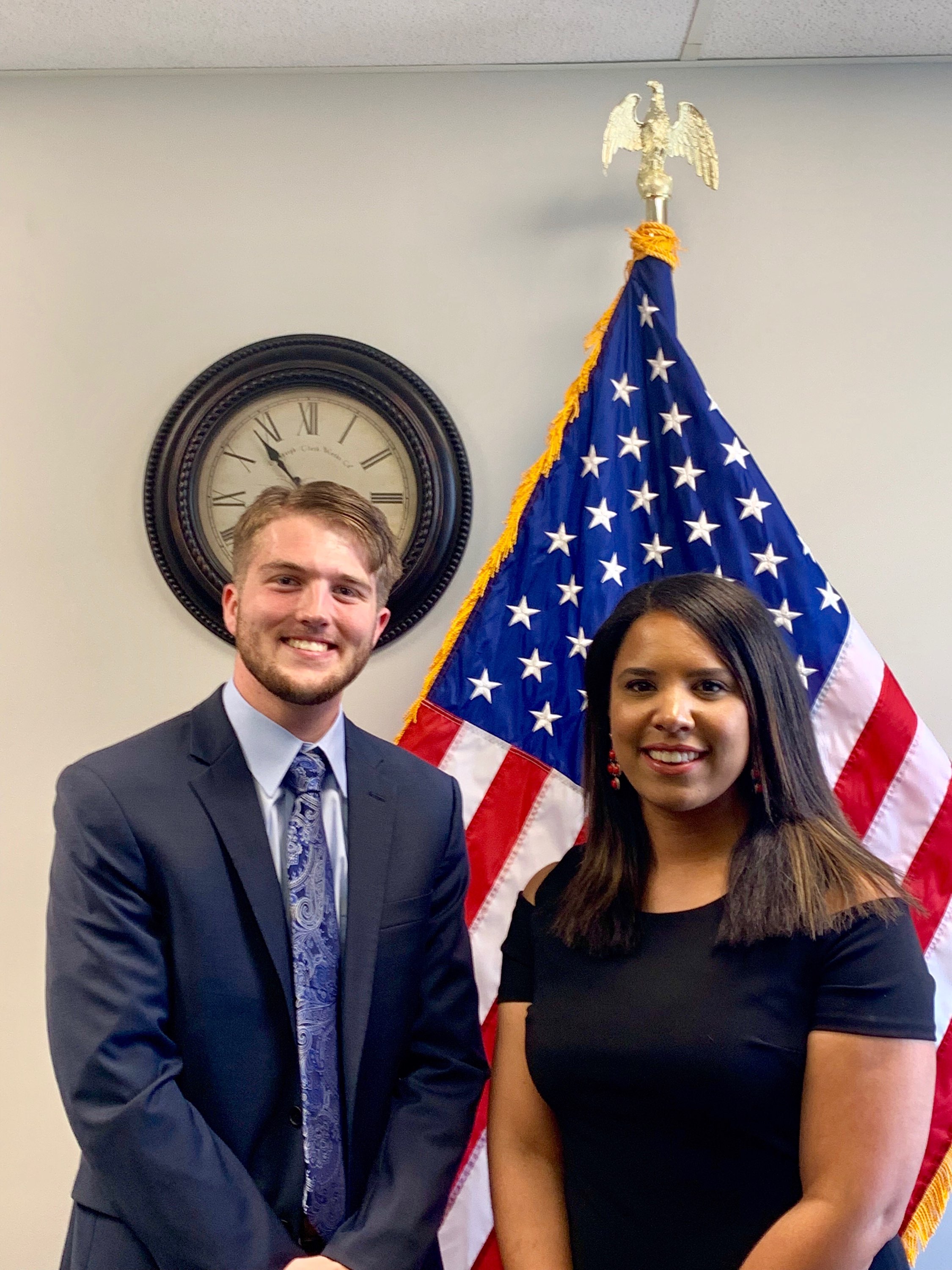 Max Lindeman, Intern, Congressman Anthony Gonzalez
As an intern for Representative Anthony Gonzalez at his local district office in Canton, I was able to have a federal internship while commuting from home, saving myself quite a bit of money. Through the many connections I made at the Bliss Institute, I was able to find out about the amazing opportunity. This opportunity provided me with a great first impression of Bliss and how important alumni in shaping our experiences as students. This office in particular has had great experiences with Bliss interns in the past. As a result I was quickly doing work of value such as constituent casework to help Ohioans that Rep. Gonzalez represents. Internships are one of if not the best way to get a job after college and I'm fortunate to have access to the resources to get great internship opportunities thanks to The Ray C. Bliss Institute of Applied Politics.
Michele Kaiser, Intern State Representative Tracy Maxwell Heard Minority Whip
Internships give you a sense of how it is in the real world, and help you grow professionally. They give you insight into the job field of your choice and then you decide if it is the right career choice for you. Multiple internships, in my opinion, are better to gain more professional experience. Not only does the Bliss Institute of Applied Politics help all the Political Science majors but also Political Science/Criminal Justice students find appropriate internship placements. An out of town internship is worth considering, because it can help you grow personally and professionally. In my experience it was like having the job I could get once I graduated. Also living with others that were doing the same thing, gave me more support.
---
Becca Dyer, Intern, Ohio House Republican Organizational Committee
I interned with OHROC-- The Ohio House Republican Organizational Committee. I worked on projects for different campaigns across the state. My work included writing, research, data entry, and grassroots campaigning. The experience was more enlightening than I had anticipated-- not only did it give me the opportunity to explore a practical application of what I learn in the classroom, but I also made several professional contacts.
---
Matt Phister, Intern at the Ohio Attorney General's Office.
Through the Columbus Success Internship Program, the Bliss Institute connected me with the Ohio Attorney General's Office where I was hired as a Summer Intern in the Health and Human Services Section. Through this opportunity, I was able to work with over thirty different attorneys, some that had been practicing in their field for decades and others that were just out of law school. I was able to engage with them during trials, meetings, hearings, witness preparation, and interviews to ask questions and learn their approaches to different situations. Through my internship, the Bliss Institute provided me the opportunity to take the knowledge I've gained in the classroom and apply it to real-life legal scenario's to gain a greater understanding of the trials, tribulations, and successes of the American legal system. After my experience with the Ohio Attorney General I now have a specific focus for my future career path, high-quality connections within the field that could help me pursue that path, and a better understanding of what it takes to be successful as a lawyer and a judge. I can't thank the Bliss Institute enough for supporting me in pursuing my dreams and helping me to accomplish them.