Dr. Bill Lyons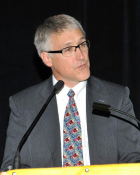 ---
Biography
Bill Lyons directs the Center for Conflict Management and teaches Law, Mediation & Violence (the conflict transformation core class), Law & Society, Social Entrepreneurship, and Constitutional Law. His most recent book, The Akron Story Circle Project: Rethinking Race in Classroom and Community, co-authored with colleagues from five different disciplines other than Political Science, was published in 2017. He was also featured in Pechakucha Akron VI in February 2017.
Please drop into Olin 202 or post wtlyons@uakron.edu or call 972-5855 anytime if you have questions about politics, conflict management, the Red Sox, or how to succeed in college.
Ph.D., University of Washington, 1995, Professor and Director, Conflict Management.
Fields: Law and Society, Policing Reform and Urban Politics, Comparative Criminal Justice, Conflict Management, Public Law
---
Research Accomplishments
Bill has served as Director of the Center for Conflict Management since 2001.
Bill teaches various courses, from Constitutional Law to Law & Society, as well as the conflict management core course (Law, Mediation, and Violence) and a Social Entrepreneurship course. In 2009 he was recognized by the UA Alumni Association as the Outstanding Teacher of the Year at the University of Akron.
Bill's first book manuscript, The Politics of Community Policing (1999, University of Michigan Press), was an analysis of the neighborhood politics surrounding the emergence of community policing in Seattle. In 2006 he published Punishing Schools (co-authored with Julie Drew) with the University of Michigan Press and in 2010 Sound-Bite Saboteurs (co-authored with Julie Drew and Lance Svehla) with SUNY Press.
Areas of Responsibility
Conflict Management
---