Jill L. Dickie, Ph.D., MPA, LISW-S, LICDC-CS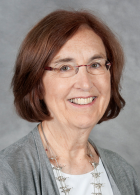 ---
Biography
Dr. Jill Dickie has been a faculty member both in School of Social Work and Summit College's Community Services Program since 1998. She was affiliated with the Institute for Health and Social Policy from 1999 until 2006 where she held administrative and research positions. Currently, she is a full-time Professor in the School of Social Work where, in addition to teaching, she is responsible for coordinating the Cognitive-Behavioral Therapy and Motivational Interviewing Initiative.
Dr. Dickie has worked in the behavioral health field for 40 years. Prior to joining the faculty, she served as Executive Director of Family Solutions, Clinical Director at Family Services (Greenleaf), and director of a branch office of a community mental health center. In addition to full-time agency positions, she taught part-time in the Social Work departments at Kent State University and The University of Akron and served as adjunct instructor at the Mandel School of Applied Social Sciences at Case Western Reserve University. She also maintained a private practice, specializing in the areas of mood disorders and addiction.
She is licensed as an Independent Social Worker, Supervisor (LISW-S) and Independent Chemical Dependency Counselor, Clinical Supervisor (LICDC-CS) in Ohio.
PROFESSIONAL INTERESTS
Clinical social work education
Addictions theory and treatment
Cognitive-Behavioral Therapy, traditional and third-wave
Motivational Interviewing
RECENT PRESENTATIONS
April 14, 2017, CBT with People Living in Poverty, School of Social Work Continuing Education, University of Akron, Akron, OH
Nov 17, 2016, Mindfulness: What is it and How Do I Use It in Practice? The NASW Ohio Chapter Annual Conference, Columbus, OH
Nov 17, 2016, CBT: Does It Have to Be All or Nothing? The NASW Ohio Chapter Annual Conference, Columbus, OH
Oct 19, 2016, Women and Heart Disease, NEOMED, School of Medicine, Rootstown, OH

July 29, 2016, CBT: Integration of Field and Class in Educating MSW Students, The University of Akron School of Social Work Continuing Education, Akron, OH
---
Publications
Alemagno, S. & Dickie, J. (2005). Employment issues of women in jail. Journal of Employment Counseling, 42, 67-72.
Tonkin, P., Dickie, J., Alemagno, S., & Grove, W. (2004). Women in jail: "Soft skills" and barriers to employment. Journal of Offender Rehabilitation, 38, 51-71.
Alemagno, S. & Dickie, J. (2002). Screening of women in jail for health risks and needs. Women and Criminal Justice, 13, 97-108.
---
Education
Ph.D. in Psychology, Northcentral University
M.P.A. Kent State University
M.S.S.A. (Social Work) Case Western Reserve University
B.A. in English, The University of Pittsburgh
---
Courses
7750:693 Advanced Social Work Practice: CBT I & CBT II
7750:651 Foundation in Addiction Studies
7750:652 Addiction Assessment and Treatment Planning
7750:653 Evidence-based Practices for Addiction
7750:xxx Online undergraduate addiction courses
---