Jill L. Dickie, Ph.D., M.P.A., LISW-S, LICDC-CS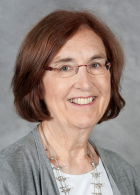 ---
Biography
Dr. Jill Dickie has been a faculty member both in School of Social Work and Summit College's Community Services Program since 1998. She has been affiliated with the Institute for Health and Social Policy since 1999. She is a member of the County of Summit Alcohol, Drug Addiction, and Mental Health Services Board and a disaster mental health volunteer with the American Red Cross.
Prior to joining the faculty, she served as Executive Director of Family Solutions, Clinical Director at Family Services (Greenleaf) and director of a branch office of a community mental health center. In addition to full-time agency positions, she taught part-time in the Social Work department of Kent State University and served as an adjunct professor at the Mandel School of Applied Social Sciences at Case Western Reserve University. She also maintained a private practice, specializing in the areas of mood disorders and addiction.
She is licensed as an Independent Social Worker (LISW) in Ohio and is certified as a chemical dependency counselor (CCDCIII-E) by the Ohio Credentialing Board and the International Certification and Reciprocity Consortium.
PROFESSIONAL INTERESTS
Addictions theory and treatment
Community-based social services
Dynamics and theory of change
Disaster mental health
RECENT PRESENTATIONS
March 6, 2015, Mindfulness Overview, Safe Landing, Tallmadge, OH
October 24, 2014, Developing a CBT Training Program for MSW students: A University-Community Collaboration, Council on Social Work Education (CSWE), Tampa, Florida
April 19, 2013, Heart Disease and Women's Health, NEOMED, School of Pharmacy, Rootstown, Ohio
March 6, 2012, Women and Heart Disease, NEOMED, School of Medicine, Rootstown, Ohio
---
Research Accomplishments
Alemagno, S. & Dickie, J. (2005). Employment issues of women in jail. Journal of Employment Counseling, 42, 67-72.
Tonkin, P., Dickie, J, Alemagno, S., & Grove, W. (2004). Women in jail: "Soft skills" and barriers to employment. Journal of Offender Rehabilitation, 38, 51-71.
Alemagno, S. & Dickie, J. (2002). Screening of women in jail for health risks and needs. Women and Criminal Justice, 13, 97-108.
Education
Ph.D. in Psychology, Northcentral University
M.P.A. Kent State University
M.S.S.A. (Social Work) Case Western Reserve University
B.A. in English, The University of Pittsburgh
---
Courses
2260:210 Addiction Education and Prevention
2260:260 Introduction to Addiction
2260:261 Addiction Treatment
2260:262 Basic Helping Skills
2260:480 Addiction Services Electives
7750:401 Social Work Practice I
7750:402 Social Work Practice II
---