Social Work Faculty News


Social Work Faculty Received Awards from the National Society of Leadership and Success
Two social work faculty nominated by students and received awards through The University of Akron Chapter of The National Society of Leadership and Success (NSLS), Sigma Alpha Pi, on December 3, 2018 during the society's induction and awards ceremony. The NSLS is the nation's largest leadership honor society. With 656 chapters, the NSLS currently has 956,382 members nationwide.

Dr. Jill Dickie received the Excellence in Teaching Award. She has exemplified the purpose of the Society through excellence in academic student development.
Prof. Naomi White received an Honorary Membership. She has exemplified a commitment to excellence in developing student leaders.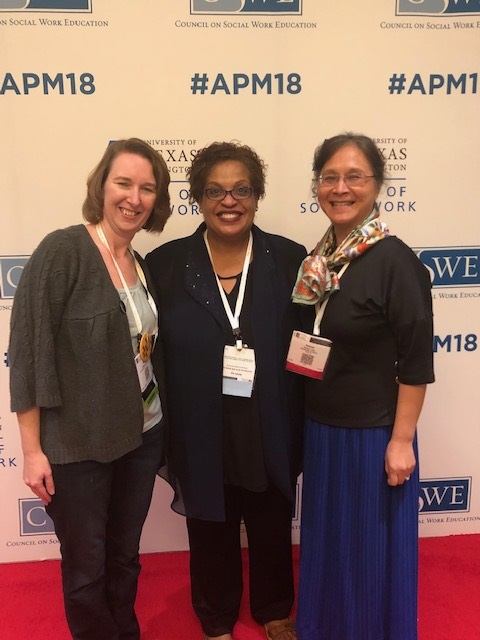 Photo: Social Work Faculty (Michele Thornton, Naomi White, & Baomei Zhao, from left)
attending the CSWE Conference in Florida

Prof. White Presented at the CSWE and the NSDTA Conferences
Prof. Naomi White, Professor of Instruction, presented at the Council on Social Work Education (CSWE) annual conference in Florida on November 9, 2018. Her presentation was titled, Cognitive Load Theory Meets Technology to Create Relevant, Learner-Supported Orientations. She also gave the presentation at the National Staff Development and Training Association (NSDTA) annual conference in Columbus, Ohio on October 1, 2018.

Her presentation was about designing relevant, effective, and interesting field orientations that seamlessly integrate learning and instructional theories with computer-assisted technologies. She discussed that this approach can be utilized for both undergraduate and graduate social work students prior to entering their field education by transforming an overwhelming and less than interesting experience for both participants and facilitators.
Dr. Sang Published an Article in the NASW OH Newsletter
Dr. Jina Sang, Assistant Professor, published an article in the September-October issue of the NASW Ohio Chapter Newsletter. Currently, she is serving on the NASW Ohio Chapter Ethics Committee and teaching

Social Work Ethics. In her article titled, Social Work Ethical Practice in the #MeToo Era, she discussed the power imbalance that exists in social work in the relationships between social workers and clients, supervisors and supervisees, and educators and student. She emphasized that social workers must use the #MeToo phenomenon as an opportunity to carefully re-examine their own power and take responsibility for it by maintaining professional boundaries.
Prof. Ellis Presented at the Ohio Addictions Studies Institute
Prof. John Ellis, Professor of Instruction, presented with Russell Spieth, PhD, from NEOMED, a workshop titled, Motivational Interviewing for Group Therapists, at the Ohio Addictions Studies Institute at the Greater Columbus Convention Center on July 15, 2018.


Prof. Ellis has almost 30 years experience in the field of addictions and mental health. His previous roles included a clinical director of two Ohio County Mental Health and Addictions Services Boards, a provider of direct clinical service for persons struggling with addictions & mental illness in hospital, jail, and outpatient settings, and a former Chair of the Ohio Chemical Dependency Professionals Board.