| | |
| --- | --- |
| | |

For Undergraduate Students

For Graduate Students
This is an organization led by master-level students and supported by an assigned faculty advisor.
Click here to download a membership form.

The purpose of the Master of Social Work Student Association (MSWSA) is to promote and foster relationships between students and faculty involved in the Master of Social Work (MSW) Program at The University of Akron by:
Advocating for the rights and needs of the students enrolled in the MSW program;
Improving and participating in activities that will further the purpose and goals of the social work profession;
Hosting presentations by speakers from the professional community that keeps students abreast of the political, social, economic, and environmental trends locally and nationally;
Encouraging lifelong learning in professional practice;
Conducting an annual MSWSA activity
Coordinate & promote programs which support the mission of UA

visit us on facebook - https://www.facebook.com/uamswsa/
MSWSA 2016-17 Officers
President: TBA
Secretary: TBA
Treasurer: TBA
Faculty Advisor: Dr. Timothy McCarragher

The Graduate Student Government (GSG) was founded in 2008 to support over 4,000 graduate students, and is open to all registered graduate students at The University of Akron.

The purpose of Graduate Student Government is to govern the affairs of graduate students in a manner specified by its constitution and bylaws; to determine the sentiment of all levels graduate students and the representation of sentiment at all levels of the University administration; and to encourage social contacts between graduate students of all disciplines.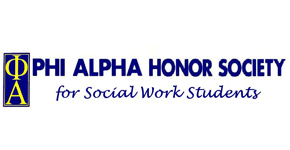 The purpose of Phi Alpha Honor Society is to provide a closer bond among students of social work and promote humanitarian goals and ideals. Phi Alpha fosters high standards of education for social workers and invites into membership those who have excellence in scholarship and achievement in social work.
The concept of a national social work honor society came from a group of undergraduate social work students at Michigan State University in 1960. Investigation revealed that local chapters formed a National Honor society Committee in November 1960. For more than a year, this committee worked on the constitution and other administrative matters.
The name Phi Alpha and the key were adopted from the local chapter which existed at Florida State University. The Constitution and formal organization were completed in 1962, and six chapters quailed to become "charter chapters". They were Florida State College, University of Dayton, and the University of Tennessee. Over 110 Chapters are now in existence, and the addition of new chapters is continuing. The University of Akron Chapter was newly formed in 2008.