DEPARTMENT OF SOCIOLOGY
Alumni
Alumni News
UA Sociology alumna, Hannah Furnas (2012), successfully competed her Ph.D. in Sociology at Pennsylvania State University in May 2017.

Dr. Furnas is moving to Bay area in California where she will be joining Facebook as a researcher.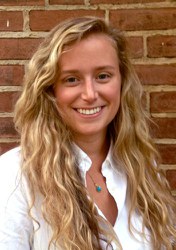 UA Sociology Alumnus Lori Tuttle wins SUNY Chancellor's Award for Excellence. Jefferson Community College is pleased to announce that six members of the College's faculty and staff were honored as recipients of the 2017 State University of New York (SUNY) Chancellor's Awards for Excellence, including Lori Tuttle, who received her MA in Sociology from UA. The Chancellor's Awards recognize extraordinary achievement and encourage the continuation of excellence. From Jefferson Community College:

Lori A. Tuttle has taught introductory and upper-level social sciences courses for nearly every semester since 2008. In addition to teaching in a traditional brick and mortar environment, Tuttle instructs via interactive television and online utilizing an effective combination of lecture and interactive elements. She embraces technology and incorporates it within her classroom lectures. Tuttle is lauded for her ability to connect with students. She adapts accordingly to the diverse levels of life experiences and academic abilities of her students. Student evaluations steadily rate Lori at the highest levels for her preparedness, quality of instruction, classroom demeanor and receptiveness to questions and ideas. She has published several articles while maintaining her teaching schedule at the College. She holds a bachelor's in sociology from SUNY Potsdam and a master's in sociology from the University of Akron.

UA Sociology Alumnus Dr. Jeffrey R. Breese was named Vice President for Academic Affairs and Dean of the University at The University of Mount Union.

Breese, who currently serves as the provost and vice president of academic affairs at Dominican University in River Forest, Illinois, will assume his new duties at Mount Union in early July.

A native of Ohio, Breese graduated cum laude with a Bachelor of Arts degree in sociology from Youngstown State University. He then went on to earn a Master of Arts degree from Ohio University and a Doctor of Philosophy degree from the University of Akron, both in sociology as well. His core areas of focus within the discipline are social psychology, race and ethnicity, and applied sociology. You can read more about Dr. Breese here.