Scholarship opportunities
Undergraduate Students
Dr. Charles C. Rogler Scholarship Fund
Dr. Charles C. Rogler, who was a long-time member of the Sociology Department and former department chair. In 1977, he and his wife, Dr. Margaret F. Rogler, established the Dr. Charles C. Rogler Scholarship. The Rogler Scholarship is awarded to students for academic excellence and well as financial need. Each year, we are pleased to be able to offer these awards to several outstanding undergraduates.
The Carl A. Bersani Endowed Scholarship
The Carl A. Bersani Endowed Scholarship was established in 2015 as a lasting tribute to the contributions made by Dr. Carl A. Bersani to the University of Akron's Sociology Department. These contributions include the creation of the Akron-Kent Joint Ph.D. program in sociology as well as the M.A. and undergraduate degree programs in law enforcement and corrections, numerous publications and scholarly presentations in the areas of crime and deviance, and a four-year tenure as the head of the Sociology Department at The University of Akron. The scholarship was established with gifts from family and friends of Dr. Bersani and is awarded to one full-time undergraduate student in the Department of Sociology with a cumulative GPA of 2.75 or higher. Consideration for this scholarship is given to candidates who demonstrate a need for assistance.
Dr. Robert Schmidt Endowed Scholarship in Sociology
Dr. Robert Schmidt enjoyed a 13-year career at The University of Akron as both an administrator and faculty member in the Department of Sociology. He came to the University in 1967, during the first year of Akron's expansion from a municipal university to a state university. He retired in 1980. Dr. Schmidt established The Dr. Robert Schmidt Endowed Scholarship in Sociology in 2011 and it will perpetuate his history of service to students. Application is open to sociology majors who will be sophomores, juniors, or seniors. Applicants must have a GPA of 3.0 or higher and be in good standing at The University of Akron. Renewal is possible provided criteria is maintained. Selection will be made by the department head of the Sociology Department in The University of Akron's College of Arts and Sciences or the appropriate designee.
The Janet C. Fisher Endowed Scholarship Fund
The Janet C. Fisher Endowed Scholarship Fund was founded in 1994 with the express purpose of assisting students within the Buchtel College of Arts and Sciences Department of Sociology. This endowed scholarship is provided by the estate of Janet C. Fisher, a native of Canton, Ohio. Janet Fisher was a 1985 graduate of the University. She wished to thank the University for the fine education she received, which helped contribute to her success. Scholastic achievement and leadership characteristics are the criteria for the award.
Graduate Students
The Barbara J. Stephens Dissertation Award
The Barbara J. Stephens Dissertation award was established in 2003 to provide financial assistance to graduate students at the University of Akron engaged in health and social policy research. Barbara J. Stephens earned her BSN in Nursing from Capital University in Columbus, Ohio and an MSN from New York University, after which she returned to Ohio to serve in several nursing positions throughout Akron, Cleveland, and Canton. This dissertation award was established by gifts from the friends and family of Barbara J. Stephens.
---
How to apply for UA scholarships
---
Meet recent recipients
Kimberly Wiley, recipient of the Rogler Scholarship - 2019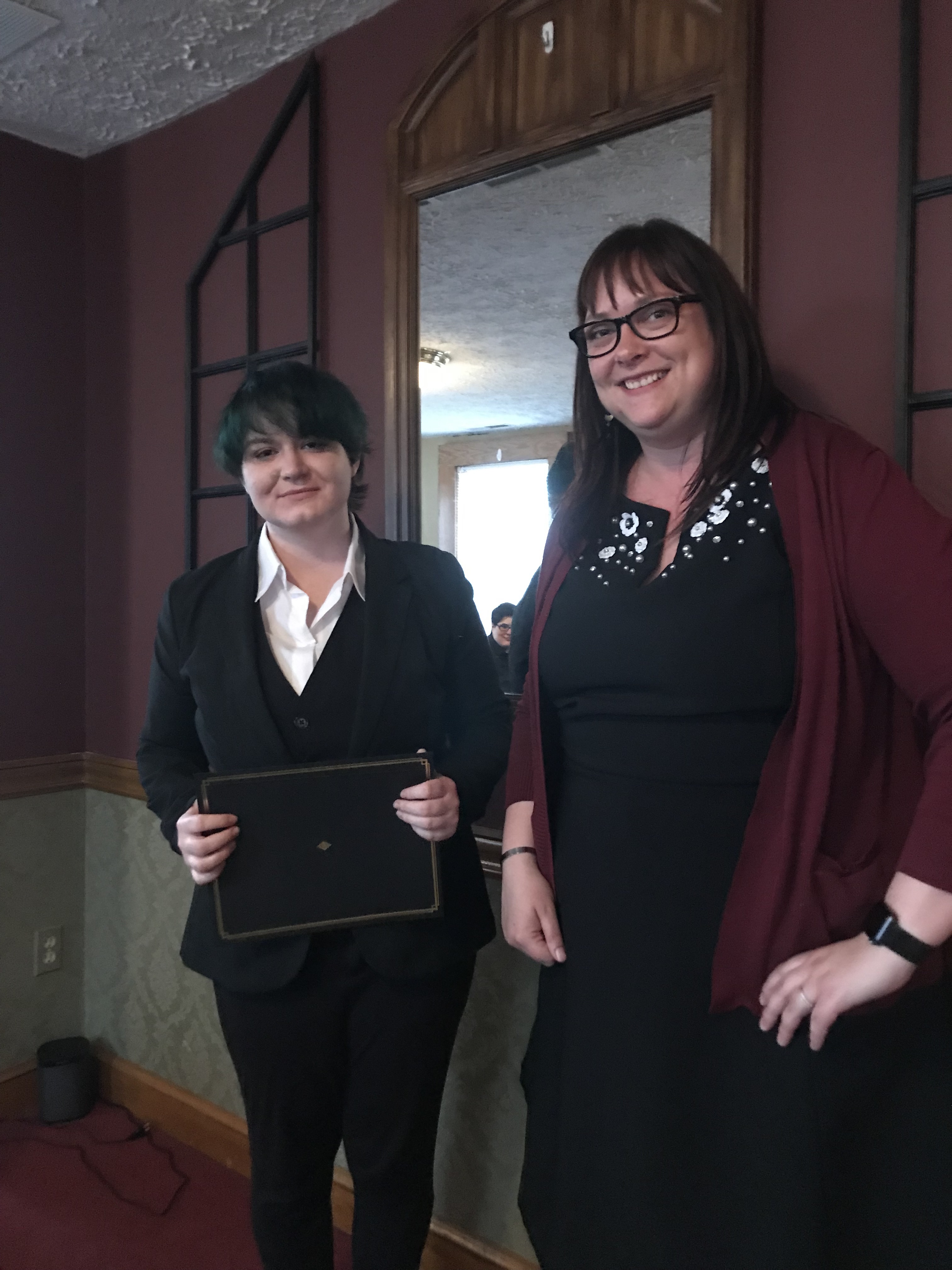 "Ever since I was young I wanted to go to college, I wasn't sure what (I wanted to study), but I knew I wanted to go. As (a college student) I found a deep passion in the field of Criminology and Sociology, driven by the desire to make an impact on this world and to bring offenders to justice. My interests developed into wanting to understand why people act the way they do, and why some choose to break the law. I am the first in my family to ever attend college, and without the help of scholarships it wouldn't have been possible either. I have come farther than I ever had dreamed possible, I am now only a few semesters away from graduation, a day that has seemed impossible with the circumstances that I have faced. I want to leave a positive impact on this society, to aid in the bringing of justice and to contribute to the fields of Sociology and Criminology, and now I am another step closer to doing just that."
Dominque Moore, recipient of the Carl A. Bersani Endowed Scholarship - 2019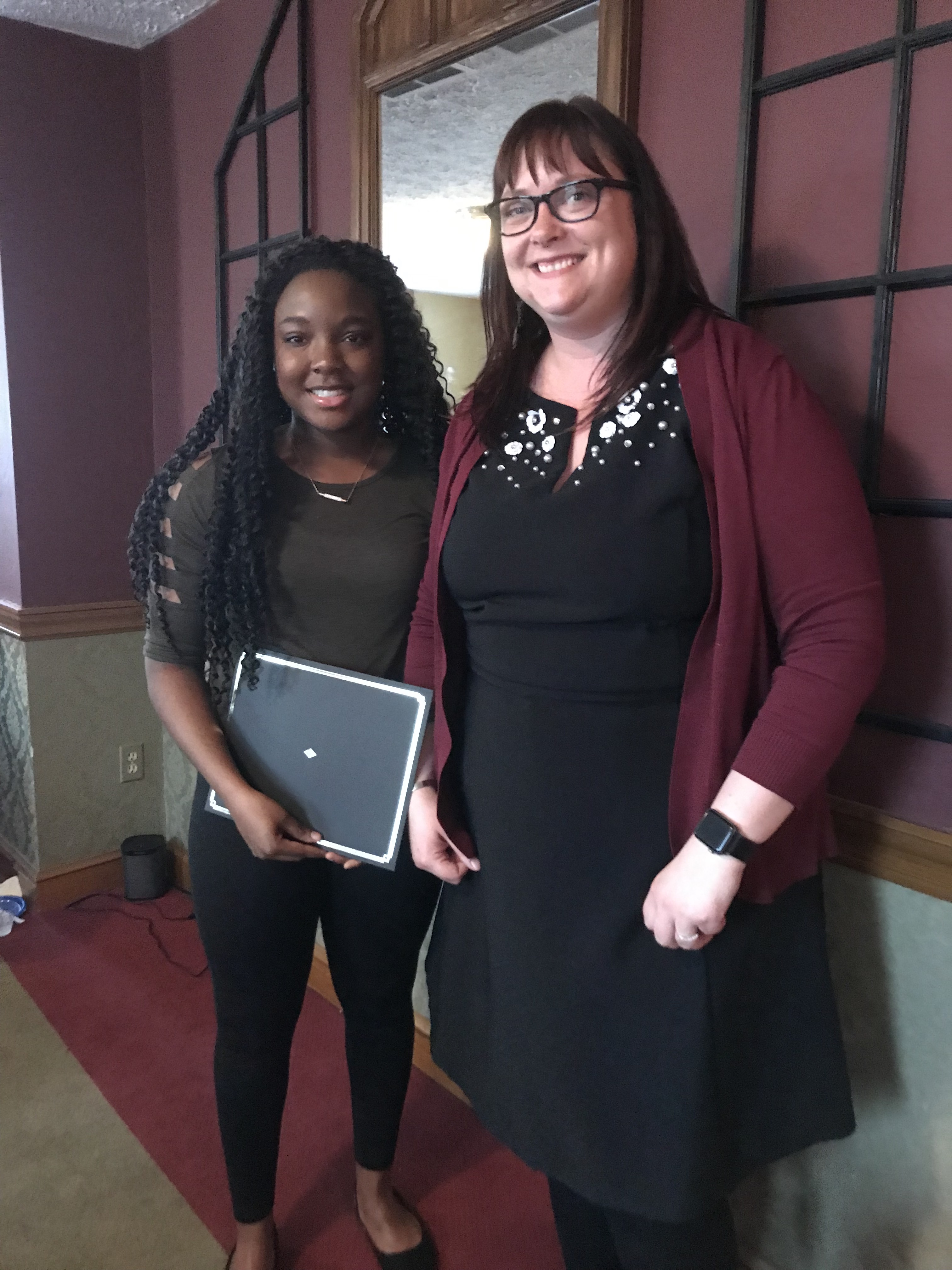 "I've chosen to major in sociology because I have always had the instinctive need to help people. I consistently find myself in positions where I am helping another person whether it is volunteering, helping individuals with class work, or just giving people life advice. I began to wonder about the fundamentals of social problems, inequality, and society in general. I started reading articles on sociology and what current sociologist do, and I felt like I found my calling. I have been excited about my major since the day I declared it. Receiving this award is more to me than just getting money, it motivates me to work harder and maintain the high standard that I set. After graduation I plan to use my knowledge of Sociology and Criminology to help further my career opportunities."
Brandi Hancock, recipient of the Dr. Robert Schmidt Endowed Scholarship - 2019
"I am a third year student at The University of Akron, I am 21 years old, and I am a commuter student. I'm a proud Akron native and I am proud to be a student at the University. I chose to major in Sociology, because it seemed like the most natural fit for me. After graduation, I plan to further my education by attending and completing graduate school and earning my master's degree. I plan to use my degree to help others and to better understand society and the world around us."
An opportunity for donors
Many students today cannot afford the cost of a college education and rely on the availability of scholarships to pursue their dream of achieving a college degree in their field of interest. The University of Akron is proud of its top-notch Department of Sociology, whose alumni and friends are especially mindful of students' needs. A scholarship in your name can be established for as little as $10,000. For information on contributing your support or for making a donation of any denomination, please contact:
Mrs. Kimberly K. Cole
Department of Development
The University of Akron
Akron, OH 44325-2603
330-972-7608
kmorgan@uakron.edu