Jamie Harding MA, CCC-SLP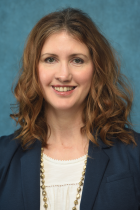 Title: Clinical Instructor
Dept/Program: School of Speech-Language Pathology & Audiology
Phone: 330-421-1999
Email: jdh9@uakron.edu

---
Biography
Biography
As a 2003 graduate of The University of Akron's Speech Pathology Program, I was excited to return as a clinical instructor in 2010. In my previous work at Cleveland Hearing and Speech Center, I began specializing in providing Augmentative and Alternative Communication (AAC) services to individuals in the community with a variety of communication challenges. Since working with The University of Akron, I have taught the graduate AAC course and presented/co-presented on related topics at ASHA, OSLHA, OSSPEAC, and ISAAC.
Currently, I oversee speech and language services and supervise graduate student clinicians at KidsFirst, a public school option for children with autism in Summit County. In this role, I enjoy working with student clinicians in planning AAC interventions and discovering innovative applications of iPad technology to the treatment needs of this special population.
---
Interests
Graduate student supervision, augmentative & alternative communication (AAC), autism, video-self modeling, and velopharyngeal insufficiency (VPI).
---
Presentations & Publications
Harding J., Viglio L. (October, 2012) iPad-Supported Interventions for Students with Autism. The Ohio Speech Pathology Educational Audiology Coalition – Columbus, OH.
Gillette Y., Harding J. (July, 2012) Achieving Communication Competence: 3 Steps to Effective Intervention. International Society for Augmentative and Alternative Communication
Gillette, Y., Harding, J., Boarman, K., Buffa, J., Tedrick, M., & Young, M. (March, 2012) The iPad Revolution: What Speech-Language Pathologists Should Know. The Ohio Speech Language and Hearing Association - Columbus, Ohio
Gillette Y., Harding J. (November 2011) Achieving Communicative Competence: Assessment for Intervention Addressing Severe Communication Disabilities. The American Speech-Language Hearing Association (ASHA) - San Diego, California
Harding J. (March, 2009) Do You Hear What I Hear?: Quick Screening VPI in the Non-Medical Setting. The Ohio Speech Language and Hearing Association - Columbus, Ohio
Ciccia A., Harding J. May/June (2004) Talking Tough. Stroke Connection Magazine (pp.26-27).
Harding J. (March, 2003) Cracking the Code: An SLP's Guide To Emerging Genetic Issues In Our Profession. The Ohio Speech Language and Hearing Association - Columbus, Ohio
---