Kim Bass, M.S, NIC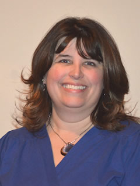 Title: Assistant Professor of Instruction
Program: American Sign Language
Dept/Program: School of Speech-Language Pathology and Audiology / American Sign Language
Office: Polsky 184B
Phone: 330-972-4612
Fax: 330-972-7884
Email: kmb152@uakron.edu

---
Biography
Education
Master of Sciences, Vocational Rehabilitation
University of Arkansas
Bachelor of Science, Legal Studies
Lake Erie College
Associate of Applied Science, Interpreting for the Deaf
The University of Akron
Background
Kim Bass holds a master's degree from The University of Arkansas, in Vocational Rehabilitation, a bachelor's degree from Lake Erie College in Painesville, Ohio, in Legal Studies and an associate's degree from The University of Akron in Ohio, in Interpreting for the Deaf. A native of Garrettsville, Ohio, she has been active in the Deaf community since 1987, serving in a variety of positions during her professional career and throughout her schooling.
Kim has worked at Vocational Guidance Services (VGS) in Cleveland as a Work Evaluator for 3 years. While she was there, Kim evaluated people on their current work skills as to what they could do, get them training and focus on a career that they would be successful.
Kim has served as Coordinator of Deaf Education and Advocacy Focus, etc., a non-profit social service agency in Grand Rapids, Michigan, that provides interpreter referral, sign language classes, advocacy assistance and other educational services for the Deaf, Hard-of-Hearing and hearing communities. Prior to joining DEAF, etc., Kim served on the Ohio Chapter of Interpreters for the Deaf (OCRID) state board and the district director for the Cleveland area.
She spent four years at the Ohio Relay Service as a translator, while finishing up her Bachelors of Science Degree in Legal Studies. She has also developed and maintained databases of the Deaf and Hard-of-Hearing at the community-based Career and Vocational Training Programs and Multimedia Job Accommodation Curriculum at the Research and Training Center in Little Rock, Ark.
Kim currently works part time as a free lance interpreter for the deaf for a variety of agencies and colleges in the Akron and Cleveland area. She works at Sorenson Video Relay Service in Brecksville as an Interpreter.
She also teaches American Sign Language (ASL) to adults at The University of Akron, Hiram College and at Maplewood Career Center. In addition, Kim teaches all ages and abilities of children using the Signing Time Curriculum.
---
Professional Memberships
National Registry of Interpreters for the Deaf: 1987–2003 and 2007-Present
The Ohio Chapter of Registry of Interpreters for the Deaf: 1988-1999 and 2007-Present
---
Certifications
National Interpreter Certification (NIC)

Registry of Interpreters for the Deaf (RID)
Certified Master Signing Time Instructor- Signing Time Academy, Instructor of the Month:

March 2011 and December 2011

World Languages - American Sign Language Certification- Ohio Department of Education
---
Courses
Undergraduate Courses
American Sign Language I
American Sign Language II
American Sign Language III
American Sign Language IV
---