Courtney Johnson-Benson
Lighting pathways to empowerment
"Empowerment" was a word spoken often by Courtney Johnson-Benson '09, '11 when she recounted her life story. She retells the collection of anecdotes over and over again as she interacts with high school students in Central Ohio in her role as senior assistant director of admissions for The University of Akron (UA).
The rollercoaster story involves how the death of her father and her graduating from GlenOak High School later than her classmates, being injured in a horrific car crash and getting kicked out of a university (the one she now works for) for poor grades didn't diminish her self-determination to return to college and earn two degrees, receive national recognition as an excellent college admissions professional, and start a side business that centers on empowering women.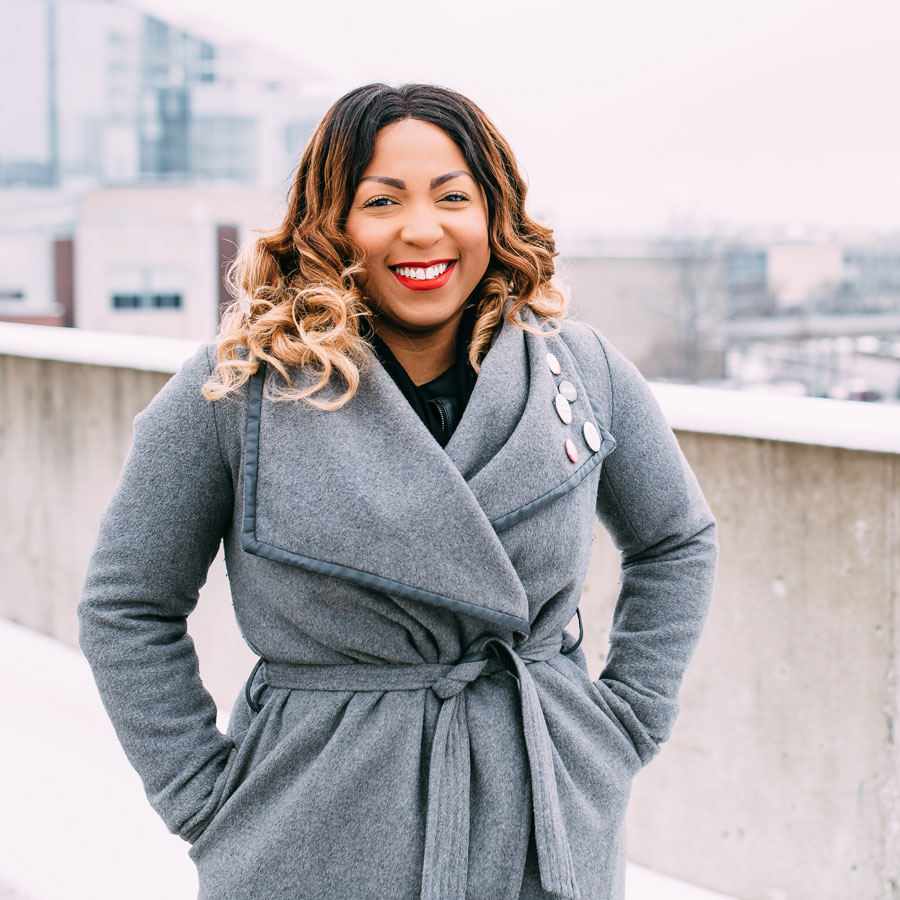 Courtney Johnson-Benson is senior assistant director of admissions at UA. She is active in our community, drawn to functions that empower others.
"There's a lot of power in your personal story," said the 36-year-old UA alumna from Jackson Township. "It's really easy for me to relate to all different types of students because of it. I know what it means to work hard as a student. I know what it means to not care as a student. I know what it means to have some type of cognitive disability where it adds to the struggle of just getting through a lesson."
Before working at her alma mater, where she previously earned her bachelor's degree in political science and master's degree in higher education administration, Johnson-Benson used her personal empowerment to overcome what she felt was discrimination against her for simply being a woman in male-dominated jobs. In fact, she quit one job after airing her grievances on how women were treated differently in that particular workplace.
"There have been times when I've really had to speak up and be very stern just to be heard," she said. "I always say I am not bossy, I am the boss. There is a distinct difference and only one of these attributes is continually used to describe a woman in power. I feel like there's a very gentle way that some women have to roll through the world just because of stereotypes. We're supposed to be seen, not heard, and always be very gracious, never stern or show anger. You can be all, some, or none of those things, but don't suggest I would be more successful if I subscribed to what society deems as an ideal woman."
So, it only makes sense that one of Johnson-Benson's female role models is U.S. Supreme Court Associate Justice Ruth Bader Ginsberg, who is known for advocating for women's rights.
"She's not afraid to say what is on her mind," Johnson-Benson said. "I understand what it's like to be yelling from the rooftops and no one is paying attention."
And like Ginsberg, Johnson-Benson is outspoken about gender equality and being an ally to the LGBTQ community. She's a member of the executive board for Soroptimist International of Canton/Stark County, an organization that aims to improve the lives of women and girls by providing access to education, and is a member of Canton Girl Gang, which promotes women-owned businesses.
She's also an advocate for body positivity, teaching belly dancing as a way to have women and girls channel their own empowerment. She does it through CJB Group, a company she launched two years ago. In that capacity, Johnson-Benson provides workshops, dance classes and speaking engagements to motivate and inspire young adults.
As an admissions professional, Johnson-Benson is going into her third year as the state chair of Inclusion, Access and Success for the Ohio Association for College Admission Counseling. In September, she received the Rising Star Award from the National Association for College Admission Counseling. The award goes to new professionals or programs in college admissions that exemplify excellence in serving the needs of students in the transition from high school to college.
Kim Gentile, director of admissions at UA, referred to Johnson-Benson as "a role model for students and fellow colleagues," adding that she utilizes her position in the Office of Admissions to achieve her personal goal of helping students reach their potential.
"Courtney is a talented colleague with a number of skillsets that makes her a perfect fit for the college admissions profession," Gentile said. "She has a commanding and engaging presence, and has a strong desire and commitment to provide support and guidance to students to help them achieve their goals. I admire Courtney's strong desire to give so much her time to helping students develop a path to their success."
Beyond the walls of her Simmons Hall office decorated with family photos and framed accomplishments, and when she's not spending three months in Central Ohio recruiting future Zips, Johnson-Benson chases after her favorite bands, such as The Dave Matthews Band or its spinoff duo, Dave and Tim.
"I'm an avid concertgoer," Johnson-Benson said. "I try to support local music as much as I can. I'm actually taking bass lessons this summer."
As a political science major, she follows the current events in politics. When the 2018 midterm elections resulted in the U.S. House of Representatives having a record number of women (102) in the House, Johnson-Benson descried herself as "crazy excited."
"That was probably one of my happiest moments in the immediate past," she said.
"Women's empowerment means that I have a responsibility to uplift other women in my community," Johnson-Benson added. "It also means that I see other women as collaborators, not competition. There is an opportunity for all who identify as women to sit at the same table and be a voice of value in policy, education, civics, and various professions."